Alain Gomis: "With Thelonious Monk, I want to show the artist at work"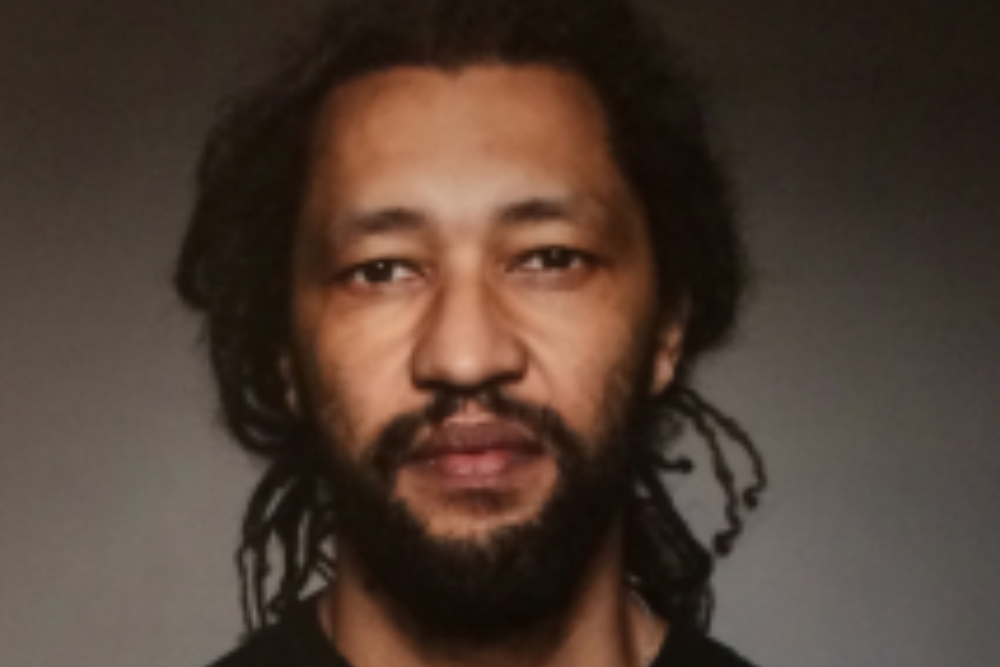 How to find traces of Thelonious Monk's New York today? French-Senegalese filmmaker Alain Gomis, who is working on a movie about the great jazzman, is looking for what would echo now the era of that key and legendary figure of bebop.
What were you looking for by traveling to the US at a time when you were in the final stage of making a film about Thelonious Monk?
This residency has several aims. First, I wanted to research iconographic and biographical aspects of his life and visit the places he frequented so I could immerse myself in them. The place I'm staying at isn't actually far from where Monk spent his whole life, in the Upper West Side, near Columbus Circle. Most of this district's population was made up of Afro-American and Puerto Rican minorities. The neighborhood, which was previously known as San Juan Hill, was nearly completely razed to build Lincoln Center, a big performing arts center. Monk saw this transformation. He experienced the place before and after the change. It's surprisingly hard to find photographic traces of San Juan Hill. But though Monk's childhood neighborhood has gone, the areas where he lived remain. The district is also known for having been a hub of social unrest and protest. So, by taking an interest in Monk and coming to the site, I've dived into this story of obliteration, which is specific to the history of Manhattan, where entire Black working-class neighborhoods were razed as the city grew. Seneca Village, for example, underwent the same fate when Central Park was built.
Through the residency, I've also been able to immerse myself in the story of jazz, go to Harlem, and visit jazz clubs. My main desire was to see what remains of Monk's era and what's changed. Because this is a historical film, I ask what is still around. For example, I was surprised to see that, in jazz, things haven't really changed. It's a vibrant scene, admittedly, but it remains concentrated in White-owned places, for a mainly White audience. In short, the basic hierarchy of that scene hasn't changed much. Of course, there have been many improvements but, structurally, we see the same artists employed in an industry that is run by another stratum of society.
How have you approached the highly codified genre of the biopic?
By trying to not make a biopic. What drives me in this project is, above all, a highly subjective approach to Monk's character, based on my feelings. I want to tell the story of the personal quest of an artist who always tried to stay true to his expression, his artistic approach, as he tried to transcend his social, political, and economic context. Of course, that was impossible, especially for an Afro-American artist, all the more so at the time of the civil rights movement. In Monk, there was an impossible search for integrity, for faithfulness to his music, and he was never entirely successful in his efforts to resist getting caught up in his era. That's what I find fascinating.
I've also explored how historical films are defined and conceived. And I've reached the conclusion that, for me, what counts is focusing on what reverberates today, what's still alive. So even before considering how New York City was at the time, I thought about today's movements and protests, such as Black Lives Matter. I'm going to be using these a lot so that I don't give a fixed image of the era.
What role does Monk, the artist and jazz musician, play in this story? How would you introduce him to viewers who don't know anything about him?
He developed a highly personal style, a particular kind of composition, and that's why he wanted to be recognized chiefly as an artist. What he brought, he brought as a person, not as a black man. And that strikes a chord today. He was a pianist and composer who revolutionized jazz, alongside musicians such as Charlie Parker or Dizzie Gillespie, by laying the foundations of be-bop. But unlike these other greats, he was only appreciated later, because of his revolutionary style. Rather than playing with fluidity, he sought a more broken sound, one that opened up spaces. He offered music that was less obvious and more difficult to sell. So the narrative that gradually emerged was that Gillespie, Parker, and others succeeded while Monk had a tougher career. And this led to the next generation seeing him as a kind of underground icon. We also need to get rid of the image we tend to associate with Monk—that of a madman, an eccentric and withdrawn genius absorbed in himself and his music, which is full of jaggedness and oddities. The construction of this facade interests me, especially as I've realized how much Monk was actually aware of it, and how he cultivated it and played it up to be able to exist in his world. I recently met his son, who told me how Monk resigned himself to being seen as a madman just so he could feed his family.
So does the narrative of Monk's life, whether it was a fate undergone or a path chosen, show a certain truth in his biography?
Yes, because he embraced his image. He helped shape it. At the same time, he fought to not let it define him, and to be recognized for his music. This narrative isn't trivial. We shouldn't reject it to claim to reveal the truth, nor should we avoid stereotypes and the way they're constructed. In the middle of all this is an idea I find wonderful—that by inserting breaks in a straight line you reach emotion more intensely. He didn't want fluidity to take the listener straight to emotion; rather, he had a brilliant intuition–by putting gaps in a narrative, you bring out its stronger aspects. This is because, as a listener and music-lover, you take part more actively in the work in these spaces that are left open. The work's aspects aren't only brought from outside, but also from within each of us. This approach is very close to that of the Modernists. That's why I often say Monk reminds me of Cézanne.
This very modern, challenging approach meant Monk was only really appreciated later. How was he accepted in France? It's said that, in France, Black American jazz musicians found both a discerning audience and a welcoming haven–a reprieve from Jim Crow. Was that the case for Monk, who came to France several times as early as the 1950s?
That's an area of interest in its own right. In fact, it'll be the focus of a documentary I'm currently producing, in parallel to my feature film. In my research, I came across the rushes of a program from the ORTF, France's former public agency for radio and television. The program reveals a slightly different situation to the one you describe. Once again, this shows the importance of the way history is written. The interviewer was the person who got Monk to come over in 1954 for a concert. But that concert was something of a disaster, as there were boos from the audience. Together, Monk and the interviewer reflect on this episode which the Frenchman sees as a reaction to the avant-garde nature of his music. He insists France is a haven that welcomes musicians, a country that invited Monk when he wasn't acclaimed in the US. Yet Monk's response reveals a different situation: he stresses that he was not treated well. Those are his words. He says he earned less than the other musicians, and so on. In the end, this excerpt was cut out from the program, as it undermined the widely accepted narrative. You literally hear the interviewer turn to the producer to say, "We'll cut that out, it's too harsh."
What you describe also puts in perspective the narrative still being heard today, even more so than before, that France and the US are fundamentally different where racism is concerned…
I think the two countries are indeed very different because of their histories. But we also find similarities: they face issues that resemble each other, even through each country handles its ambiguities and unease in its own way. In the US, we hear a narrative of liberty but see discrimination and systemic racism. In France, we hear a narrative of universalism but see clear forms of oppression and discrimination. To bring this paradox to life, you have to produce narratives, images, illusions, and paths to reconciliation and discussion. But we're allowed to ask ourselves what a narrative really brings, what it changes fundamentally, and what it enables. Does it help us live together, all the while only changing the situation a bit on the fringes? I've just read Mohamed Mbougar Sarr's latest novel, which was recently awarded the prestigious Goncourt literary prize. When you think about it, it's amazing to see the media hype about this prize being awarded to a black Senegalese author. As if it's an event in itself. Is that how things really still are in 2021?
In your artistic work as a French-Senegalese filmmaker, you pursue the same quest as Monk did to free yourself from this reality. Do you think you can achieve this?
Of course not. I'm completely caught up in it, even though I try to advance as if what I'm promoting, what I'm telling, belongs to a field that asks questions about us as human beings. I think we all try to reach that realm by digging a little inside our character, where our particularity becomes shared. It could be seen as a form of universalism–if we agree on the term's meaning. What Monk tells us is that the universal isn't limited to a single form but covers as many forms as it does possibilities. It's a bit like saying that in infinity there are only centers. The problem arises when we correlate the universal with such-and-such a character. Racism seeks to prevent others from reaching the universal within themselves. Monk was in touch with that. He saw that forms of expression rooted in different stories, feelings, and cultures should always relate to a very specific vision of the universal that's White and Eurocentric. You can see this, for example, in interviews with Monk I've worked with, in which journalists always seek to compare and reduce him to European classical music, which he studied and played as a pianist. In order to accept that his music was extraordinary, they had to also say he was a connoisseur of Western classical music, because that was their benchmark of respectability and standard for comparison. But Monk always resisted this—he acted as if he'd never had any relation to classical music, as if there were no need to look resort to that prism, as if his work was worthy in itself.
Through cinema, how do you present this form that's worthy in itself?
First, by avoiding a biopic's linearity. I like the biopic genre, but it has rules I try to free myself from. I don't claim to give an overreaching account of Monk's life. Rather, the film tries to be like him, or as I understand him to have worked. It attempts to explore the breaks, the cracks in his life. It's in these breaks that we find a certain truth about Monk. Who am I to say who Thelonious Monk really was? Maybe that's what filmmaking really is: work on the gaps, the cracks. This is in the very nature of cinema: a series of still images where movement is born of the space in between each image. I'm interested in reinventing the work that is off-screen.
To finish, let's talk about the music, as it's a film that's bound to be very musical. What have you planned for the soundtrack?
The film will focus a lot on his work as a musician. So the music isn't just an illustration but an integral part of who Monk was. There are also great archives of the artist at work. A reference for the film is the documentary "The Mystery of Picasso," by Henri-Georges Clouzot. It's wonderful to see Picasso painting, creating, and giving rise to 'the paintings beneath the painting,' as he explains in that film. We have Monk's recordings. There are even more theoretical moments when he explains his music. What's great in a film such as this one is that you can use the music Monk recorded himself. For the soundtrack, I want to mostly use his original masters. The music should be incorporated and form the character's main basis.
Sign up to receive exclusive news and updates