Space Odyssey by Étienne Rey
Underground Atlanta
50 Upper Alabama St
Suite G115
Atlanta, GA, US 30303
October 7, 2022 | 7-10pm
Atlanta opening of SPACE ODYSSEY, Étienne Rey's immersive installation which plunges us into a submerged world of mist and waves of light.
Somewhere between immaterial sculpture and architecture, Etienne REY's installation situates us in a space in which our points of reference become mobile, distances become elastic, and balance precarious. A stroboscopic journey to the heart of light as a material, the crossing of SPACE ODYSSEY, a reference to the Stanley Kubrick film, is a passage, a mental and sensory threshold situated at the meeting point of the physical world and experimentations on perception. Space Odyssey has already been exhibited in France for times, namely in Nantes and Paris.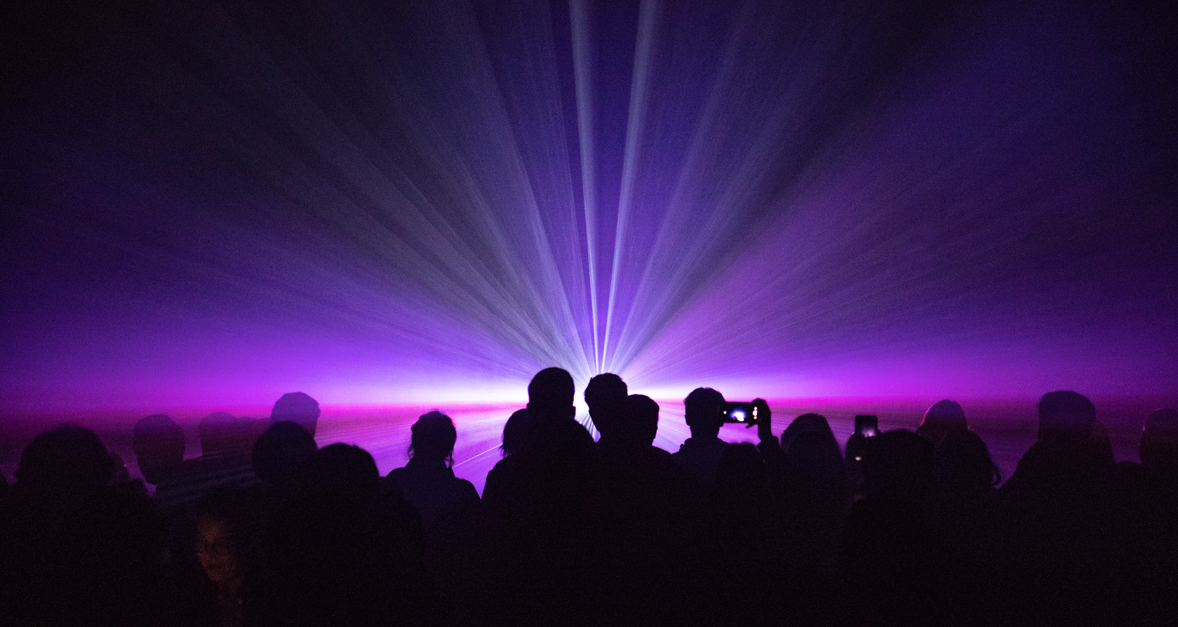 French visual artist, Etienne Rey lives and works in Marseille. The reading of reality by the viewer is the main subject of the work of Etienne Rey. Through his installations and sculptures, he distorts what seemed to be the basis for understanding a given context. In his work, it is above all a question of perception, of point of view and of a form of sensory experience. Light, whether natural reflecting on filtering and diffracting materials, or artificial playing with darkness and mist, is an essential vector of this metamorphosis. Etienne Rey uses the optical properties of glass or patterns to open up the frames of apprehension of an environment, so his installations when they are deployed on the scale of a facade or a square redefine the materiality. Screen, frame, blur, turbulence, vortex or reflection are some of the items of his visual vocabulary, they are the tools of this transfiguration of the reality.
In partnership with DIGATL and ELEVATE, "Museum of the Moon" will be presented at Underground Atlanta from Oct 7-9, 2022. The exhibition will include an inflatable lunar installation created by renowned UK artist Luke Jerram, moonlight and surround sound composition by BAFTA and Ivor Novella award winning composer Dan Jones, a "Moon Bounce" party featuring Flight of Swallows, a mural by French street artist DIFUZ, the SPACE ODYSSEY light-based installation by acclaimed French visual artist Etienne Rey, and more!  
This installation is presented at Underground Atlanta by DIGATL, Villa Albertine, ELEVATE and France Atlanta.
Designed in 2015 and first implemented in Chicago and San Francisco, CITY CITÉ is a transatlantic cooperation and exchange program on urban issues and city making, initiated by Villa Albertine, the cultural institution of the French Embassy in the US.

In 2022, CITY CITÉ comes to Atlanta for the first time on the occasion of the French Consulate's annual France-Atlanta program, Atlanta Design Festival and the City of Atlanta's ELEVATE festival. CITY CITÉ – Atlanta x Marseille 2022 aims to make a case for the role of culture in urban and social development, by creating a dialogue between cities of Atlanta and Marseille and inviting La Friche la Belle de Mai, a major institution in Marseille, at the forefront of cultural, social, environmental and urban innovation.
CITY CITÉ – Atlanta x Marseille 2022 is supported by the Institut français, Villa Albertine, The City of Atlanta Mayor's Office of Cultural Affairs and France-Atlanta.
Sign up to receive exclusive news and updates