Portrait : Compagnie Galmae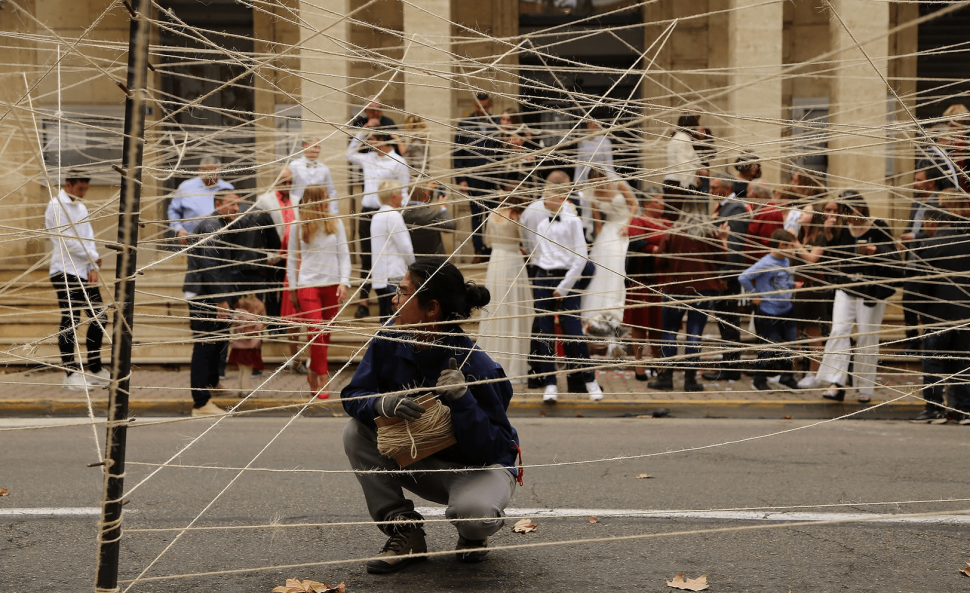 After touring around the world, the collective performance C'est pas là, C'est par là (It's not here, it's over here) by  Compagnie Galmae – Juhyung Lee captivates American presenters (Performance Spaces for the 21st century, ArtPark & Co., both FACE Contemporary Theater 2020 grantees, and more) 
It's not here, it's over here—What is it about? 
A string installation, like a freshly woven spider's web, reconfigures a public space. One takes a stone and starts to unroll the string bound to it, another walks into the middle of the labyrinth and contemplates the unraveling tangle. Passing over and under the threads, the spectators, who have become actors in this performance, help each other. The space becomes a meeting place; the individuals form a community. 
This collective work, filled with emotion, is none other than the first personal project from South Korean artist Juhyung Lee, who previously experimented at art festivals including the Pohang Street Art Festival in Pohang in South Korea, the festival Les Tombées de la Nuit in Rennes, France, at the Chalon dans la rue festival in Chalon-sur-Saône, France, and at the Out There Festival in Great Yarmouth, England. After discovering street art through Générik Vapeur, a French street theater company, Juhyung Lee became fascinated by the spatial scale and place of the individual in society. It is from these experiences that he created this social—but also political—installation. 
Political interpretation and tribute to civil society 
"When I was creating this show, my question was: to what extent can one say that a performance is political? A 'committed' show did not seem to be my answer. I wanted to imagine an installation in which the spectators look at themselves instead of at the artists. I wanted to avoid being in the position of giving a lesson to the audience," Juhyung Lee said in an interview.
The political dimension of Juhyung Lee's work is found in the performance itself. As a social experiment, C'est pas là, C'est par là involves the audience and invites them to follow simple steps. In the middle of the string labyrinth, the individual is not alone and must learn to live in a community: to help others; to share with others; and to understand others. It is through this exact process that we come to define a group or a gathering. 
"During the demonstrations I took part in, in South Korea, many police buses blocked avenues to prevent the march of protesters. We tied ropes to the wheels of the buses and pulled together to create a gap so that we could pass. At first, I wanted to do something with this rope, but I had no idea … and then, as I touched it, I saw that a rope was made of many strings," Juhyung Lee said.
After participating in a demonstration in Gwanghwamun, the epicenter of political and social events in Seoul, Juhyung Lee tried to reproduce the experience of gathering. Likewise, he aimed to provide meaning to the "we" that is sometimes lost in an increasingly individualistic world. The artist guides the collective body in the space of a city. The movement, the interplay between light and shadow, and music offer an element of poetry to universal themes of social interactions. The individual, however, also loses a part of themself in the crowd. Juhyung Lee showed that the group experience is first an intimate reflection on oneself and then, a way of defining a part of one's identity in relation to the community to which one belongs. 
Can you also find this "we" when you participate in this performance? 
About Juhyung Lee, Compagnie Galmae 
In 2012, the South Korean artist Juhyung Lee participated in the show Bivouac by Générik Vapeur at the Seoul Street Art Festival while serving in the military. This encounter represented a turning point for Juhyung Lee, as in 2014, he left law school to join Générik Vapeur in Marseille, France. During his first year at the Cité des arts de la rue, he met apprentices from the Formation Supérieure d'Art en Espace Public which also pushed him to enter their training program in 2015. In 2017, he created Compagnie Galmae, an artistic company working in public spaces. In 2018, he won the Bourse SACD Auteurs d'Espace. 
Sign up to receive exclusive news and updates