When a Young Woman Takes the Baton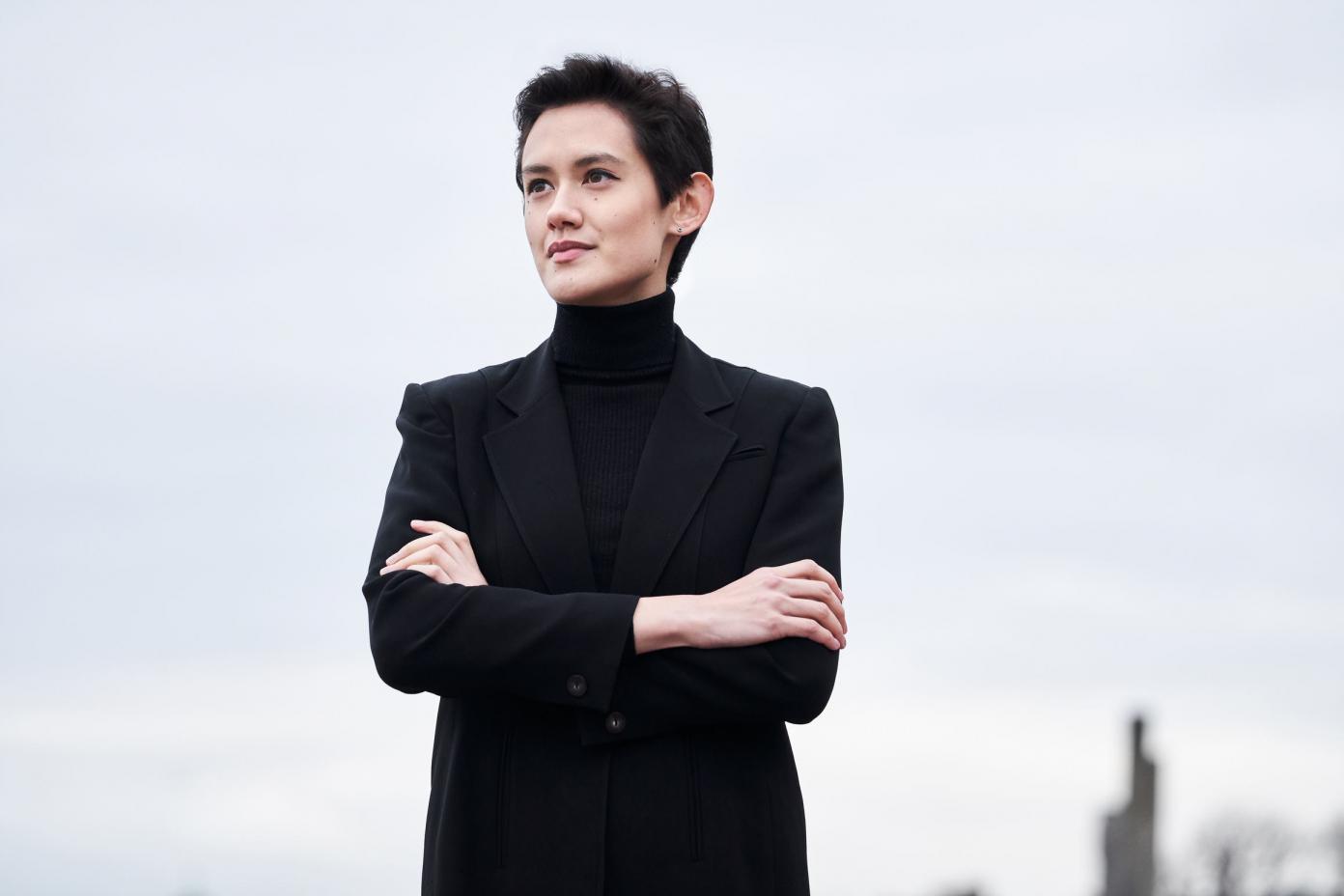 At the age of 23, Franco-British conductor Stéphanie Childress has already made an important impact on the world of orchestras. Currently one of the very few women to conduct an orchestra in the U.S. as assistant conductor with the St. Louis Symphony Orchestra, she has managed to get away from it all as part of her residency with Villa Albertine, to discover other great American orchestras. Her objective is to determine if and how a city's culture affects the way its orchestra sounds. And what part women now play in this story.
To start with, could you introduce yourself and let us know how your journey as a conductor and Villa Albertine resident started?
I'm a Franco-British conductor, and I was one of the finalists in a conducting competition for all female conductors called La Maestra, which took place in the Philharmonie de Paris. I got second place, which gave me a lot of exposure in France. Even though I was born and brought up in London, my mum's French, I have French citizenship, and so I've always had very strong ties to France. The Philharmonie told me about this new residency program aimed at reinforcing Franco-American cultural relations, so I applied and was happy to see that my candidacy had been accepted. It worked out perfectly for me, as I am currently based in St. Louis, Missouri, as assistant conductor of the St. Louis Symphony Orchestra. On top of my duties there, I was able to peel myself away from St. Louis and travel to many cities to observe different orchestras. Unfortunately, I've not had the chance to conduct the orchestras myself, but I was able to observe and realized how different they all are. I chose to go to Chicago, Atlanta, Los Angeles and San Francisco, obviously because they have some of the best orchestras in the United States. Atlanta was particularly interesting because it is a rising orchestra that has just named its first female music director, Natalie Grossman.
I also didn't know a huge amount about the cities themselves, so this "tour" got me to discover all these different places and their culture. One of the most challenging, and I must say most frustrating, things a conductor has to deal with is that when they're going somewhere for a job, they very often just go from the hotel to the concert hall, then back to the hotel, leaving no time to get to know the places they're in. Being able to go to museums, meet the curators, has been really fantastic and eye-opening. This has definitely been the highlight of my residency!
After going on this "tour" of the US and having the chance to observe four different orchestras across the country, would you say that your conducting is affected by the places you find yourself in?
Yes and no. I would say no, first of all, because what counts above all are the people, the musicians, rather than the places where I conduct them. But I would also say yes, because the people actually do come from those places. We should also not overlook the fact that an orchestra is, like any other institution, dependent on the administrative culture that supports it. After all, this is what determines the working conditions of the musicians, their salaries, or the number of hours they have to work. Very practical matters change from city to city and affect the mood in an orchestra. It's like any group of people, everyone is going to be different, with their own identity. The big question is: to what extent do these conditions affect the sound of an orchestra? This is what I came to discover with my project: how the sound of an orchestra changes from city to city and what can be the cause of this change.
What I realized is that in America, there was a very important recording culture in the post-World War II era, so in the '50s and '60s. You could tell by listening to this or that recording whether it was the Cleveland Orchestra or the Chicago Orchestra, because they sounded so distinct. Today, the difference in sound is not so clear. Everything, even in Europe, is much more homogeneous. That said, there is still that sense of identity from city to city, and especially in America, where every city is proud of its culture, as it can be from one European country to another. So an important aspect of my residency has been to try to determine if and how a city's culture affects the way its orchestra sounds.
And have you been able to draw any conclusions yet?
It's not easy to answer for the moment, because the way an orchestra sounds will also depend on the music director, i.e. the conductor they work with the most. The sound is sometimes shaped by the way he or she conducts and also, of course, by the auditorium in which they play. In San Francisco, for example, they have a fairly large hall with sonorous acoustics, which means they can really play out. Their conductor, Esa-Pekka Salonen, is an ardent contemporary music enthusiast, so they are very good at that. I could contrast that with the Los Angeles Philharmonic, where I saw the music director, Gustavo Dudamel, conduct a concert of Beethoven's Ninth Symphony. But the hall is much drier, which means that people play in a different way. If you think the sound is very dry, the short articulations come across really well, but the longer phrases may not. So there are many parameters besides the city and its culture.
Do you think that visiting all these cities and orchestras will influence your vision of music and how to conduct an orchestra? Would you like to bring back to Europe some of the things you have learned and noticed here?
I don't know if visiting all these cities in the United States will change the way I conduct an orchestra when and if I return to Europe, but it will certainly influence the way I work with people. Being able to observe different conductors and their orchestras allowed me to see what does and doesn't function and how everyone behaves. The goal of this project was really to make connections between the cities themselves and the orchestras within them. That being said, I'm sure it will seep into my subconscious. My goal is to try to shape the orchestra as we would like society to be shaped, which I think is a bit of a utopian project. Later on, I would really like to study in addition to my conducting duties and take a more academic approach to these issues. I'd like to compile a project and work with academics and musicians to see how the orchestra, a microcosm, reflects society.
One of the great challenges for classical music is to break out of its elitist image, as an art reserved for a white, wealthy elite. What would be the priority to change this situation?
If you want to transform the usual audience, you have first and foremost to rethink music and art education. Democratization, bringing music to people who don't have spontaneous access to it, is an essential project, but one that can be tedious and not very effective when it becomes an obligation. This is what we see in Europe where, in order to obtain government subsidies, it has become mandatory to develop educational projects. That's certainly not a bad thing, but I remember very well when I was young and benefited from this how condescending it can be to have people come and tell you what great art is. It is essential that arts institutions be aware of the educational role they have to play in society, but it is even more important that art be an integral part of education in all countries. Just as you wouldn't put a child in a chemical lab and expect them to find it obvious that such and such elements create a certain reaction when put together, you have to recognize that there has to be an access point to music and the arts in general.
The goal would not be to raise a generation of artists, but first of all, to help young people appreciate art more. Art enriches your life so much, whether you just appreciate it or practice it… And it's actually worrisome that the people who support classical music are an older generation of donors, because they're not going to be around forever. When this old mostly white public is gone, where are American orchestras going to get the money for their concerts? So I'd really like to focus on the younger generation and include the arts in early education. In youth orchestras, there is a clear effort toward more diversity, but there's still a long way to go. I think the priority would be to get a generation of people interested in art, and that would be enough to keep the auditoriums and museums full.
Do you feel as though being a young female in a male-dominated area is making it harder for you to find your place?
I think that I've been very lucky in terms of being a young female conductor since I don't feel as though I've experienced a lot of misogyny. I know many of my colleagues—and especially older ones, even by a few years—have really had it tough. But things are really changing, and in a positive way. This competition I was part of, The Maestra, was a true milestone in that respect, as it was a big push to try and redress the gender imbalance between men and women on the podium. In America, there are still steps to be taken in terms of having female conductors at the head of institutions. Indeed, it's always easy to put a quota and say this many female conductors have been invited this season, but then what about actually giving a good female conductor that opportunity to be the music director? If you raise this question, then the conversation changes a bit. I think the reason why people have been scared to give that position of conductor to a female is because she will be making the decisions, as an orchestra cannot be democratized too much—you need someone to decide the tempo, and how everything is going to go. But if I'm being honest, I think society itself still has a long way to go. I feel more respected as a conductor than I do as a woman in my everyday life. The world of classical music is part of society, and we are unfortunately not immune to the social injustices of the world.
This article was originally published in States, A creative magazine by Villa Albertine available at the Albertine bookstore in New York and other bookstores across the United States.
Sign up to receive exclusive news and updates