Unveiling of "azul ritmo," a Mural by Difuz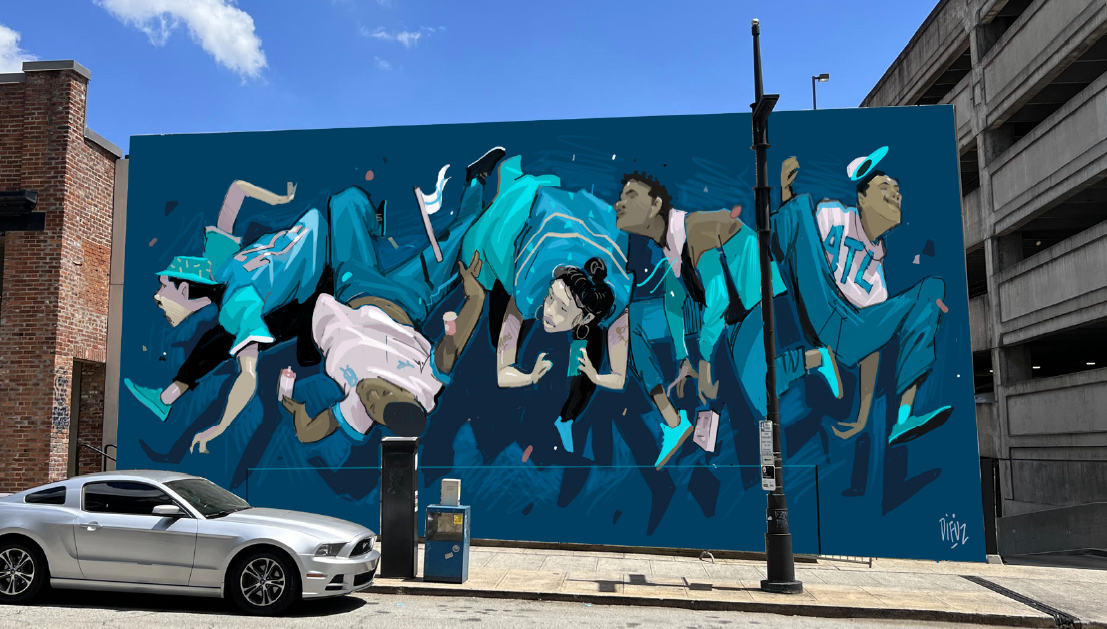 98 Pryor St SW
Atlanta, GA, US 30303
October 7, 2022 | 6:30pm
As part of CITY CITÉ and France-Atlanta, Marseille's muralist Difuz is invited by ELEVATE to create a mural in Downtown Atlanta.
Located at 98 Pryor St SW between the two sections of Underground Atlanta in the heart of Downtown, the current mural was installed in 2011 as part of the first ELEVATE, in partnership with Living walls. Other murals in this area, one of the richest mural painting districts in the city, include Sam3, Escif, Jo Di Bona, Buckhead Murals, Gyun Hur, Loss Prevention murals. For this 10 x 6 meter wall overlooking the street, Difuz proposes a mural entitled "azul ritmo," a mural that creates dialogue between the cities of Atlanta and Marseille.
In "azul ritmo," the characters are weightless, linked through the cultural movements represented. The composition is rhythmic, mimicking a line of musical notes. The 5 characters represent the street, pop, and hip hop culture. A dynamic composition meant to give rhythm to this street piece! The title "azul ritmo" symbolizes the rhythm of music, my South American origins, and the colors of the Mediterranean.
Born in 1985 in Paris, and trained in Marseille, Difuz (Diego Konicheckis) has been practicing graffiti since the age of 14. Member of the crew « Ki Fait Ca? » it has been taking over public space for almost 15 years, and today represents the rising Marseille scene. It was in 2009, during a trip to South America, the land of his origins, that he decided to devote himself completely to painting and illustration. He then begins to enrich his universe, a figurative world resulting from urban cultures. He invents and develops a society filled with characters evolving through scenes, in a world where the real and the imaginary seem to mirror each other. Letterwork is also important in his style and maintains a link with the graffiti of its origins.
In partnership with DIGATL and ELEVATE, "Museum of the Moon" will be presented at Underground Atlanta from Oct 7-9, 2022. The exhibition will include an inflatable lunar installation created by renowned UK artist Luke Jerram, moonlight and surround sound composition by BAFTA and Ivor Novella award winning composer Dan Jones, a "Moon Bounce" party featuring Flight of Swallows, a mural by French street artist DIFUZ, the SPACE ODYSSEY light-based installation by acclaimed French visual artist Etienne Rey, and more!  
This mural is curated by ELEVATE and Villa Albertine and presented by France Atlanta.
Designed in 2015 and first implemented in Chicago and San Francisco, CITY CITÉ is a transatlantic cooperation and exchange program on urban issues and city making, initiated by Villa Albertine, the cultural institution of the French Embassy in the US.
In 2022, CITY CITÉ comes to Atlanta for the first time on the occasion of the French Consulate's annual France-Atlanta program, Atlanta Design Festival and the City of Atlanta's ELEVATE festival. CITY CITÉ – Atlanta x Marseille 2022 aims to make a case for the role of culture in urban and social development, by creating a dialogue between cities of Atlanta and Marseille and inviting La Friche la Belle de Mai, a major institution in Marseille, at the forefront of cultural, social, environmental and urban innovation.
CITY CITÉ – Atlanta x Marseille 2022 is supported by the Institut français, Villa Albertine, The City of Atlanta Mayor's Office of Cultural Affairs and France-Atlanta.
Sign up to receive exclusive news and updates