Re:INCARNATION by QDance Company (Nigeria) at PS21, Chatham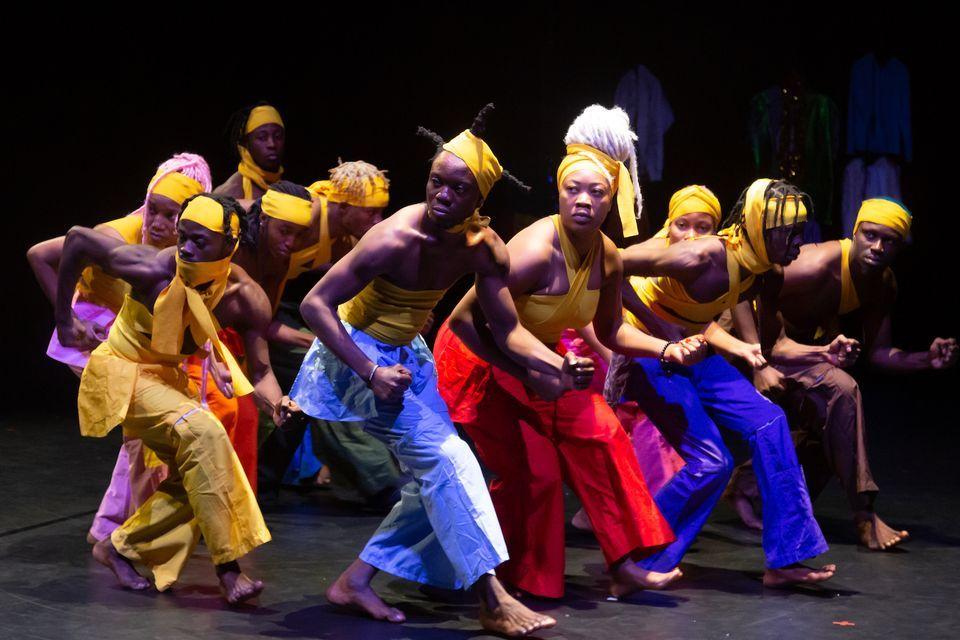 PS21 in Chatham, NY, will launch its 2022 season with Re:INCARNATION by QDance Company (Nigeria) with two performances on June 3 and 4
Re:INCARNATION  by QDance Company is a dance, music, fashion, and visual art creation that showcases the depth of ancient Yoruba philosophy, mixed with the Nigerian youth culture of today and its pure and uncompromising joy. 
The point of departure for this creation is the result of five years of research by Nigerian choreographer Qudus Onikeku into body memory. Ten young dancers and two musicians perform the cycle of birth, death, and rebirth, and Africa's powers of reinvention. 
All of Lagos is out in the streets, where a fight breaks out and one person dies. A breach in reality opens, exposing a world where a bird-woman holds court, along with keepers of the kingdom of the dead and other mythical figures. Here, death is not terminal—it is merely a thread that connects the living to their ancestors. Drawing on Qudus Onikeku's roots of Yoruba cultural traditions, Re:INCARNATION revives body memory and celebrates Africa's ability to reinvent itself in a collective rebirth. 
Re:INCARNATION also pays homage to the wealth and profusion of Nigerian music, its Afro-beat roots being currently revisited by dancehall, hip-hop, and electro. This musical genre, introduced and popularized by Fela Kuti, was born from an explosive cocktail of jazz, soul/funk, and traditional African music. In this mix of urban cultures, a reincarnation of the personal trajectories of each dancer comes to the fore with their stories and memories. 
About Qudus Onikeku
Qudus Onikeku is a representative of a new generation of artists working internationally. The choreographer was born in Lagos, Nigeria, and in 2009 went on to train at the École Nationale Supérieure des Arts du Cirque in France, initially working at the crossroads of dance and acrobatics. Inspired by traditional Yoruba philosophy, he has also been influenced by hip-hop, capoeira, and contemporary dance.
About The QDance Company
The QDance Company is a contemporary dance company with an International outlook, working with dancers from different cultures and backgrounds.  After creating internationally renowned works that have toured globally over the last decade under YK Projects Paris, artistic director Qudus Onikeku now bases his choreographic works with company dancers and musicians in Lagos.
Get your tickets for Re:INCARNATION here. 
For the presentation of Re:INCARNATION and a week-long residence of The QDance Company, PS21 (Performance Spaces for the 21st Century), Chatham, NY, received the support of FUSED (French US Exchange in Dance), a program from Villa Albertine and FACE Foundation, in partnership with the Embassy of France in the United States, with support from The Ford Foundation, Institut Francais, the French Ministry of Culture, and private donors. 
 
Sign up to receive exclusive news and updates