ANYWHERE by Théâtre de l'Entrouvert at HERE Arts Center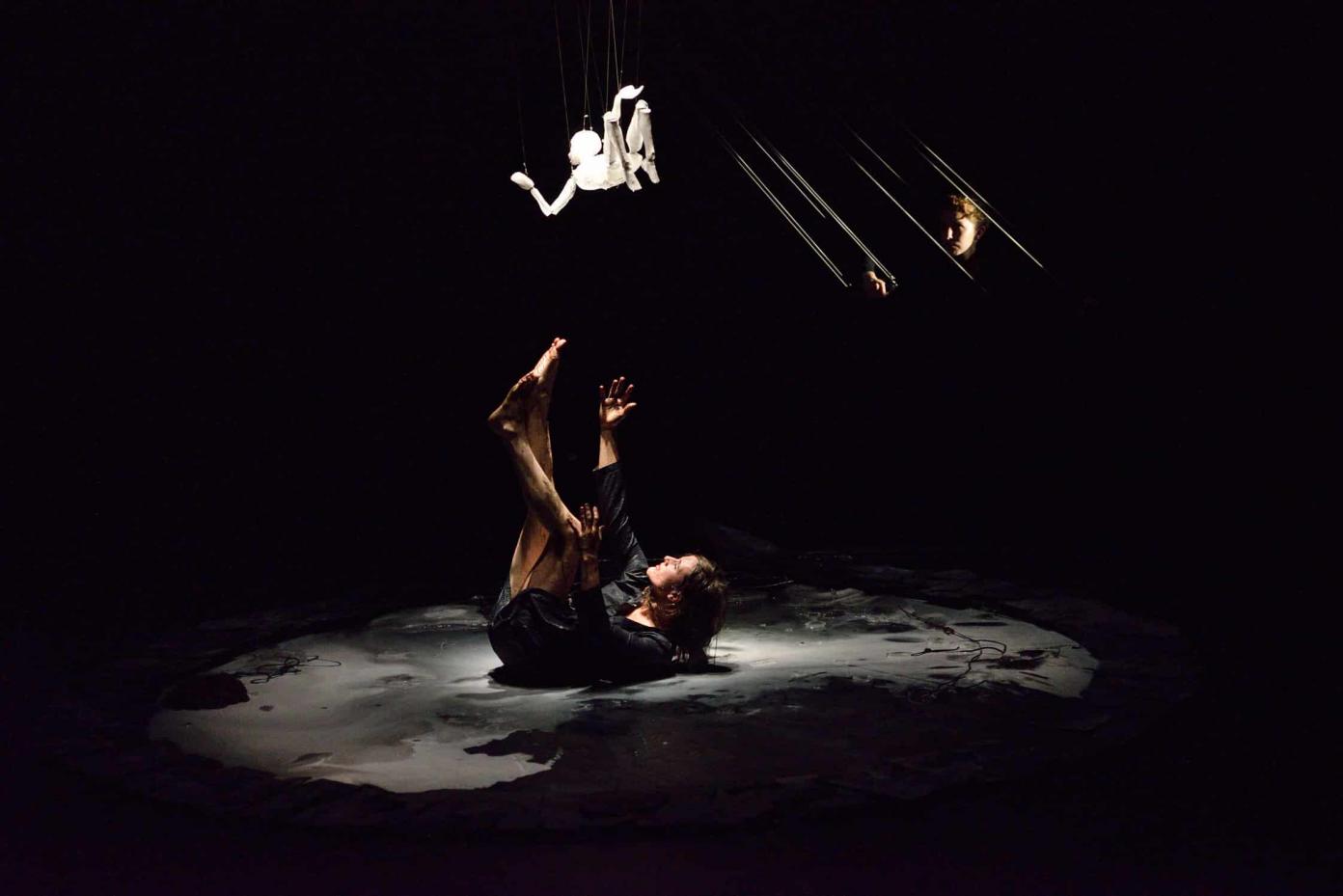 The performances of Anywhere by Théâtre at HERE Art Center are postponed until End of August. Stay tuned!
Freely inspired by the novel Oedipus on the Road by Henry Bauchau, Anywhere evokes the long wandering of Oedipus accompanied by his daughter Antigone. The fallen Oedipus appears in the form of an ice puppet that gradually turns into water then into mist and disappears in the Erynian Forest, the place of clairvoyance. The inner evolution of this mystical character is in the image of the metamorphosis of water. The spectator is invited to live an experience: to be one with the transformed material 
About Élise Vigneron
Élise Vigneron received her diploma from the ESNAM (École Supérieure Nationale des Arts de la Marionnette, Charleville-Mézières) in 2005. She studied plastic arts, attended drama classes, and unremittingly followed circus training courses. 
Her interest in transversal forms led her to work with different artists: puppeteers, dancers, writers, visual artists, circus artists, musicians. While pursuing her artistic research, in collaboration with national and international cultural structures, Elise Vigneron shares her skills through theatre labs, training courses, and workshops. Since 2017, she has been working with theater students from Aix en Provence University. In 2019, she received the Award of Creation / Experimentation from the International Institute of Puppetry Art. 
For more information about her creative process, read Elise Vigneron's interview here.
About Le Théâtre de l'Entrouvert
Théâtre de l'Entrouvert was created in 2009 by Élise Vigneron. At the crossroads of various disciplines, it focuses on a contemporary approach to the art of puppet theatre that also draws inspiration from the past. The company seeks to develop an artistic language that speaks directly to the senses and the unconscious, plunging the audience into an intimate and common experience.
Click here for more information  
Anywhere is made possible through the generous support of the Jim Henson Foundation, with additional support from The Jane Henson Foundation, and Cheryl Henson and FACE Contemporary Theater, a program of Villa Albertine and FACE Foundation, in partnership with the French Embassy in the United States, with support from The Ford Foundation, Institut français, the French Ministry of Culture, and private donors.
Sign up to receive exclusive news and updates