MOVING EARTHS / Frédérique Aït-Touati & Bruno Latour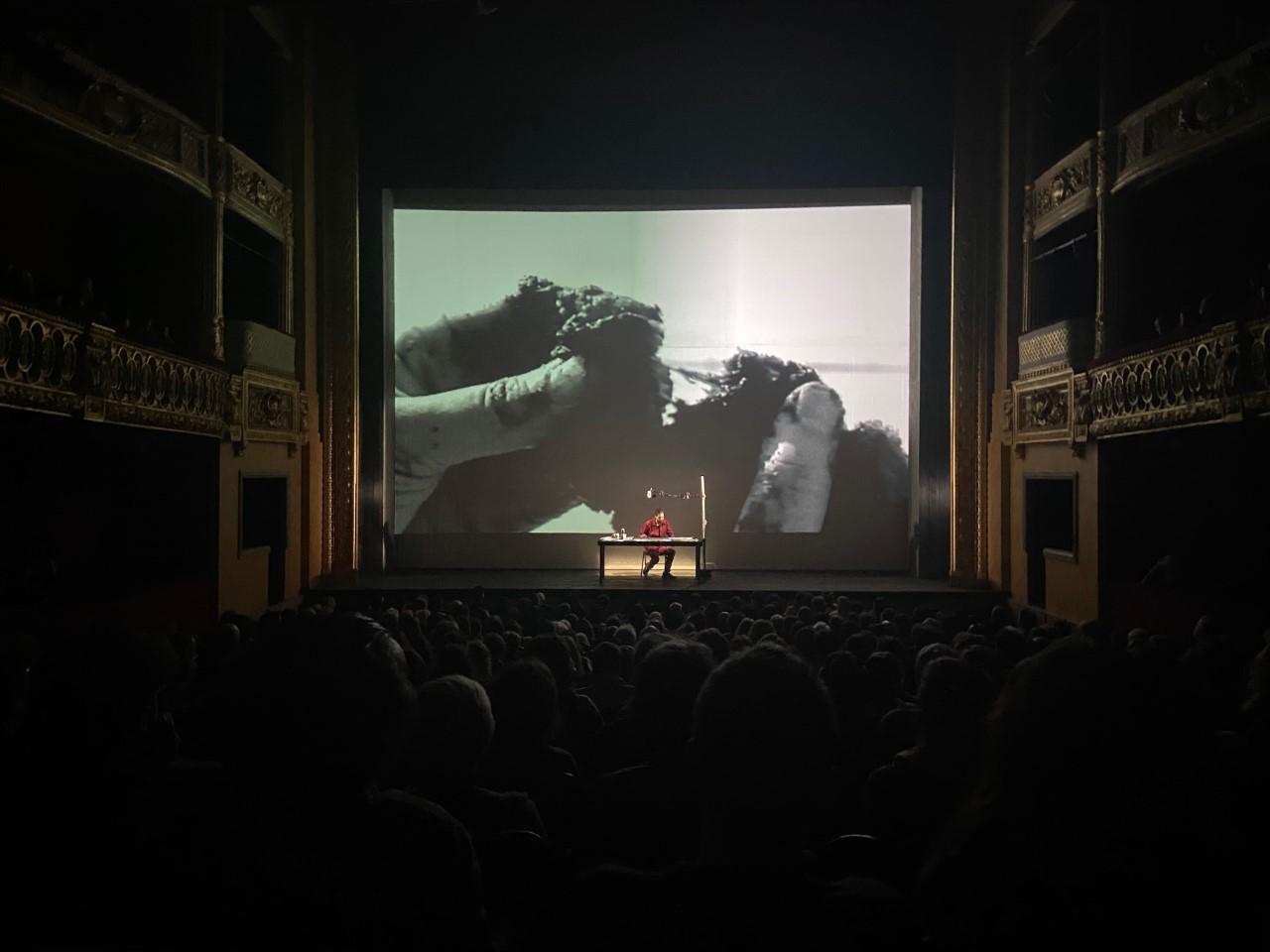 DramaTech
349 Ferst Drive, Atlanta, GA. 30332
Atlanta, US 30332
December 3, 2021 | 7pm ET
Moving earths is the second of a series of performances by Bruno Latour and Frédérique Aït-Touati with Duncan Evennou, notably presented in Paris, Berlin and Lisbon.
Where to land?
Whereas in 1610 we had to absorb the shock that "the earth moves », following Galileo's discovery, in 2021 we have to accept the much more surprising shock that the earth trembles and reacts to human actions to the point of disrupting all our development projects. 
We invite the audience to test the hypothesis of a parallel between the era of the astronomical revolution and ours. Are we experiencing a world transformation as profound and radical as that of Galileo's time? One thing is certain: we no longer know exactly what planet we live on, nor how to describe it. It is not a single, fixed and stable Earth, but a multitude of planets that lie before us, and which we must explore to find out which one to land on.
Between philosophy and theatre, this production is a mix of genres: we think it is well suited to the current period, in which changes in ideas about the world are accompanied by changes in representations of that world. It is this aesthetics of science on the stage that we have been pursuing together for more than ten years.
Text: Bruno Latour / Directed by: Frédérique Aït-Touati / Stage design: Patrick Laffont de Lojo / With: Duncan Evennou / Production: Critical Zone / Co-production: Centre Pompidou, Théâtre Nanterre-Amandiers / With the participation of DICRéAM and the support of the Carasso Foundation and NA Fun. 
Frédérique Aït-Touati is a theatre director and a historian of science. Her theatre production and books focus on the relationship between fiction and knowledge, ecology and politics. She has collaborated with Bruno Latour for ten years on theatrical ways to test new hypotheses, especially for questioning the irruption of the controversial new figure of Gaia. Her work has been presented in France and around the world (Nanterre-Amandiers, Théâtre de l'Odéon, Berliner Festspiele, The Kitchen in New York, Boca Festival in Portugal, Taipei Biennale, etc.)
Bruno Latour is a sociologist, anthropologist and philosopher of science. His work earned him the Holberg Prize, the highest distinction in the social sciences, in 2013. A professor at Science Po in Paris, he is interested in the sociology of science and the processes of scientific research, the dynamics of innovations and the philosophy of the techniques that result from them, or philosophical anthropology, questioning the distinction between nature and society, and political ecology. He is also the curator of several exhibitions: Iconoclash, Making Things Public and Reset Modernity!
Duncan Evennou is a contemporary French performer and director. In 2012, he graduated from the Ecole Nationale Supérieur d'Art Dramatique du Théâtre National de Bretagne, under the direction of Stanislas Nordey. Having completed the Political Arts Experimentation Programme (SPEAP) at the Ecole des Sciences Politiques, he is now focusing on interdisciplinary work at the interface of drama, sociology and visual art involving the three key dynamics of creation, research and pedagogy.
Patrick Laffont de Lojo lives and works in Paris. Patrick Laffont-DeLojo is a visual artist, video director and set designer who develops his work "on stage" as close as possible to the performers. Since 2004, he has been working with Cyril Teste, Hubert Colas, Emilie Loizeau, Alain Françon, Robert Cantarella, Yves-Noel Genod, Jean-Louis Benoît, Thierry Thieu Niang, Benjamin Bertrand… Since 2017 he has been collaborating with Frédérique Aït-Touati and Bruno Latour and teaches at the Ecole Nationale Supérieure des Arts Décoratifs in Paris.
This event is part of the Franco-German series "Climate Crisis & Contemporary Culture" which seeks to explore the diverse means by which we communicate on our current climate crisis while exchanging experiences and art. It is designed by the French Alliance and the Goethe Zentrum in Atlanta, the Villa Albertine in Atlanta, the School of Modern Languages of Georgia Tech, with the support of the Cultural services of the Embassy of France in the US, the Consulate of the Federal Republic of Germany in Atlanta, the Franco-German Cultural Fund and DramaTech.
TICKETS
Sign up to receive exclusive news and updates