Family Flicks Program Presents "WolfWalkers"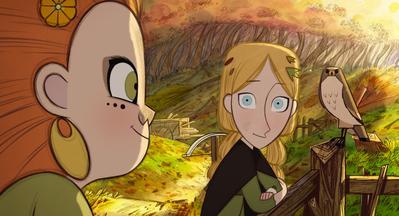 Billy Wilder Theater at the Hammer Museum
10899 Wilshire Blvd.
Los Angeles, US 90024
July 17, 2022 | 11am
The UCLA Film and Television Archive and the Hammer Museum present a screening of WolfWalkers at the Billy Wilder Theater on July 17, 2022, at 11am. Admission is free and no registration or tickets are required. It will be first come, first served.
Young huntress Robyn Goodfellowe, on a wolf hunting quest with her father in Ireland, has an insatiable curiosity that leads her outside the city walls. There, she encounters the enchanting Mebh, whose family may have a mystical tie to the local lupine population. Following Secret of the Kells (2009) and Song of the Sea (2014), the Oscar®-nominated Wolfwalkers completes director Tomm Moore's Irish Folklore Trilogy with a beautiful, innovative mix of emotive 2D line work and mythical woodblocks.
Directors: Tomm Moore, Ross Stewart
Screenwriters: Will Collins
With: Honor Kneafsey, Eva Whittaker, Sean Bean Ireland/Luxembourg/France, DCP, color, 103 min., 2020 
Recommended for ages 8+
For more information, click here.
Sign up to receive exclusive news and updates