Dance Assembly: A Conversation Series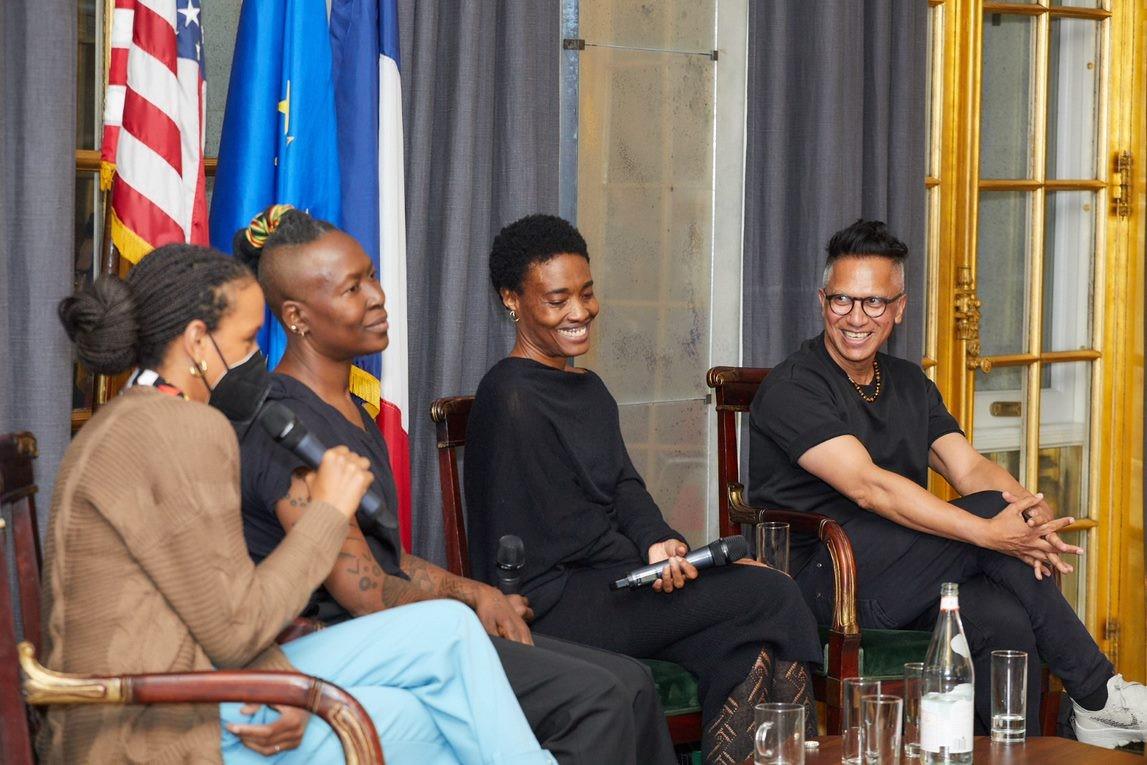 Albertine Dance Season 2023
Curated by Noémie Solomon
Dance Assembly: A Conversation Series is part of the Albertine Dance Season: A year-long celebration of the art of dance from inception to performance in 2023.
The series is curated with writer, teacher and curator Noémie Solomon.
The dance figure of the assemblé – in which the feet meet in the air before landing together on the ground – serves as a prompt for this series of panel discussions, post-performance conversations and symposia. In the assemblé, physical limits are tested for bodies and gestures to come together. A critical mode of gathering, the assembly highlights the role of choreography in storing collective knowledge, anticipating social formations and sensorial revolutions. Our questions and provocations include: What are the practices of collaboration and transmission contemporary dance enacts across disciplinary forms, generational divides, and geopolitical borders? How does it rehearse sustainable processes and futures? How do choreographic archives score contemporary lives? Can diversity and equity be aesthetic gestures as well as political tools? What choreographic practices do we need to mobilize and transform forces of violence and bodily agency?
Black Archives Dancing
With Jay Pather, Nelisiwe Xaba, and nora chipaumire
Moderated by Candace Thompson-Zachery
Screening of the dance film La Visite (2020) directed by Tommy Pascal with the choreographer and dancer Wanjiru Kamuyu
April 6 | 6PM ET | Villa Albertine Headquarters
This conversation gathers interdisciplinary performance makers around questions of corporeal memory and agency. It examines the ways in which Black dancing bodies channel layered histories while creating other futures. Addressing the specific projects of this group of artists, the exchange maps the movements of stories, objects, and practices that exist within the culture of the African peoples from the continent and the Diaspora, and how those collide with larger legacies of archiving. It asks what choreographic and curatorial practices can do to resist a long history of violence, exclusion, and misrepresentation, and shed light on moving bodies as sites of knowledge and transformation.
"This concerns all of us." A Somatics of (Political) Agitation
An online conversation between Miguel Gutierrez and Emma Bigé, as part of Skirball's Office Hours
April 21 & 22 | NYU Skirball's Office Hours
An exchange between two dancers, somatic practitioners, improvisers, teachers, writers on how to choreograph disturbance and togetherness. Drawing on the US première of Gutierrez's group piece conceived for le Ballet de Lorraine around the 50th anniversary of May 68, the interlocutors discuss some of the gaps and overlaps when it comes to dance making on both sides of the Atlantic, with a particular attention on the ways in which bodies intersect with and are shaped by distinct histories across vectors of gender, race, class. How can agitation – "the collective shaping of dissent" in Mel Y. Chen's words – be a somatic as well as a choreographic tool? How can the unruly gathering of insurgent bodies breach the theater of politics to enable other ways of dancing and being with one another?
Transformations: A partial history of Hip Hop Dance across France and the U.S.
Céline Gallet, Linda Hayford, and Saïdo Lehlouh from the collective FAIR-E (Centre Chorégraphique National, Rennes) in conversation with Tatiana Desardouin, Rokafella, and Caleaf Sellers, moderated by Martha Diaz, Founder and Executive Director, Hip Hop Education Center.
The exchange will include video interviews of France-based performers Walid Boumhani, Nacéra AKA B-girl Hurricane, Lumi Sow and Massangila "Yugson" Lumengo conducted by Jimmy Yudat.
May 24 | 6:30PM ET | Villa Albertine Headquarters
This conversation explores the development of Hip Hop dance in the U.S. and France through the lens of transmission: The ways in which styles and knowledges are being passed on and shift over time and across territories. Initiated by the Collective FAIR-E – a group of self-taught Hip Hop dancers and organizers at the head of the National Choreographic Center based in Rennes, France – the event features video portraits of key actors and witnesses of various styles and periods on both sides of the Atlantic. These testimonies serve as prompt for a broad discussion on Hip Hop dance through issues of collaboration and circulation; the dense traffic of aesthetic and political influences that shapes its histories.
O Samba — An Evening of dance, queerness, blackness and afterlifes with Luiz de Abreu and Calixto Neto
October 13 | 6:30 PM | New York University-Tisch School of the Arts (RSVP Link will open shortly)
Haptic Rituals with Nacera Belaza and US Guests
October 14 | 7:00 PM | Wesleyan Center for the Arts, Middletown, CT
Monique Wittig's French-American Legacy with Adèle Haenel, Sande Zeig, Annabel L. Kim and Noémie Solomon
October 18 | 6:00 PM | Villa Albertine Headquarters (RSVP link here)
Professional Symposium – Making and Supporting Dance between France and the United States
October 26 – 27  | 10 AM – 5 PM (ET) | Villa Albertine Headquarters
Afrofuturism and Ecological Justice in French West Indies' Contemporary Dance with performance artists Marlène Myrtil, Myriam Soulanges, and Fana Fraser
December 5 | 6:00 PM | Villa Albertine Headquarters
About Noémie Solomon
Noémie Solomon works in the field of dance and performance as a writer, teacher, and curator. She edited the collections DANSE (an anthology and a catalogue published by Presses du réel, 2014 and 2015) that translate and present key texts on the somatic and linguistic trades between French and North American choreographic cultures. She holds a PhD in Performance Studies and is Director of the Institute for Curatorial Practice in Performance.
Leadership support for Albertine Dance Season provided by Ardian.
Sign up to receive exclusive news and updates