"This concerns all of us" A Somatics of (Political) Agitation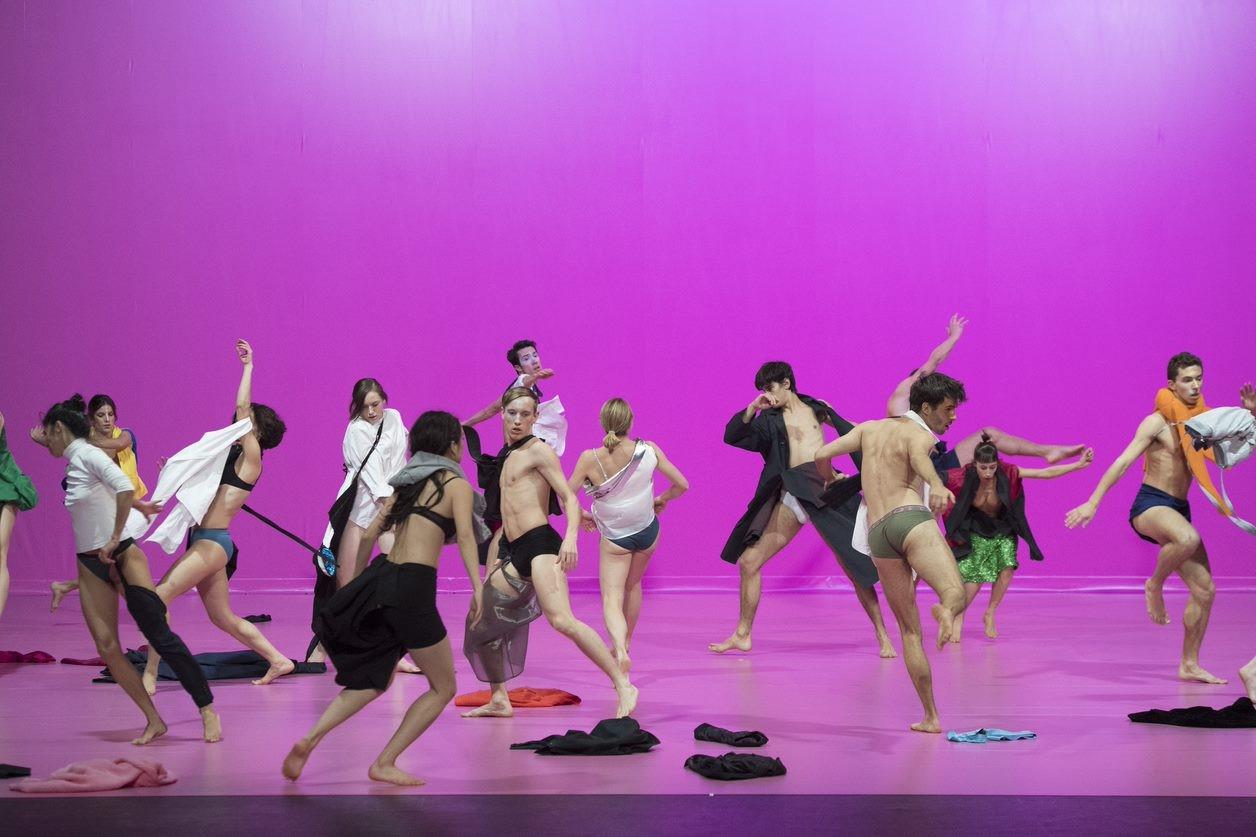 Dance Assembly: A Conversation Series | #2
An online conversation between Miguel Gutierrez and Emma Bigé, as part of Skirball's Office Hours
An exchange between two dancers, somatic practitioners, improvisers, teachers, writers on how to choreograph disturbance and togetherness. Drawing on the US première of Gutierrez's group piece conceived for le Ballet de Lorraine around the 50th anniversary of May 68, the interlocutors discuss some of the gaps and overlaps when it comes to dance making on both sides of the Atlantic, with a particular attention on the ways in which bodies intersect with and are shaped by distinct histories across vectors of gender, race, class. How can agitation – "the collective shaping of dissent" in Mel Y. Chen's words – be a somatic as well as a choreographic tool? How can the unruly gathering of insurgent bodies breach the theater of politics to enable other ways of dancing and being with one another?
Miguel Gutierrez is a choreographer, composer, performer, singer, writer, educator, podcaster, visual artist, and arts advocate who has been based in Lenapehoking/Brooklyn for twenty five years. His work creates empathetic and irreverent spaces outside of traditional discourse. He believes in an approach to art making that is fierce, fragile, empathetic, political, and poetic.
Emma Bigé digs, writes, translates and improvises with experimental contemporary dances and trans*feminist theories. A PhD in philosophy and a translator, she is also a dancer and curator, the editor of Steve Paxton: Drafting Interior Techniques (Culturgest, 2019) and the author of Mouvementements, Écopolitiques de la danse (La Découverte, 2023).
About Dance Assembly: A Conversation Series
Curated by Noémie Solomon in collaboration with the Villa Albertine team
The dance figure of the assemblé – in which the feet meet in the air before landing together on the ground – serves as a prompt for this series of panel discussions, post-performance conversations and symposia. In the assemblé, physical limits are tested for bodies and gestures to come together. A critical mode of gathering, the assembly highlights the role of choreography in storing collective knowledge, anticipating social formations and sensorial revolutions. Our questions and provocations include: what are the practices of collaboration and transmission contemporary dance enacts across disciplinary forms, generational divides, and geopolitical borders? How does it rehearse sustainable processes and futures? How do choreographic archives score contemporary lives? Can diversity and equity be aesthetic gestures as well as political tools? What choreographic practices do we need to mobilize and transform forces of violence and bodily agency?  
Dance Assembly: A Conversation Series is part of Albertine Dance Season: A year-long celebration of the art of dance from inception to performance in 2023.
Leadership support for Albertine Dance Season provided by Ardian
Sign up to receive exclusive news and updates