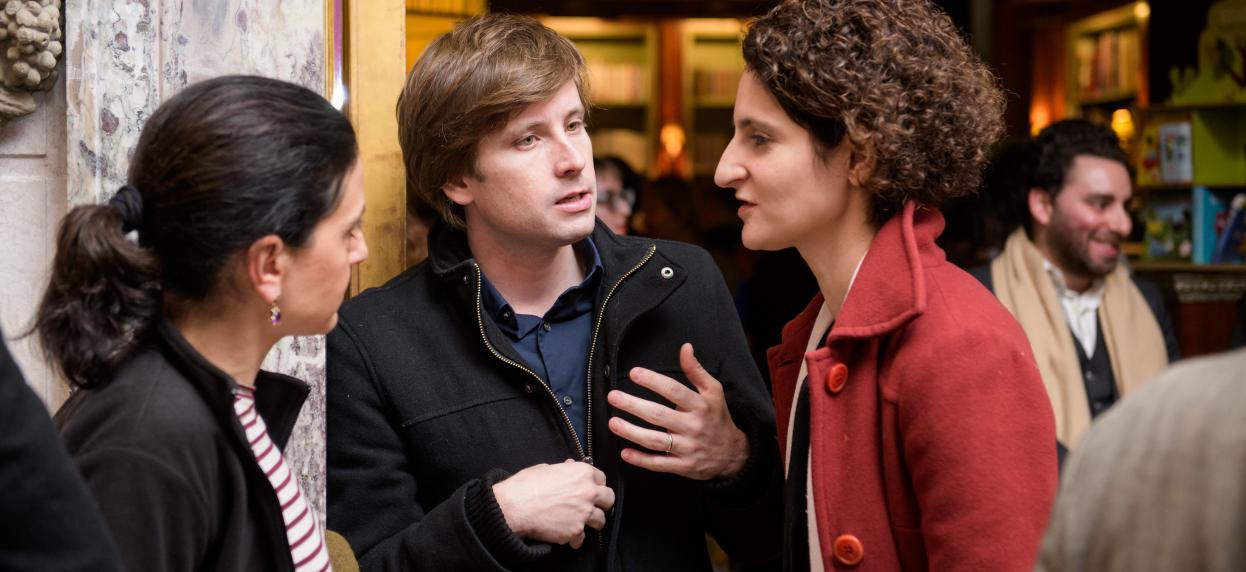 Individuals are invited to engage with Villa Albertine at the local, national, and international level.
Villa Albertine is made possible through the generous support of individual donors, including Daphne Recanati Kaplan and Thomas S. Kaplan, Marie-Josée and Henry Kravis, Béatrice Stern, Sana Sabbagh, Elizabeth and Jean-Marie Eveillard, Stephan Haimo and Veronica Bulgari, Michel and Hélène David-Weill, and Mamadou-Abou and Catherine Sarr.
Friends of Villa Albertine
Major supporters of Villa Albertine are invited to join the Friends of the Villa Albertine network, bringing together a distinguished group of supporters who share a passion for the Villa's mission. Join a visionary community of friends dedicated to promoting dynamic cultural exchange and new relationships between France and the United States. Members of the Friends of Villa Albertine network enjoy insider access to innovative creators and thought leaders at work across the US and play an essential role in shaping transatlantic cultural dialogue, as well as a tailored selection of exclusive benefits and privileges, including: 
Recognition on program materials, including website, online and print communications, event materials, and press releases 
Naming opportunities around Villa sites and residency programs  
 Integration into media outreach plans 
 Privileged invitations to public and private Villa Albertine and Cultural Services events throughout the year 
Opportunities to enjoy customized, exceptional experiences at leading cultural institutions 
Young Friends of Villa Albertine
Young Friends of Villa Albertine brings together a dynamic group of French culture enthusiasts passionate about the fine and performing arts, music, and literature. An integral part of the Villa, they support the transatlantic exchange of new ideas and enjoy exclusive access to cultural institutions and programming featuring emerging creators and thinkers from France and across the world.
Young Friends of Villa Albertine (35 and under):
Invitations to Young Friends programming throughout the year, including receptions and film screenings
Privileged access to Villa Albertine's partner cultural institutions
Acknowledgement in the Villa Albertine Annual Report
Contact Us
For further information about the Friends of Villa Albertine, please contact:
Anne Bourgois
Director of Partnerships & Development
Local Villa Albertine Patrons' Circles 
Guided by the offices of the Cultural Services of the French Embassy present in 10 cities across the US, supporters of Villa Albertine at the local level are invited to become members of the Patrons' Circle associated with their city's Villa. Patrons' Circle members are leaders in their communities who share a commitment to French American exchange in the arts and culture. They enjoy exclusive, behind-the-scenes access both at the Villa and with local cultural partners, as well as a range of tailored benefits that may include:
Invitations to exclusive Villa Albertine private dinners and events
Opportunities to meet with local Villa Albertine residents and discover their work in progress in an intimate setting
Privileged access to local partner cultural institutions  
Preview access to local exhibitions and events
Recognition on the Villa Albertine digital platform and in the Annual Report
Contact Us
For further information about your Local Villa Albertine Patrons' Circle, please reach out to your local Villa Albertine Director.
Sign up to receive exclusive news and updates