Diane Sara Bouzgarrou & Thomas Jenkoe
Filmmakers
September–October 2023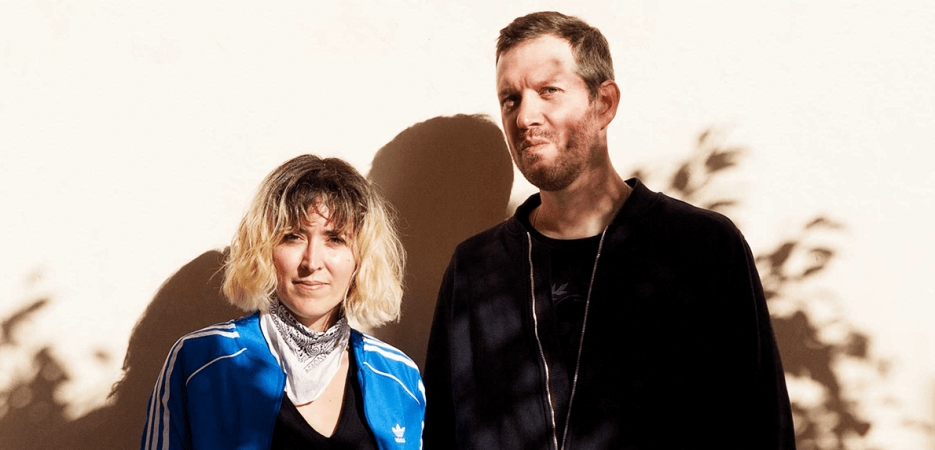 "Bakersfield, the gateway to the desert, is where the filmmaker duo will prepare their next film, about a world going up in flames while teenage girls look on."
We met at La Sorbonne in 2007, as Master's students in cinema, and before long we became a filmmaking couple. Our first films, made separately, testify to a period of experimentation but are already imbued with our affection for lonely people, exiled within themselves.
In Thomas' Memories from Gehenna and Diane's I Remember Nothing, we tried to find a cinematic language capable of creating an essentially introspective, memory-based reality in which the territory is as much a geographical entity as a landscape of the soul.
In 2020, we shot our first feature-length documentary together, The Last Hillbilly, which was filmed immersively over a period of several years in the Appalachian Mountains. Our protagonist poetizes the fading away of the world he has always known, as it disappears before his very eyes. The extraordinary beauty of his poetry echoes all the troubles and hopes of that region.
For our next film, we are continuing our exploration of the American territory, in Bakersfield, California, still looking to film people who cannot find their place in the world and end up on the fringes of society.
Diane Sara Bouzgarrou and Thomas Jenkoe are French filmmakers whose first medium-length films have been selected and won awards at major festivals (IFFR Rotterdam, Doc Fortnight MoMA, Cinéma du Réel, etc.).
Their first feature film, The Last Hillbilly, premiered in Cannes in 2020 and was shown at numerous festivals, including the Hong Kong Film Festival, Sydney Film Festival, Entrevues Belfort, and Festival de Deauville, where it won several awards (Best International Documentary Film at the Torino Film Festival, Special Mention/Winner at the Amsterdam International Documentary Film Festival, Grand Prix at the Festival International du Film Indépendant de Bordeaux). It opened in theaters in 2021.
We are currently working on the script of our second feature-length documentary, which will be filmed in Bakersfield, Kern County, California. This project will follow the same aesthetic approach as The Last Hillbilly and reflect the themes that underpin our work: bodies, words, landscapes – territories of struggle.
We will focus on the teenage years – a period the children in our previous film were about to experience, already anxious about the fragility of their future. While the Appalachian Mountains provided them with shelter, there are few sanctuaries for those who grow up in Bakersfield's underprivileged neighborhoods, which are often subjected to social, political, environmental, and existential problems that resonate with our contemporary world.
Our starting point was the discovery of a rehabilitation program at the Bakersfield Juvenile Detention Center, where teenage girls try to mend their broken lives through contact with abandoned dogs in search of a new home. We will meet female ex-convicts and those girls who are most at risk of ending up in jail. We will extend our research to the disadvantaged areas of Bakersfield in order to interweave the stories of various teenage heroines striving for hope and resilience despite the limited prospects that seem to lie ahead.
We will focus our residency on scouting for the characters for our next film: sensitive and charismatic girls who try to break away from social determinism, driven by a desire that sometimes makes them overstep the bounds. We will do some visual tests to define our aesthetic cinematic approach so that the stories of our heroines merge with the territory they live in.
With its oilfields, dust storms, periods of severe drought, and megafires that appear on the horizon every year, Bakersfield and the surrounding area are an ideal location for witnessing the current ecological upheaval. This context means more hardship for the people of Kern County, one of the most disadvantaged in California, where the major concerns of our modern world are amplified. This is where we will settle to work on our film script, focusing on the life paths of teenage girls who have to build a future there.
Starting from the juvenile detention center, we will do research to understand the specific workings of the California legal system and the perspectives it offers the teenagers during and after their detention. We will meet the probation officers who supervise them after their release, and people working in child welfare in the city's underprivileged neighborhoods. In the overcrowded kennels, we will observe the fate reserved for abandoned and ill-treated dogs, whose chaotic lives strongly echo those of the teenage girls. Finally, in the wooded areas north of Kern county, we will meet young people whose homes are threatened by the megafires, and firefighters who try to put them out. We will use this research to draw life paths that begin in darkness and head toward the light.

Films de Force Majeure produces and co-produces films by fostering singular and committed authorial visions, from all over the world, and capable of reaching a long-term and diverse audience. Our ultimate desire: that the films we accompany transform those who see them through a unique cinematic experience each time.
Giansily-Doyle Media Consulting LLC (GDMC)
Documentary film editorial and business consultant, international distributor, producer and sales agent, Laetitia created Giansily-Doyle Media Consulting LLC (GDMC) in 2012 after moving to the United States. GDMC is accompanying the development, production and sales of film projects, programs and services that reflect a diverse, inclusive and global society. GDMC encourages and enables international co-productions, and to build bridges between dynamic storytellers living on each side of the Atlantic with the desire to express a collaborative artistic vision.
 
Sign up to receive exclusive news and updates