Pluridisciplinary Artist, Paper Finisher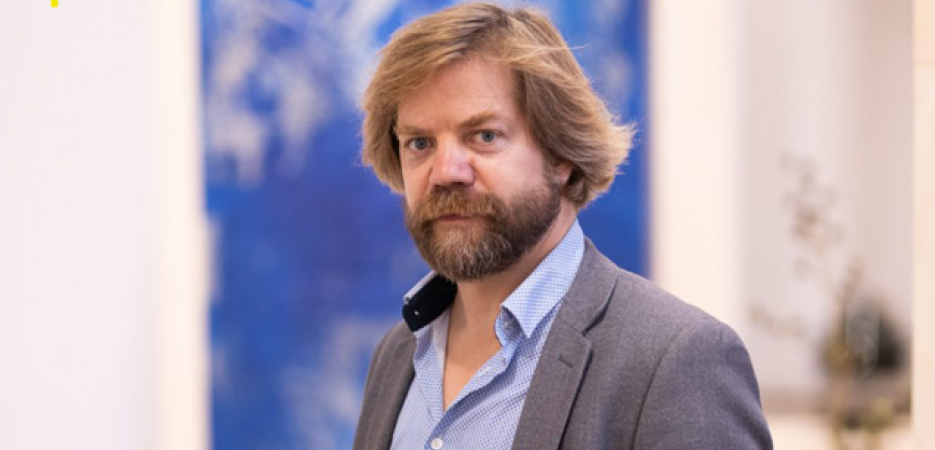 "And if paper, through its universality, its virginity, allowed a conciliation, a new fusion, a language understood by all, whatever their origins and their paths."
My initial trajectory into theater, stage production, scenography, and performance took an abrupt detour after an encounter with block-printed wallpaper. This art, which had been lost since the 1940s, deserved, in my view, to be revived and protected, both for its connections to our heritage and as a medium for creating new realms. So, in 1999, I founded L'Atelier d'Offard with the goal of reconciling traditional technique with modern technology.  
Alongside my wallpaper creations, I conducted ongoing research into the "culturogenic" power of paper, which I viewed as a filter of the tangible and guardian of our imaginations.  I had transformed, ennobled, printed, embossed, coated, shredded, and burnished paper without truly knowing its nature. As I felt my way through the dark, I became transformed into an enlightened amateur in whom I recognized a new avatar.  
Out of this quest and through this age-old printing technique, I had come to exalt and love paper as my primary confidant. There remained just one dimension to explore that would help better appreciate and understand it: a voice. I was fortunate enough to spend a four-month residency in Kyoto, at Villa Kujoyama, to explore the sound of washi, the traditional Japanese paper. A paper organ emerged from this fibrous material, expressing in itself the theatricality of the living world.  
After graduating from the École des Beaux-Arts in Angers, François-Xavier Richard ventured into a wide variety of fields, including scenography, sculpture, drawing, and engraving. His multiple explorations ultimately led to his creation of L'Atelier d'Offard, in 1999, which strives to revitalize and develop traditional block printing, as well as to elevate the medium of paper. He was awarded the Bettencourt-Schueller Prize, the Sema Prize, and the Luxe Prize (for "Talent in Daring"). His studio is a certified Living Heritage Company (Entreprise du Patrimoine Vivant). In 2017, he was a resident artist at Villa Kujoyama.  
From its construction through its activation, the paper organ soundscape has combined contributions by multiple artists. It is designed as a theater stage that can host artists from other disciplines, such as musicians, actors, dancers, videographers, light artists, etc. Paper is one of our main vectors of creation, frequently accepting others' artistic intentions but seldom asked to let its own voice be heard.  Examining the sound of paper using the rather peculiar music of slapping, crumpling, ripping, and flapping allows me to awaken this voice that stimulates our thoughtscapes. When paper is not carrying the dream to our ears, we are the ones laying that dream down on its blank surface.  Fundamentally combinatory and open to the unsuspected, the organ is made up of different sound modules, each resulting from a discovery or exchange with a given location, culture, or person. Following its creation at Villa Kujoyama, this instrument has been awaiting a new impulse through an encounter with the United States.  
A brush with paper is the intention of my proposed adventure, based on a spirit of exchange and mutual discovery to explore the metamorphoses of this medium. This project will be developed by a variety of people wielding various forms of expertise. It will involve a time of encounter and interaction between paper craftspeople, paper artists, musicians, and sound specialists. I plan to have a construction period with expert instrument makers, carpenters, and designers, followed by an activation period involving artists from all walks of life. All phases and scales may be considered in the project, from tiny sound module to complete sound space, whereby either variation would let paper be heard by the guardians of our world.  
The page always starts off blank. I love this transitional state of creation; this dizzying potential of the as-yet-unoccupied space. Often, paper is the raw state of an idea, an artistic desire. Anything can be written upon this primal space, where cultural encounters create a sense of wonder (or wanderlust). That mutual wonder is the sole intention of this (marvelous, surprising) adventure. As such, this artistic exploration, in Japan, in the US, and in Europe, or on any other continent, will not follow a path that is predetermined. It will be likened to an adventure along the Silk Road or, rather, the Paper Road.  
I want to meet those who love paper as the epidermis of their art or their first gesture: musicians, luthier, poet, dancer, actor, etc. All other tasks can be delegated to the paper-pushers. I want to share, teach, make, and craft, both through and with paper, alongside those who like to put a little paper in their life. I want to walk the halls of paper palaces and reserves.  
Why the United States? Land of the melting pot, crucible of the exiled, at the intersection of languages, cultures, and confluence of origins, the United States stands as the promised land of intermingling dreams. However, as it hurtles ever skyward, could this fanciful America be turning into a 21st-century Tower of Babel? 
What if the universality and blankness of paper were to offer a reconciliation, a brand-new fusion, and a language understood by all? What origins and paths would these aspects take? Would they be paper skins, color-in dermises, nude sheets, or paper molts? Could even the quietest souls—usually frightened or alarmed at the very idea of utterance—be overcome with a yearning to cover up, fill up, tear up, and build up? 
Sign up to receive exclusive news and updates