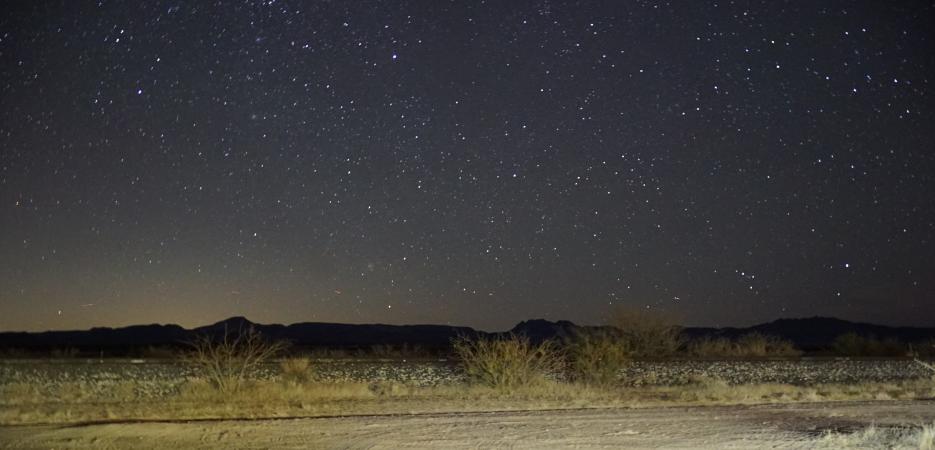 A collective residency on the imaginaries of space
How can we de-construct our collective imagination of outer space? Can we nurture a thirst for exploration without feeding the hunger for conquest, territory, and appropriation?  Villa Albertine in Marfa, in partnership with the Centre Pompidou (Paris), is a new residency program that confronts these questions head-on, through the work of four international artists and researchers: French author and exhibition curator Léa Bismuth, Spanish filmmaker and aerospace engineer Vanessa del Campo, France-based American designer Elizabeth Hong, and French CNRS research director Jean-Philippe Uzan. From October 5 to November 5, 2022, under the starry skies of Marfa, Texas, these four creatives-in-residence will critically examine the drive for civilizational, technical, and economic conquest and propose tools and reflections to help construct new imaginaries of outer space.   
Plus ultra: further beyond. This motto, adopted by conquering emperor Charles V, is also the mission which Francis Bacon assigned to modern science. To this day, scientific and geographic discovery is tied by a thousand threads to conquest and appropriation. The contemporary "space race"—in search of habitable planets, scarce resources, or new grounds for tourism—is no exception. Yet in recent years, profound cultural questionings have made room for new possibilities.   
Designed in collaboration with the historian, researcher, and theater director Frédérique Aït-Touati, this residency program will establish a dialogue between American experts and creators from France and beyond, while enriching residents' individual projects with moments of collective reflection, learning, and critique.  
"In 2022, the appropriation of geographies and resources is an existential issue. This residency is an opportunity to zoom out and imagine a different approach to the worlds around us, both terrestrial and beyond," said Gaëtan Bruel, Director of Villa Albertine. "Marfa is a perfect environment for this work, combining dark skies with a brilliant and diverse cultural scene. We are overjoyed to welcome these four artists and researchers to Marfa, and to soon discover what new explorations and international collaborations their work inspires."  
Marfa and its surroundings are an ideal place for stargazing in the desert. The Big Bend International Dark Sky Reserve was certified in 2022 and is the largest Reserve and protected Dark Sky Place in the world, spanning from Fort Davis, Texas, to the Rio Grande River and three protected areas in Mexico. It is home to the McDonald Observatory, a world-class astronomical observatory and research facility in Fort Davis, less than 40 miles north of Marfa. 
The small town of Marfa has also become an art oasis in the desert and a world-famous contemporary art outpost since 1979, when minimalist artist Donald Judd decided to leave the bustle of Manhattan for the solitude of Marfa. With its unique combination of rurality and eccentricity, Marfa has grown into one of the world's great contemporary art centers, where a new generation of artists has kept the flame alive. 

Since 1977, the Centre Pompidou has presented a rich programme at the crossroads between different art forms and audiences. Its iconic building is home to one of the world's largest modern and contemporary art collections, in addition to exhibitions, symposiums, festivals, shows, projections, and workshops for young audiences, making it an unparalleled cultural institution, deeply rooted in the cultural fabric of Paris and open to the world and to new innovation. 
Sign up to receive exclusive news and updates