Ashley Chen & Peter Steven
Dance Performer, Choregrapher / Filmmaker
February-March & May 2023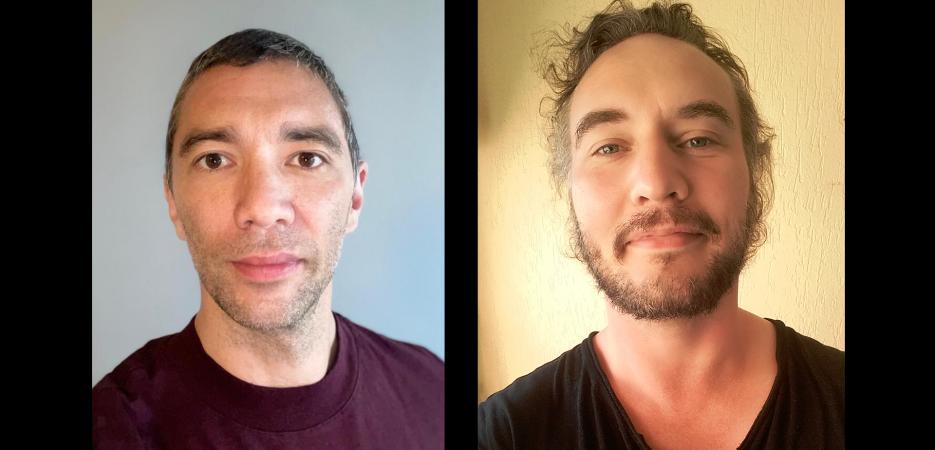 Los Angeles
New York
San Francisco
"Our bodies are in perpetual motion, constantly traversing spaces that overwhelm us with a flux of constant, natural, or mechanical movements."
Ashley and Peter grew up in the 1980s in Normandy, France. In their respective families, cultural diversity was an integral and important part of their upbringing. From the beginning of their collaboration, their goal has always been to create rich and accessible artistic ideas. 
Ashley Chen: 
I am very fortunate to have travelled extensively while working with international dance artists. As a result, I enjoy figuring out how one creates, what inspires them: their culture and surroundings. My work is often and largely inspired by differences. The aim is to bring peculiar experiences to the spectator and incite them to question what they see. 
Peter Steven: 
Growing up in the late 80s and early 90s, I have always had a fascination for art and multicultural experiences. 
At a very early age, I fell in love with the arts of theater and film.  My journey has led me to meet people from diverse artistic backgrounds and has undoubtedly influenced my taste, even my attraction, and passion for storytelling. My bi-cultural identity has given me a unique and interesting perspective, not only on various work ethics but also on life as a whole. My aim is to create a fundamentally compelling story through the medium of film. 
After graduating from the Conservatoire in Paris, France, Ashley Chen moved to NYC to work with Merce Cunningham in 2000. In 2004 he returned to France integrating the Lyon Opera Ballet. Since 2006, he's been freelancing throughout Europe and has collaborated with many choreographers including Michael Clark, John Scott, Philippe Decouflé and Boris Charmatz. He founded his company, Kashyl, in 2012, with the desire to create unusual choreographic projects based upon the raw and radical physical intensity of the performers. 
Peter Steven studied at the Italia Conti Academy of Theatre Arts in London in 2003. There he decided to focus on his passion for filmmaking. Travelling to San Francisco, another city renowned for its diversity, Peter continued to train in filmmaking and editing. His travel experience and dual culture offered him a unique perspective on art and inspired him to explore his creative potential via Youtube channels.  
Ashley and Peter intend to work on a site-specific dance film set outdoors. 
After two years of ongoing pandemic and multiple obstacles, it seems appropriate to them to reflect and redefine space where one can appreciate artistic performances and bring high quality shows to audiences who have little or no access to theaters.  
During the first lockdown, the Normandy countryside provided the first backdrop for Ashley and Peter's experimentation. They were looking for a delicate balance between human gestures and the movements of Nature. How these motions relate to one another appears to be a question of scale. 
They were interested in using these concepts in a choreography inspired by the everyday gestures of people who work outdoors. The research would be to establish correlations between human gestures associated with various professional activities and the flow caused by natural or mechanical movements.  
Los Angeles, San Francisco and New York City are teeming with life in their own specific ways. Each of these cities is full of tremendous and spectacular sites. Ashley and Peter want to study the gestures of the men and women working outdoors and explore sites where formidable flow (natural or mechanical) is apparent. They intend to observe how human beings approach their jobs in diverse settings and how this impacts their work. 
They aim to produce a choreographic film offering the spectator an immersive experience through the use of three screens.  
Los Angeles, San Francisco and New York are great iconic cities, and each is unique in terms of geography, architecture and energy. The car culture differs from one city to another, creating different infrastructures and the professions related to them. 
New York, on the East Coast, might appear to be more European. The city has a public transportation system allowing easy access to all five boroughs. It is also a very vertical city with its numerous skyscrapers. Los Angeles on the West Coast is more widespread, and transportation is more difficult without a car. The climate is generally much warmer, and the skyline isn't as impressive, however its natural surroundings are much more diverse. San Francisco is also on the west coast but seems to be less of an automobile city. With its impressive hills and specific architecture, the city seems to have more of a historical character.  
Ashley and Peter would like to undertake an immersive experience in these cities drawing from their idiosyncratic and specific characteristics.   
Centre Chorégraphique National de Caen en Normandie
The Centre Chorégraphique National de Caen en Normandie is a space for shared projects that questions the world in which we live, a receptive place where dance is at the heart of an artistic, political and civic-minded vision. It is a centre for creating, hosting, producing and disseminating choreographic works, a resource centre for training and research. It is a place shared with artists, residents, community associations and cultural institutions, a place open to artistic creation and the contemporary repertoire.
Sign up to receive exclusive news and updates