Portrait: Emmanuelle Huynh and Jocelyn Cottencin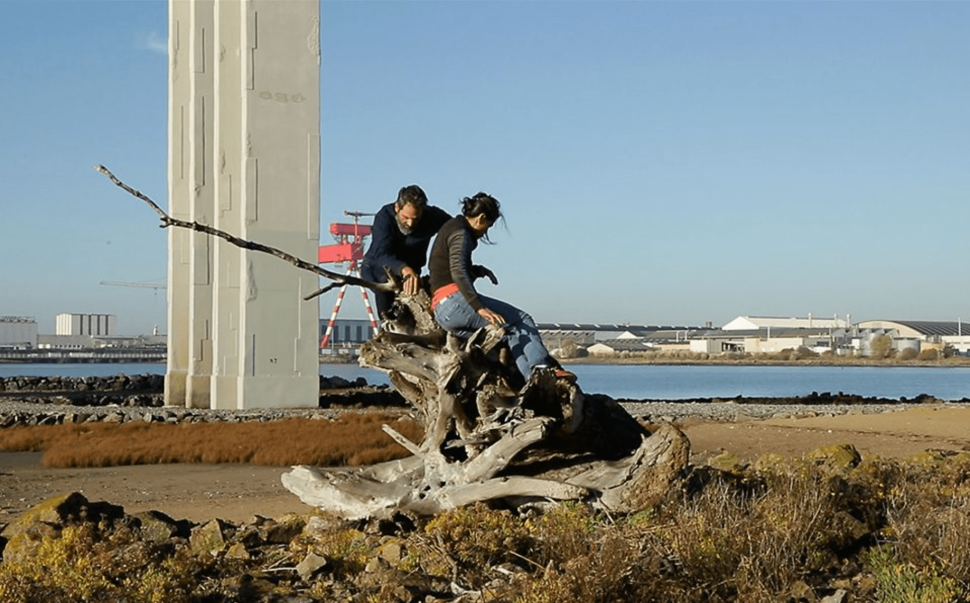 Portrait: The Intimacy of the Cities with "Portraits de Villes" by Emmanuelle Huynh and Jocelyn Cottencin
After New York and Saint-Nazaire, France, dancer and choreographer Emmanuelle Huynh and visual artist and videomaker Jocelyn Cottencin will continue their series, Portraits de Villes, in Houston. Their latest endeavor is supported by DiverseWorks, a Houston-based contemporary visual, literary, and performing arts company. The two French artists' invitation follows a 2018 research trip to France by the DiverseWorks' curator, Ashley DeHoyos. The portrait of Houston will be developed through two on-site residencies in 2021 before its presentation to the public. In order to realize this project's ambition and scope, DiverseWorks was awarded a grant from the FUSED program. 
Meeting of artists; Meeting of the arts
In 1995, Jocelyn Cottencin discovered the work of Emmanuelle Huynh when she performed one of her very first creations, Mùa—she later adopted this as the name of her company. The piece was a solo, performed in near-total darkness and accompanied by composer Kasper Toeplitz and lighting designer Yves Godin. The choreographer Rachid Ouramdane and visual artist Matthieu Kavyrchine also contributed to the filmed performance, which existed at the crossroads of visibility and invisibility. This first creation helped set the tone for Emmanuelle Huynh's artistic path, which mixed dance with other artistic practices, including visual arts. 
The two artists formally met in 2006, when Emmanuelle Huynh invited Jocelyn Cottencin to the National Center Danse Contemporaine in Angers, France with Nathalie Collantes and then with Jennifer Lacey. Emmanuelle Huynh went on to serve as director of the performing arts theater from 2004 to 2012. Emmanuelle Huynh later asked Jocelyn Cottencin to think about the scenography of her pieces Cribles (2010) and Tôzaï! (2014). These first two projects created a space for the artists to develop a dialogue between their universes and to appreciate the complementarity of their crafts.  
City Portraits, Intimate Portraits 
Emmanuelle Huynh was invited to New York by the Cultural Services of the French Embassy's Visual and Performing Arts Department in 2013 for a residency in creative research. This occasion allowed her to reflect on the composition of a portrait of New York, focusing on the city's spaces, inhabitants, and architecture. She asked Jocelyn Cottencin to develop the project with her, and the first project of the series Portraits de Villes was born. 
A taxi driver, an architect, and the High Line (2017) examines the memory of the city through, as the name suggests, three characters and their relationship to space and architecture. Two protagonists, taxi driver Phil Moore and architect Rick Bell, as well as the High Line exhibit, are the subjects of the filmed trilogy. The story gradually builds around the collection of words, the extension of gestures, the restitution of memory, and the perception of the city through the human body. This first work, defined as "fictional anthropology," shows how Emmanuelle Huynh and Jocelyn Cottencin attempt to navigate between documentary, fiction, and choreographic performances to showcase the intimacy of New York. 
After the establishment of Plateforme Mùa in Saint-Nazaire, France, Emmanuelle Huynh and Jocelyn Cottencin thought about a new video-installation representing the singularity of this territory. After meeting students, children, workers, and inhabitants for two consecutive years, the two artists unraveled the links that connected the spaces and attempted to recapture the themes of those who interacted with them. Nous venons de trop loin pour oublier qui nous sommes (2019) recounts the history of the construction of Saint-Nazaire, the industrialized landscape between sea and land, and the mix of cultures that compose the city. Nous venons de trop loin pour oublier qui nous sommes interweaves narrative, a confrontation of images, and parallels between reality and fiction that raise social, political, and artistic questions.  
Emmanuelle Huynh and Jocelyn Cottencin currently have two new projects on the way, focusing on two new cities: Sao Paulo and Houston. Their partnership with DiverseWorks will allow them to tell the story of Houston, the hurricanes that bombarded the city, Texas's border with Mexico, the city's natural resources, and everything else that defines the city and human encounters that emerge from its landscape. This is an eagerly awaited project that will allow viewers to discover a new side of a city amid cultural transformation.  
About the artists 
Emmanuelle Huynh is a dancer, choreographer, and teacher. Her work explores the relationship between literature, music, light, ikebana (Japanese floral art), and architecture.  
Born in 1963, Emmanuelle Huynh studied both philosophy and dance. She has performed with Nathalie Collantes, Hervé Robbe, Odile Duboc, Catherine Contour, and the Quatuor Knust, and in 1994,was awarded a prestigious Villa Médicis hors-les-murs grant to go to Vietnam. Upon her return, she created her first piece, Múa. Emmanuelle Huynh continued her choreographic work with projects through which she encountered practicians from many different disciplines. She examines the research of astrophysicist Thierry Foglizzo, specifically, on black holes through an onstage performance with six dancers in Distribution en cours in 2000. Emmanuelle Huynh also worked with many plasticians: Erik Dietman for the performance Modèle, modèle, modèle; Frédéric Lormeau for Vasque fontaine/partition Nord; Fabien Lerat for Visite guidée/vos questions sont des actes; Nicolas Floc'h for Bord, tentative pour corps, textes et tables, Numéro, and La Feuille; and Jocelyn Cottencin for the series Portraits de villes and other projects. 
From February 2004 to December 2012, Emmanuelle Huynh directed the Centre national de danse contemporaine Angers (CNDC), a national choreographic center and school devoted exclusively to contemporary dance. 
In the United States, Huynh has presented works in New York and has taught at the University of California, Berkeley and CalArts in Valencia.
Jocelyn Cottencin is a graduate of the École Nationale Supérieure des Arts Décoratifs in Paris. Cottencin has never wanted to choose between practices—video, installation, performance, graphic design—because his central project is to work between forms to modify perceptions and shift expectations. Jocelyn Cottencin developed a performance project for 12 dancers, Monumental, shown at the Pompidou Center, at the Val-de-Marne Contemporary Art Museum, and at the Newsettings Festival program of the Fondation d'Entreprise Hermès. It was recently presented at the University of the Artsin Philadelphia. He designed a perennial light installation for the Voyage à Nantes which has been presented on the roof of the École Nationale Supérieure d'Architecture since 2015. Along with the designer Erwan Mevel and the visual artist Nicolas Floc'h, Cottencin is currently initiating a research program for the European Academy of Art in Brittany, France. In the United States, Cottencin's video pieces have been presented in Chicago, New York, and Philadelphia. 
Sign up to receive exclusive news and updates