Introducing the First Boulevard des Séries – The Factory Residents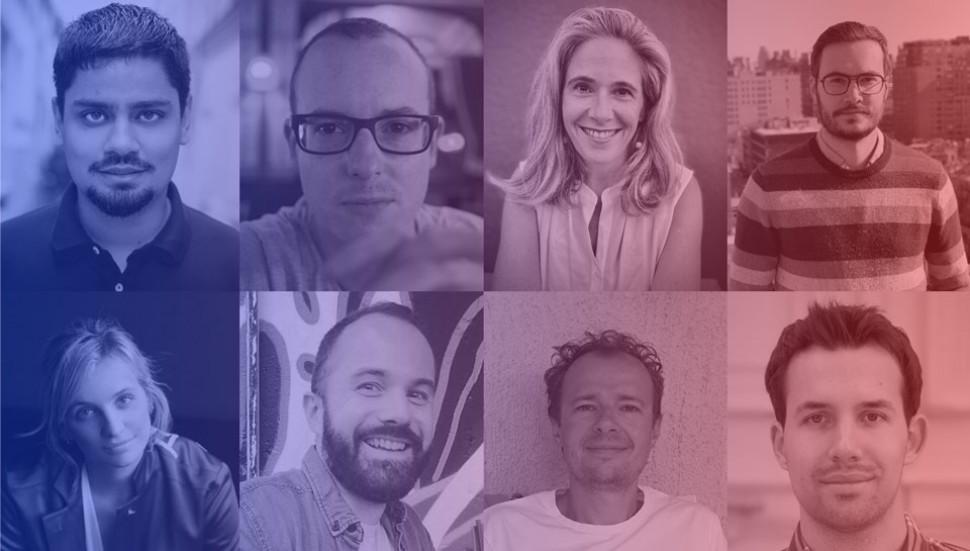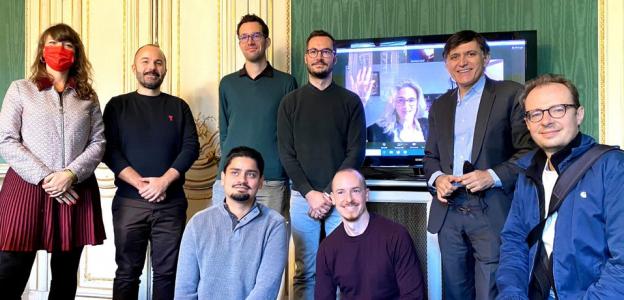 We're excited to announce the inaugural group of residents for Boulevard des Séries – The Factory, a cross-cultural series writing residency for the US television and new media streaming markets.
Villa Albertine, the CNC (the French National Center of Cinema), the Société des Auteurs et Compositeurs Dramatiques (Society of Dramatic Authors and Composers, SACD), and the Writers Guild Foundation will launch an incubator for French TV series in Fall 2021 in Los Angeles, the epicenter of film and TV in the United States. The goal of this new program is to support writers as they develop TV projects with high potential for international adaptation and distribution.  
The residency will take place over a period of three consecutive weeks and will welcome seven French writers. Tailored to each writer and conducted in English, the program will offer participants guidance from well-known screenwriters and showrunners, script specialists, public speaking coaches, agents, and other production, distribution, and regulation professionals. Each resident writer will be paired with a Hollywood mentor with whom they will work one-on-one to develop their project. Group visits to studios and production companies, as well as opportunities for networking, will also be on the agenda. By the end of the residency, the projects will be ready to be presented to potential American partners like producers, TV studios, and distributors.  
Thanks to the personalized guidance from showrunners, producers, and experienced professionals, Boulevard des Séries will offer its resident writers the necessary tools to deliver a pilot script that is on par with international standards and demonstrates a strong artistic vision and direction. Additionally, the program will support participants' international careers by introducing them to key industry contacts who will be able to advise them on both the creative process and best business practices. 
Season One Selection Committee 
For this first edition, a call for submissions was open from April 20-May 20, 2021 and generated 58 applications. The selection committee, comprised of Katie Buckland, Executive Director, The Writers Guild Foundation; Kymber Allen, Executive Consultant, Writers Guild of America West; Olivier Pouponneau, Writer; Djiby Badiane, Writer; Emmanuelle Guilbart, Joint CEO, About Premium Content; and Emmanuelle Bouilhaguet, CEO, TOP-The Oligarchs Productions reviewed the applications and selected 6 projects for the Los Angeles Residency Program. 
Season One Participants (October 11-29, 2021)   
 
YOURS TRULY, a family spy comedy – Created and written by Chloé Marçais
Chloé Marçais, a seasoned head screenwriter for French television for the past 20 years, has written and co-written for dozens of primetime dramas, thrillers, and comedies, most recently the French adaptation of the BBC series The Wrong Mans, produced by Calt Studio and BBC for STAR, the content hub within the Disney+ streaming service. The show is currently shooting in Belgium, France, and Morocco. Marçais co-created the series Le Remplaçant which had a strong debut this past spring in France, and she recently completed creating, co-producing, and writing the pilot and arcs for the new series A French Family with Haut et Court TV. 
 
FRIENDLY, an LGBTQ parenting dramedy – Co-created & co-written by Maxime Berthemy & Julien Anscutter
Julien Anscutter dreamt of writing for television since he was a teenager, and in 2014, started to work on his dream when he enrolled in the French film school La Fémis with an emphasis in television. After spending some time in the corporate world,  Julien has written episodes for several French TV shows, including the lauded Chérif and Profilage. During the past few years, Julien has worked on the first season of the sci-fi comedy UFO(s) on Canal+ and has co-written several episodes of the crime-comedy HPI, airing on TF1. In 2020, Julien began to work with his friend Maxime Berthemy on Friendly, a comedy centered on the LGBTQ community. He is currently working on the second season of HPI in addition to several personal projects.
Maxime Berthemy has a Master's Degree in English and Media Studies, for which he spent a year studying at NYU. In France, he attended the French cinema school La Fémis where he studied TV writing and showrunning. Maxime most recently has been the writer/showrunner for the eighth, ninth, and tenth seasons of the French procedural Profilage (2015-2020), which is currently airing on Amazon Prime Video and was at one point the highest-rated TV series in France. In 2020, Maxime joined OVNI(s), a half-hour sci-fi comedy about a real-life office investigating UFOs in the 1970s. Maxime is currently working with the two creators of the show to write the 12-episode second season. Concurrently, Maxime co-wrote the short film First Goodbyes with director Mathilde Profit, which has received numerous prizes, including the prestigious Prix Jean Vigo, and has been nominated for a César Award.   
CHAINS, a period slave-era drama – Created and written by Alain Moreau 
After graduating in film studies followed by a short stint working in film distribution, Alain Moreau embarked on a writing career. Between 2015 and 2017, he created several sketches for France 2, the public national television channel, for their popular sketch-comedy show, Parents Mode d'Emploi. Moreau was subsequently awarded multiple writing grants  for series creation and feature films. From 2018-2019, Moreau attended La Fémis' TV Series Writing Course, a one-year postgraduate program, and then moved on to the teen soap opera Ici Tout Commence as a staff writer focusing on dialogue. Most recently Moreau has been hired to co-write a French-Russian miniseries set during World War II. He also recently joined the writing team of Parallels (season 2), the Disney+ Original fantasy teen drama. Currently, two of Moreau's TV series projects are currently being submitted to broadcasters: Chains, a one-hour, 8-episode drama set during the slavery era, and Agnès & Luis, a half-hour, 10-episode dramedy about two elderly people rediscovering love. 
 
  SARAJEVO, A SIEGE, a historical war drama – Created and written by Jean-Baptiste Delafon
Jean-Baptiste Delafon is the co-creator, writer, and producer of the Emmy-nominated series Baron noir (2016-2020), currently available on Amazon Prime Video, and has written for the popular series Maison Close (2010)—both Canal+ Originals. His feature film credits include the French teen comedy 16 ans ou presque, a story about a prominent 34 year-old French political activist suffering from 'Late Teen Crisis Disorder' and directed by Tristan Séguéla. Les Promesses, starring Isabelle Huppert as the mayor of a Parisian suburb, has recently been selected for a major international film festival and will be released theatrically in early 2022.  
SWEET SIXTY, a female-centered dramedy – Co-created and co-written y Noémie Saglio and Julien Teisseire Seasoned writer/director Noémie Saglio joined forces with writer Julien Teisseire to create Sweet Sixty, a savvy dramedy centered around the lives of a group of vivacious women over 60. Before that, the two teamed up for the romcom series The Hook Up Plan for and currently airing on Netflix, of which a third season is in the works and due out this winter. Noémie also co-created and co-directed Connasse (The Parisian Bitch), a comedy for Canal+. The series became so successful that the feature film adaptation Connasse, Princesse des Coeurs, based on the original concept, was also produced. Following the success of Connasse , Noémie co-wrote and directed three more feature films: Toute Première Fois, Telle Mère, Telle Fille and, most recently, Parents d'Élèves, all well received in the French market. 
Julien Teisseire has a passion for screenwriting that led him to the French TV series Profilage, theFrench equivalent of Criminal Minds, where he became Head of Storytelling. He worked on thriller projects including Piégés for TF1 before corssing paths with writer/director Noémie Saglio. Together, they created the romcom series The Hook Up Plan for Netflix and even co-directed an episode. He was also the French consultant for the upcoming second season of Darren Star's Emmy nominated Netflix series Emily in Paris. Currently, Julien is focused on creating a number of new series, with emphasis on a comedy, a fantasy, and a biopic.  
THE DEAD, a historical crime thriller – Co-created and written by Mathieu Leblanc  
Former digital producer Mathieu Leblanc has developed and produced the web series Kontainer Katsfor (France Télévision) in addition to hundreds of humorous videos for Dailymotion. A full-time screenwriter since 2015, Mathieu has mainly worked on the comedy short-form Our Crazy Family (seasons 4-7), the soap opera Tomorrow is Ours, and the crime series Caïn, Bright Minds, and The Crimson Rivers. He is currently working on three series projects commissioned for three different TV channels; Canal +, TF1, and Slash FTV. Mathieu's current personal projects include the World War I thriller The Dead, which has strong promise with pre-casted talent and below-the-line creative commitments, and The Decades, a family saga which received the French National Film Fund's Writer's Grant (FAIA CNC) in 2017 and 2019, followed by a development grant in 2020 and 2021.
Contact: Lucie Carette, Head of Film & TV and Director of Villa Albertine Los Angeles
lucie.carette@frenchculture.org 
Sign up to receive exclusive news and updates