Louisiana's Future Is Also Written in French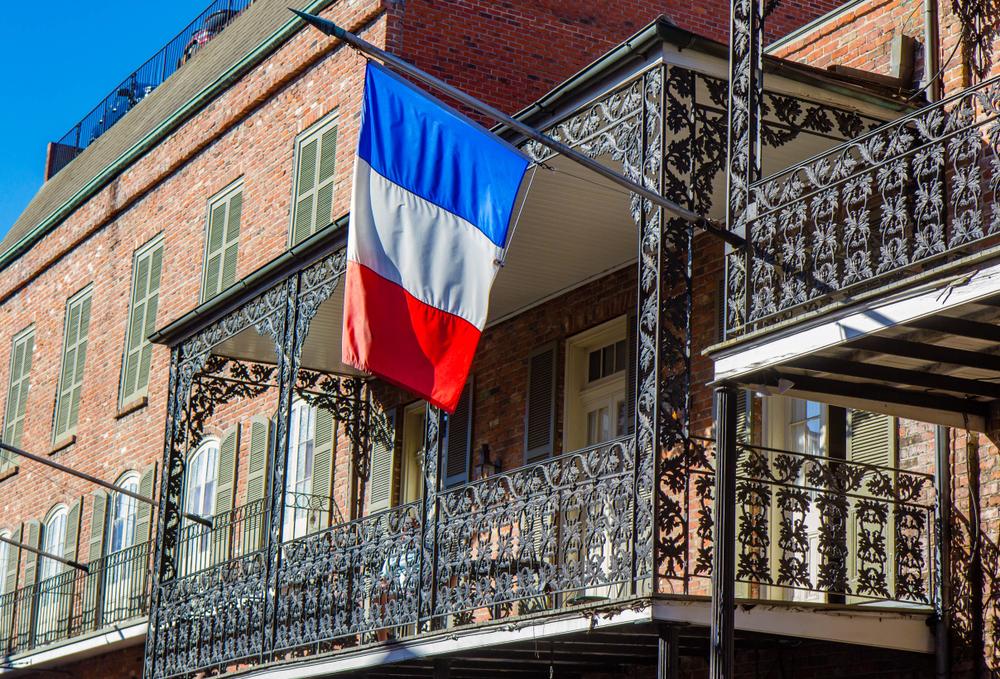 Louisiana's francophone culture has emerged from its decline over the past few years to rediscover a dynamism that owes a lot to civil society. This revitalization goes far beyond the sole question of language and its preservation as shared heritage, as it is intimately linked to the many social and environmental challenges that Louisiana must face.
What comes to mind when you think of Louisiana? Music, for certain. Iconic American music genres from jazz to rock n' roll and Zydeco started or found their form here. Who doesn't love Louis Armstrong, Fats Domino, or Zachary Richard? A rich culinary culture also comes to mind, one that melds influences from the Caribbean, France, and the American South and leaves many tourists asking for another glass of water to offset the spice. And of course, our natural environment is stunning, with endless miles of wetlands that are on the frontlines of climate change, bearing witness to the unraveling of our coastline like a tapestry due to the impact of fossil fuel extraction and rising seas.
Louisiana is a profoundly complicated and beautiful place. It is unique among the United States, marked by how divergent its culture is from most of the country. Many Americans think of us as a foreign destination that can be reached on a domestic flight. This otherness, at times, plays in our favor, as cultural traditions ranging from Second Line jazz parades to Mardi Gras not only persist but also thrive in the heavy air. But at times, it creates a sense of alienation: a place to visit but not live in, or a place whose culture shapes our country but where cultural bearers have trouble making ends meet.
Francophone and Creolophone communities have long shaped and molded this region. Many pioneers of jazz were French and Creole speakers. The French brought celebrations such as Mardi Gras, but local Francophones transformed these festivals into multi-week affairs. These communities have always been diverse, including people of African, Native American, and European descent, while inviting in people from other cultures to contribute and shape the local francophonie. Regrettably, French began a gradual decline in the 20th century. The pressures of integrating into a largely English-speaking country drove scores of native Louisiana French speakers to abandon the language. Louisiana's constitution went as far as banning French in public education. Since then, the decline has been stark. From 1.5 million self-reported French speakers in 1970—nearly one in two people—we now have 200,000 speakers scattered across the state like a constellation.
There has been a resurgence in French over the past decades led by actors from civil society: artists, musicians, teachers, entrepreneurs, and so many more who looked at the decline of French and Louisiana Creole and decided it was not inevitable. Indeed, if one wants to look at the future of Louisiana, it makes sense to look at what is happening to keep French alive. A once omnipresent Francophone culture gradually faded due to its being discouraged and then extracted to feed tourism in Louisiana, without a proportional investment being made in ensuring the language's transmission. Today, civil society actors are investing their talents and time in grassroots projects that offer the possibility for a sustainable foundation on which Francophone culture can grow. The need to rebuild a sustainable future for French mirrors the challenges facing Louisiana. The state now must confront environmental degradation due to fossil fuels, legacies of Jim Crow, and other socio-economic challenges that require a new generation to rethink how to build a sustainable and inclusive future in the 21st century. The revitalization of French and the role of civil society offers a path forward.
There is a renewed hope in a Francophone future where French can thrive in a multilingual creative environment—a future in which Louisiana itself becomes a model for the role that civil society can play in language revitalization. For decades, grassroots activists across Louisiana have been building awareness of French and what is at risk of being lost if our heritage is not protected. This fervent activism is evident in the proliferation of French immersion schools, which now number 36 with 5,500 students, and in musicians such as the Lost Bayou Ramblers, who have national and international followings. This David versus Goliath struggle to keep French alive for a new generation deeply impacted my own life. This hope is what got me involved several years ago, first by launching and directing an initiative that saw Louisiana become the first US state to join the Organisation Internationale de la Francophonie (OIF) in 2018, and then by launching a nonprofit dedicated to the Francophonie called the Nous Foundation.
I grew up in the beauty that Louisiana can offer. My father started teaching me French when I was an adolescent. Someone dear to me taught me Creole. My fascination with French brought me to Paris for my master's degree to study at Sciences Po. While at Sciences Po, I had the opportunity to attend a conference on the Francophonie, where I first became interested in the possibility of Louisiana's joining the Francophonie, made possible through the US's federalist structure. Through a long process that lasted two years, I and my husband, Rudy Bazenet, worked with the US Senate, the State Department, the Louisiana Governor, and the Council for the Development of French in Louisiana (CODOFIL) to unlock the various doors so that Louisiana could join in October 2018. At the end of the process, we had logged over a thousand emails, but the success highlighted something important for Louisiana. While Louisiana's francophonie has always been a reality, our joining the OIF offered a concrete recognition of that heritage both within the United States and internationally.
What was stunning about the initiative is that Rudy and I were able to work as actors from civil society to realize the initiative, as I was myself a consultant for Ernst & Young in Paris. We received dozens of messages from students and young entrepreneurs who had ideas and aspirations for placing French at the core of their lives. They faced a recurring challenge: needing more resources and being in touch with other French and Creole speakers to realize their projects. For this reason, Rudy and I decided to create the Nous Foundation. We define Nous as a platform for exchange between Louisiana and the French-speaking world. Through our programs, awareness-raising, and goal to open a cultural institute in New Orleans, our ambition is to turn Louisiana into a global hub of la Francophonie and bring together resources and talent that can build an ecosystem for French to thrive.
What has been encouraging is how our message is resonating. We firmly believe that a vibrant civil society is necessary for language revitalization. We need entrepreneurs who can create viable bilingual businesses, teachers who can point to the daily use of French to keep their students motivated, and musicians who integrate French in their lyrics to challenge conventions. Since launching in June 2020, that message has resonated. Over the course of the past year, we raised more than $100,000 to support programs ranging from creating a film in French to a language revitalization series with Cambridge University to support Louisiana Creole. This demonstrates the resolve of people in Louisiana and philanthropic organizations nationally to support language revitalization. Additionally, in partnership with CODOFIL, we developed an educational booklet on the Francophonie, distributed to 2,000 students. Building on this success, we launched the first cultural accelerator program in the South (and the first-of-its-kind in the United States), Le Lab, that received dozens of applications from across Louisiana, which shows the diversity of people who want to get involved in French when offered a space to participate.
A central mission of Nous is to serve as a platform for exchange. We became one of two founding institutions in the US of the Réseau international des maisons des francophonies (RIMF), bringing together 45 cultural institutions worldwide. We have also developed more than 50 partnerships to connect local civil society actors with Francophones on nearly every continent. It is through connecting and cultural exchange that language finds its meaning. Groundbreaking programs such as the Villa Albertine are emblematic of this. France has made a bold investment to bring Francophone cultural bearers to Louisiana to spur creative thinking and innovation in the arts and culture. Our dream through Nous is that this type of exchange will be reciprocal. Any young Louisianan who wants to become involved in French will see the language as synonymous with opportunity. Speaking French will become their passport to visit Paris, Montreal, or Dakar. And Louisiana's investment in French will bring talent from across the Francophone world to New Orleans.
Civil society in Louisiana has a principal role in reinforcing our efforts to revitalize French and Creole. The young generation's energy and ability to bridge historic divisions such as white vs. black, French vs. English, urban vs. rural, standard vs. Louisiana French mean that the emerging projects have a broad appeal to Francophones and Anglophones alike. The growing view of French in Louisiana as hipster makes speaking the language not anachronistic but a sign of modernity and being forward-thinking. But this civil society is highly vulnerable. With each powerful hurricane that pummels our communities, the lingering impacts of COVID, and each financial downturn, the first sector to be deprioritized is culture because it is not seen as a priority. This thinking is dangerous to a burgeoning Francophone culture and economy that could provide a sustainable future for Louisiana and tackle head-on some of the most pressing problems we face today.
I am encouraged and moved by the insatiable appetite of my generation to make sure French lives another day. And fortunately, we can revel in the fruits of our culture every day. As I write this article overlooking the iron-laced balconies of the French Quarter, I can think of nowhere else better to reflect on the resilience of Francophone culture in Louisiana and its constant ability to reinvent itself. The colorful houses in the French Quarter built for Creoles have stood for hundreds of years through hurricanes, war, and raucous partygoers. Meanwhile, a jazz musician sings La Vie en Rose. Louisiana is resilient, Francophone, and just a healthy dose eclectic. Change sometimes comes slowly here, but the culture never dies.
Scott Tilton is based in New Orleans. He is co-founder of the non-profit NOUS Foundation, whose aim is to promote French and Creole languages and cultures in Louisiana, and to develop exchanges between the United States of America and the French-speaking world.
Sign up to receive exclusive news and updates