TV5MONDE Program Highlights: July 2022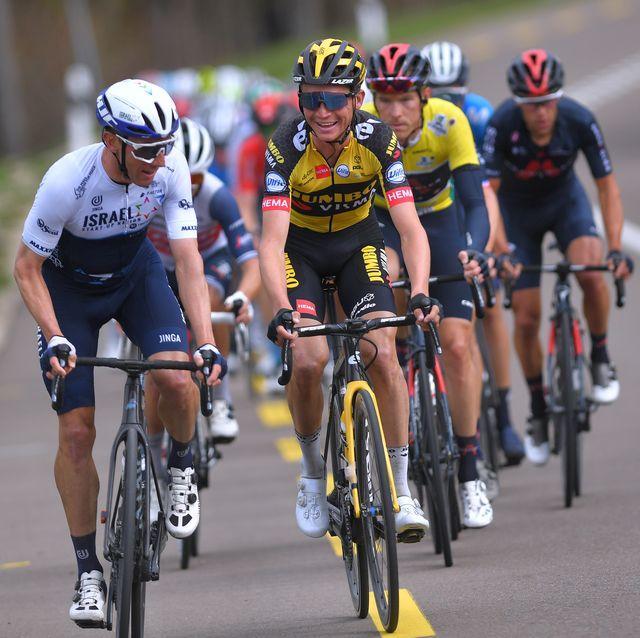 The international French-language network TV5 Monde is showing several fantastic programs in July. In addition to offering premium films, the program includes several heartwarming comedies, a chance to discover exciting new series, fun-filled variety shows, and engaging documentaries! We've rounded up some of the very best must-see programs this month, get ready to immerse yourself in French culture!
Tour de France – July 1 to July 24 at 2:30 pm ET/11:30 am PT
Four countries: Denmark, Belgium, Switzerland and France are on the map of this 109th Tour de France. Denmark will be the tenth country to host the Grand Départ, the northernmost in the history of the Tour. On the program: eight French regions, twenty-nine departments and nearly 3,330 kilometers spread over twenty-one stages.
Bastille Day Parade 2022 – July 14, time TBA
Celebrate Bastille Day with a live broadcast of the military parade!
Spectacle de la Fête du Canada 2022 – July 3 at 5:00pm ET/2:00 pm PT
Canada Day 2022, celebrated on July 1, shines a light on people in Canada, as well as on Canadian diversity, inclusion and youth.
Défilé militaire et civil Belge 2022 –  July 21 at 6:30pm ET/3:30pm PT
To commemorate Belgian National Day on 21 July, the traditional military and civil parade is held in Place des Palais in Brussels.
FILMS
L'école buissonnière – July 3 at 8:39pm ET/ 5:39pm PT (Also airs July 11, July 21, July 24) (English ST)
Paris, 1930. Paul leaves the orphanage to join Célestine and her husband Borel, gamekeeper at a vast Sologne estate. Initially recalcitrant, the city boy gradually learns all the forest secrets forest with Totoche, a wily and elusive poacher. Until the day he learns that he didn't arrive there by chance…
Director: Nicolas Vanier (France, 2017)
Cast: François Cluzet, Jean Scandel, Eric Elmosnino
Genre: Dramedy
Les hommes du feu –  – July 17 at 8:38pm ET/ 5:38pm PT (English ST)
Bénédicte, chief warrant officer, joins the staff of a fire station in the south of France. With the region plagued by innumerable fires she misses a victim during a delicate operation. The man dies soon afterwards in hospital leaving Philippe, station chief, with no choice but to launch an investigation…                 
Director: Pierre Jolivet (France, 2016)
Cast: Roschdy Zem, Émilie Dequenne, Michaël Abiteboul
Genre: Drama
 
Le retour du héros –  July 31 at 8:41pm ET/ 5:41pm PT (English ST)
1809, in Napoleonic France. Captain Neuville seduces young Pauline, promising faithfully to write to her as he heads off to fight the Austrians. But when Pauline's older sister Élisabeth realizes he isn't keeping his word, she begins writing a series of letters herself, signing them from Neuville…
Director: Laurent Tirard (France, 2017)
Cast: Jean Dujardin, Mélanie Laurent, Noémie Merlant
Genre: Comedy, History
FILMS CLASSICS
Laissez tirer les tireurs –  July 14 at 8:26pm ET/ 5:26pm PT (English ST)
The famous FBI agent Jeff Gordon investigates the theft of the prototype of a top secret missile, stolen from an American base.
Director: Guy Lefranc (France, Italy 1963)
Cast: Eddie Constantine, Daphné Dayle, Patricia Viterbo, Guy Trejean, Nino Ferrer
Genre: Thriller
Ces dames s'en mêlent – July 21 at 8:30pm ET/ 5:30pm PT (English ST)
Jeff Gordon, the famous FBI agent no woman can resist, is in Paris to break up a network of counterfeiters… In an investigation that takes him from Madame Lily's night club to the apartment of the beautiful Wanda, the undercover agent soon finds himself confronting two rival gangs!
Director: Raoul André (France, Italy 1964)
Cast: Eddie Constantine, Daniel Vargas, Annie Cordy, Patricia Viterbo, Yvan Chiffre, Nino Ferrer
Genre: Comedy
Des frissons partout – July 28 at 8:30pm ET/ 5:30pm PT (English ST)
Jeff Gordon goes undercover, infiltrating the gang that carried the hold-up of the century at a jeweller's in Place Vendôme… For the famous FBI agent it's a race against time to find Grégori, who has the spoils, before he manages to have his face altered by a plastic surgeon!
Director: Raoul André (France, Italy 1964)
Cast: Eddie Constantine, Perrette Pradier, Janine Vila, Daniel Emilfork
Genre: Thriller
TV SERIES/ TV FILMS
Alexandra Ehle (Season 2) – July 17 at 11:11pm ET/8:11pm PT
A woman's body is found in the Bruges marshland, near Bordeaux. The victim had received a blow to the head but nothing enables her to be identified. Alexandra brings the body back to the morgue to begin the autopsy as quickly as possible. But suddenly, the corpse opens her eyes…
Director: Nicolas Guicheteau (France, 2019)
Cast: Julie Depardieu, Bernard Yerlès, Xavier Guelfi, Sara Martins, Sophie Le Tellier
Genre: Thriller (Series)
OPJ (re-airing Season 2) – July 5 at 11:30pm ET/8:30pm PT
Jackson, also transferred to Réunion Island, joins the team after a three-month absence. Clarissa is more than surprised to meet Florian again, the husband she believed to have died two years ago. Gaspard and Jackson head a particularly sensitive case: the murder of a young woman and her baby's disappearance.
Director: François Bigrat, Stéphane Meunier (France, 2020)
Cast: Yaëlle Trulès, Antoine Stip, Nathan Dellemme, Marielle Karabeu, Hindra Armede, Marion Campan, Robert Plagnol, Toussaint Marinetti
Genre: Thriller (Series)
DOCUMENTARIES
Paysans sentinelles – July 4 at 6:30pm ET/3:30pm PT (English ST)
We head for the Pays de la Loire, to meet some of those who have opted to help create a greener France. In the heart of the Breton marshes, a group of small farmers are committed to working on a daily basis to ensure the protection of the region's wildlife.
Director: Caroline Molinié (France, 2020)
Hêtre ou ne pas être – July 11 at 6:00pm ET/3:00pm PT (English ST)
Confronted with global warming and increasing land pollution, an ever-greater number of initiatives are being launched to build a greener France. In Provence-Alpes-Côte d'Azur, men and women question our connection with trees. A connection that seems to have been lost, replaced by a more urban and digital world. But why?
Director: Daniel Miloch (France 2021)
 
Que reste-t-il de nos vacances? – July 28 at 3:00pm ET/12:00pm PT
A unique insight into a subject affecting society today: paid holidays, an institution currently facing radical changes in Quebec. Based on the personal stories of workers from different professional backgrounds, the erosion of this time off seems inexorable. Have we lost control? Are we riding for a fall?
Director: Jérémie Battaglia (Canada, 2019)
Discover more about this amazing program here!
Sign up to receive exclusive news and updates