Transformations: A Partial History of Hip Hop Dance across France and the US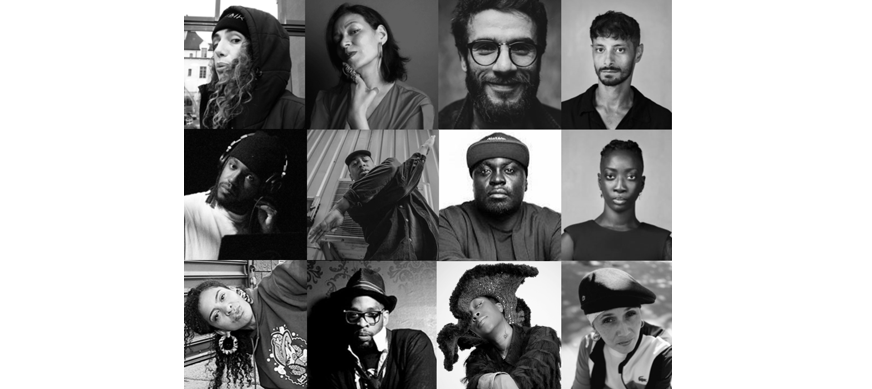 Villa Albertine
972 Fifth Avenue
New York, US 10075
May 24, 2023 I 6:30PM ET
Dance Assembly: A Conversation Series | #3
Transformations: A partial history of Hip Hop Dance across France and the US
Céline Gallet, Linda Hayford, and Saïdo Lehlouh from the collective FAIR-E (Centre Chorégraphique National, Rennes) in conversation with Tatiana Desardouin, Rokafella, and Caleaf Sellers, moderated by Martha Diaz, Founder and Executive Director, Hip Hop Education Center.
The exchange will include video interviews of France-based performers Walid Boumhani, Nacéra AKA B-girl Hurricane, Lumi Sow and Massangila "Yugson" Lumengo conducted by Jimmy Yudat.
This conversation explores the development of Hip Hop dance in the US and France through the lens of transmission: the ways in which styles and knowledges are being passed on and shift over time and across territories. Initiated by the Collective FAIR-E – a group of self-taught Hip Hop dancers and organizers at the head of the National Choreographic Center based in Rennes, France – the event features video portraits of key actors and witnesses of various styles and periods on both sides of the Atlantic. These testimonies serve as prompt for a broad discussion on Hip Hop dance through issues of collaboration and circulation; the dense traffic of aesthetic and political influences that shapes its histories.
May 24th – 6:30 PM at Villa Albertine Headquarters
Followed by Q & A Session and drinks 
About the panelists :
Céline Gallet, Linda Hayford, and Saïdo Lehlouh – Coming from hip hop and all its influences, the Collectif FAIR-E (Centre Chorégraphique National, Rennes) is the reflection of a new generation of choreographers, representative of today's France, of all its diversity, shaking up the established codes and generating social links.
Walid Boumhani is considered one of the best dancers in the world in his category. As an international judge, he travels the world spreading his knowledge and love of dance. He has been part of the most avant-garde companies with the Hip Hop companies Quintessence and O Posse. NTM and Dee Nasty have called upon his talent for their musical tours.
Tatiana Desardouin is a dancer, dance instructor, choreographer, curator, mentor, lecturer and adult educator of Haitian origin, born and raised in Switzerland. She is the director and choreographer of Passion Fruit Dance Company, a street dance theater and educational company (est. 2016). Very involved in the growth of the swiss hip-hop scene, Tatiana shared her passion through her dance school "Le Centre Hip-Hop" (2010-2018) and  a non-profit "JAIA" since 2012. Teaching and mentoring since 2005, she is currently adjunct professor at Springfield College and a faculty member of 92NY. Tatiana recently was awarded from The Vilcek Foundation Prizes for Creative Promise in Dance (2022) and received the Bessie Juried Award 2022.
Martha Diaz is an award-winning community organizer, media producer, archivist, curator, educator, techie, and social entrepreneur. Her passion is advancing human rights and transforming communities through Hip-Hop education, media, and technology. Martha is the Founder and Executive Director of the Hip Hop Education Center, and also serves as an advisor and a partner of the Universal Hip Hop Museum.
Nacéra AKA B-girl Hurricane, a great female figure of breaking in France, has been dancing for more than 30 years. She is at the origin of the collective and project Just 4 rockers, which organizes hip-hop/jam events.
Rokafella, Hip-Hop dancer and choreographer, began street performing with such crews such as The Transformers, The Breeze Team, and the New York City Float Committee. She has taught workshops at NYU and Howard as well as neighborhood high schools and community centers. The nonprofit company she co founded with her husband, "Full Circle Prod", serves the community with educational performances and multimedia urban-themed performances.
Caleaf Sellers (aka Big Leaf), a Brooklyn native, is one of the original pioneers to come out of New York's dance movement in the late 80's. He is a member of the famed Moptop Unit and Dance Fusion. Caleaf mixes Hip-Hop and House to create his own unique dance style.
Lumi Sow is an award-winning dancer who has won numerous international competitions. Co-founder of Sons of Wind in 2013, he is also a member of the Undercover crew, and dances for the Black Sheep company. A complete artist, he is as much a musician, dancer, as a beatmaker, photographer, DJ, teacher, and even producer.
Jimmy Yudat is a dancer and choreographer renowned for his performances in hip-hop battles. He is also involved in HippoH, a media made by hip-hop culture for hip-hop culture.
Massangila "Yugson" Lumengo is the founder of the Wanted Posse and Serial Stepperz collectives. He won several times the Just Standing International and the Battle of the Year. His technicality shows a wide range influenced by House, Hip Hop, Breakin' and Tap. His down-to-earth style, versatility and musicianship reflect his roots in Hip-Hop culture as well as his Congolese heritage.
Resources :
About Dance Assembly: A Conversation Series
Curated by Noémie Solomon in collaboration with the Villa Albertine team
The dance figure of the assemblé – in which the feet meet in the air before landing together on the ground – serves as a prompt for this series of panel discussions, post-performance conversations and symposia. In the assemblé, physical limits are tested for bodies and gestures to come together. A critical mode of gathering, the assembly highlights the role of choreography in storing collective knowledge, anticipating social formations and sensorial revolutions. Our questions and provocations include: what are the practices of collaboration and transmission contemporary dance enacts across disciplinary forms, generational divides, and geopolitical borders? How does it rehearse sustainable processes and futures? How do choreographic archives score contemporary lives? Can diversity and equity be aesthetic gestures as well as political tools? What choreographic practices do we need to mobilize and transform forces of violence and bodily agency?  
Dance Assembly: A Conversation Series is part of Albertine Dance Season: A year-long celebration of the art of dance from inception to performance in 2023.
Leadership support for Albertine Dance Season provided by Ardian

The Hip Hop Education Center (HHEC) is an innovation hub and incubator that centralizes and connects the work of Hip Hop artists, teachers, students, scholars, archivists, curators, activists, and social entrepreneurs from across the globe to empower the community and preserve, create, and honor Hip Hop's legacy.
Sign up to receive exclusive news and updates