TRACES: A Speech to African Nations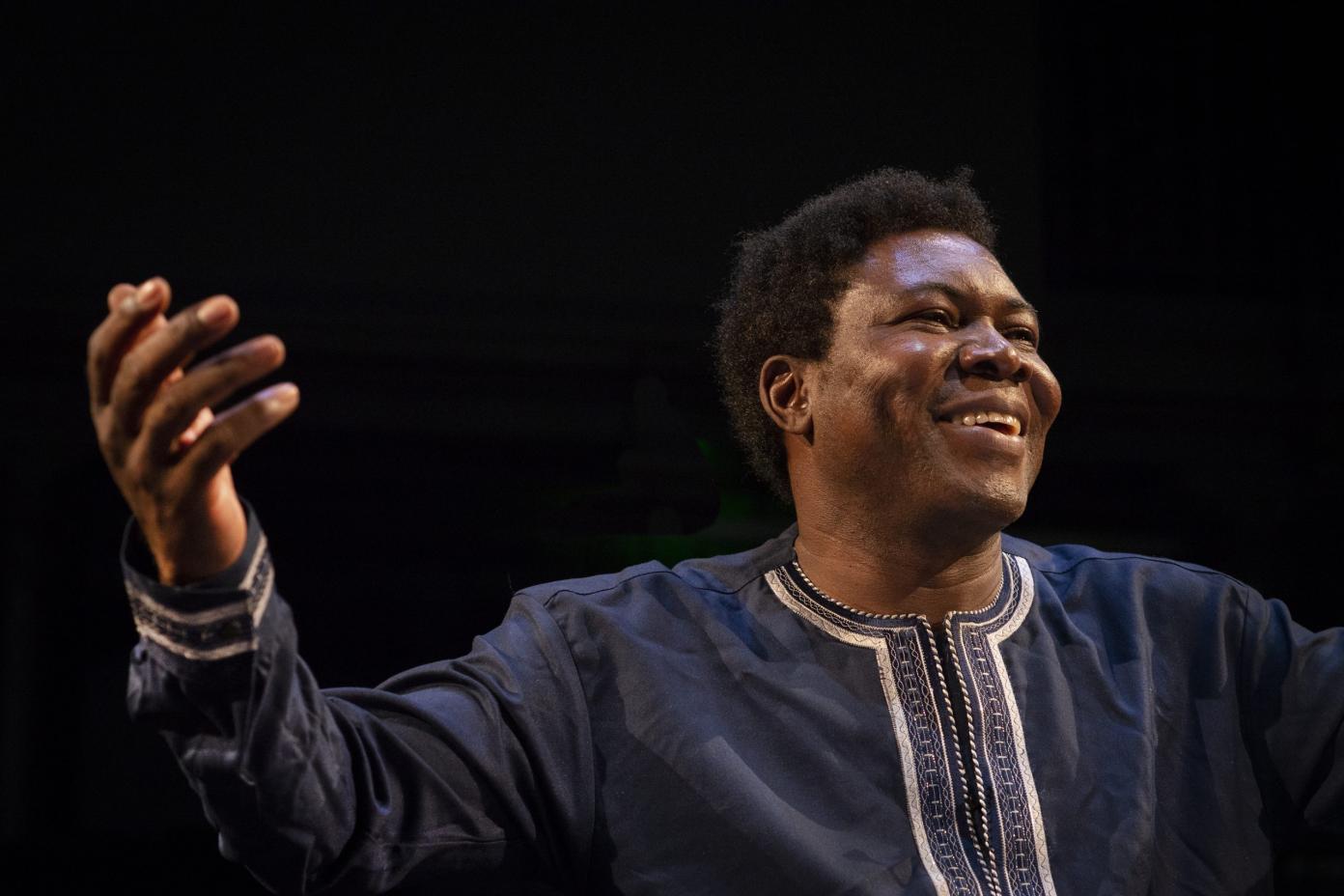 Rialto Center for the Arts, Atlanta, GA, Sept. 15, 2022, 7pm || Duke University, Durham, NC, Sept. 17, 2022, 8pm
Atlanta & Durham premieres of "Traces: A Speech to African Nations", written by Senegalese philosopher and writer Felwine Sarr
Based on the work of Senegalese academic, philosopher and writer Felwine Sarr, this lyrical text is captivatingly performed by Burkinabe actor Étienne Minoungou as an inspiring and imaginative storyteller speaking to his African brothers.
Infused with the cultural and historical experiences of the continent, Traces is a way to bring Felwine Sarr's philosophy to a younger African generation, emboldening them to build a new utopia. With uplifting accompaniment by musician Simon Winsé on the kora, the speech is an invitation to sow the seeds for a better future.
Click here to buy tickets to the Rialto (Atlanta, GA) performance of TRACES (Thursday, September 15th at 7pm).
Click here to buy tickets to the Duke University (Durham, NC) performance of TRACES (Saturday, September 17th at 8pm).
"Traces: A Speech to African Nations" will open the 13th-annual event series, France-Atlanta, on September 15, 2022 at the Rialto Center for the Arts. The tour of "Traces" is possible with the support of FACE Contemporary Theater, a program of Villa Albertine and FACE Foundation, in partnership with the French Embassy in the United States and Wallonie Bruxelles International.
These performances of "Traces: A Speech to African Nations" are part of a tour including Princeton, NJ (Seul en scène festival, Princeton U.), NYC (Abrons Art Center, FIAF's Crossing the Line Festival), Atlanta, GA (Rialto Center for the Arts, Georgia State University), and Durham, NC (Duke University).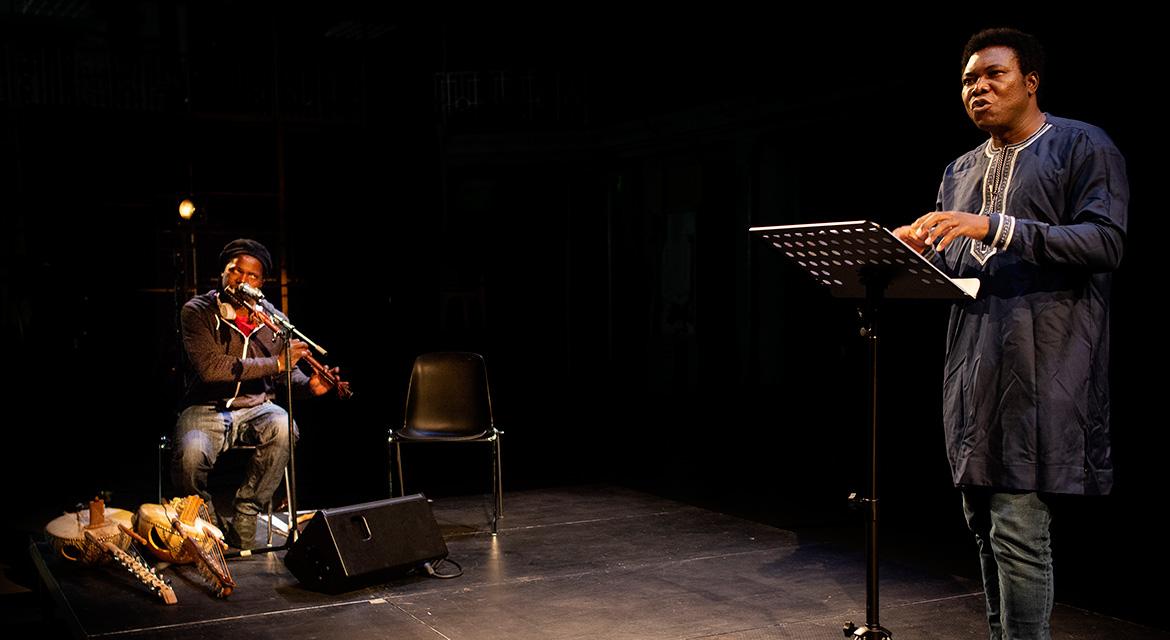 Felwine Sarr is a humanist, philosopher, economist, and musician and the Anne-Marie Bryan Chair in French and Francophone Studies at Duke University. He is the author of Afrotopia (University of Minnessota Press, 2019, tr. by Drew S. Burk). Well-known for his groundbreaking report "The Restitution of African Cultural Heritage: Toward a New Relational Ethics," (Restituer le patrimoine africain, Éditions du Seuil, 2018), Sarr taught at the University of Gaston-Berger in Saint Louis, Senegal, where he was previously dean of its Economics and Management department. His research focuses on economic policies, the development economy, econometrics, epistemology, and the history of religious ideas. In addition to Afrotopia, he has published the meditative essay Dahij (Gallimard, 2009), the collection of short stories 105, rue Carnot, the philosophical text Méditations africaines (Mémoire d'encrier, 2011), as well as the essay "Habiter le monde" (Mémoire d'Encrier, 2018) and the collection "Ishindenshin" (Mémoire d'Encrier, 2018). Further, he cofounded the Laboratory for the Analysis of Societies and Powers/Africa-Diasporas (LASPAD) in Saint Louis, as well as the publishing company Jimsaan in Dakar. In 2016, he co-created with Achille Mbembe the annual Dakar and Saint Louis workshops Ateliers de la pensée, which sought to stimulate a "non-colonial" school of thought. Felwine Sarr is on the TIME 100 Most Influential People of 2021 list.
Étienne Minoungou is a Burkinabé actor, playwright, theatre director, dramaturg and cultural producer. His studies in Sociology, Theatre and Literature led him to initially work as a teacher and artist. As a stage actor, he has taken part in plays directed by, most notably, Jean-Pierre Guingané, Matthias Langhoff, Rosa Gasquet and Isabelle Pousseur. In December 2018, at the inauguration of the Museum of Black Civilizations in Dakar, Etienne Minoungou presented "Traces: Discours aux Nations Africaines" by Felwine Sarr. This play was later programmed at the Semaine d'Art in Avignon in October 2020 and, since, has toured in Europe, Africa and the American continent (Canada). With his performance in this piece, Etienne Minoungou was awarded the Best Performer Award (2020-21 season) at the 58th French Critics' Awards. Etienne Minoungou, with his shows, totals more than 600 performances on stages all over the world.
Simon Winsé is a multi-instrumentalist musician (Kora, N'Goni, mouth bow, Fulani flute), composer and singer. His musical universe is nourished by jazz fusion, blues, rock and traditional music from the San country in the north-west of Burkina Faso, where he is from. It was in his native village that Simon Winsé, as a child, learned to play the mouth bow: a mythical instrument with captivating vibrations. Simon Winsé is steeped in traditional Samo culture and ensures its survival. Aware of the wealth of the musical heritage of his ethnic group, Simon is determined to promote them and to rehabilitate the mouth bow by creating a style that belongs only to him, a music that draws its essence from the "Dangada" rhythm which means joy. By nobly resuscitating the heritage of the Samo culture, Simon demonstrates that traditional African instruments and contemporary music are not mutually exclusive. 
Sign up to receive exclusive news and updates