The Bridge | Cancel Rescue Mission | On Tour in the Midwest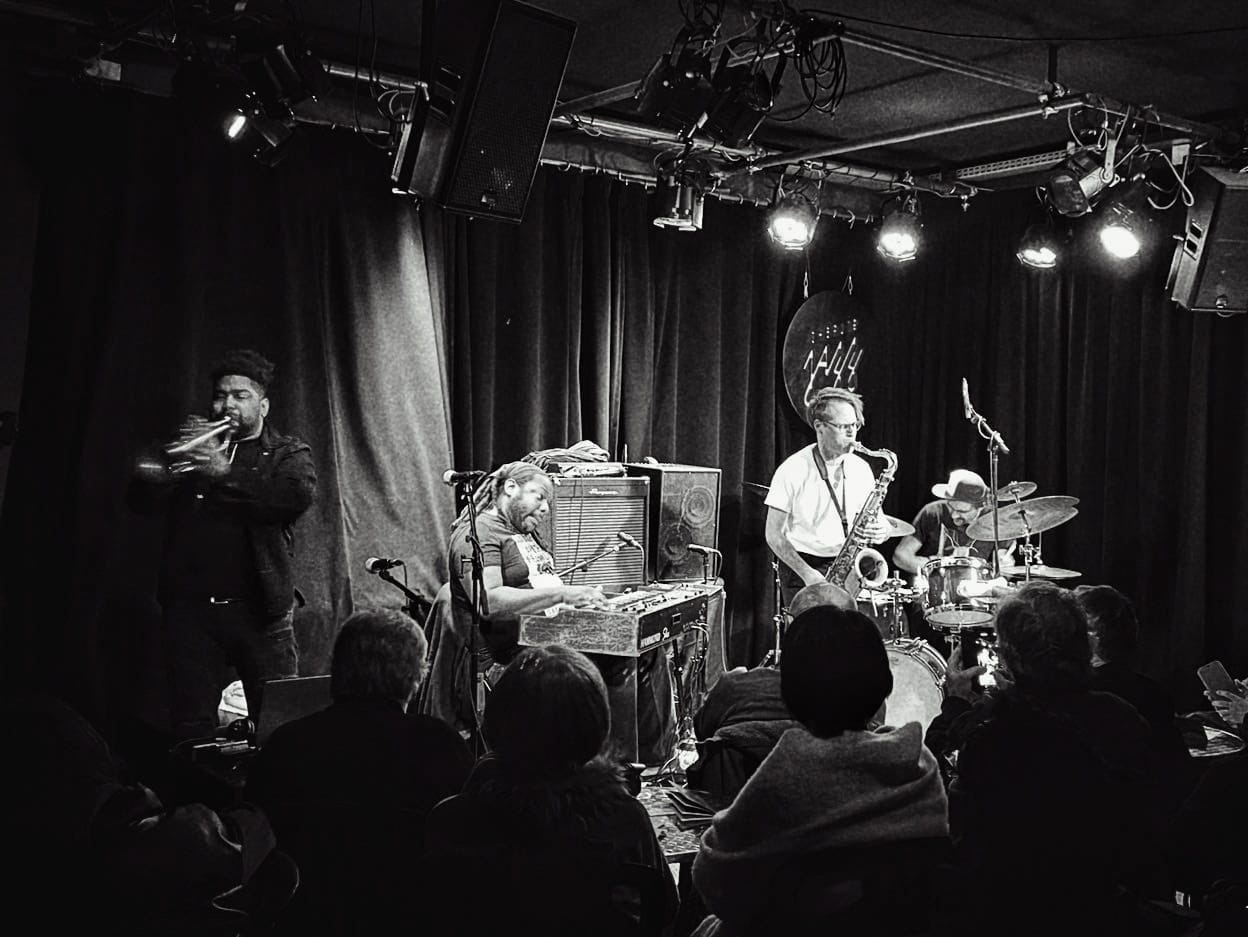 Chicago, Madison, Urbana, Milwaukee, Detroit
Chicago, IL, United States
November 2-15, 2023
They started with a tour and a recording in France in January 2021. The Bridge, a transatlantic network of French and American jazz and improvisational musicians founded in 2013, is back to perform in Chicago, Madison, Urbana, Milwaukee and Detroit starting November 2nd !
This year's cohort, Cancel Rescue Mission(TB #2.6), is the fourth iteration of these Franco-American collaborative ensembles, and is comprised of vocal performance, tenor sac, bagpipes, and two cellos.
"Jazz at its peril, with its balancing acts and magic tricks, between the expanses that are crisscrossed and the depths that are explored", expresses The Bridge. Quentin Biardeau and Etienne Ziemniak on one side, Corey Wilkes and Justin Dillard on the other, have attended the best schools: those they have given themselves and where everything is allowed. As well as artist collectives that have taken over what used to be called "a scene": the TriCollectif in Orleans or the CapsulCollectif in Tours, the AACM in Chicago. "They take malicious pleasure, following the trail of powder. Expect a few outbreaks".
DATES:
Exploratory trip – Chicago & Midwest – November 2023
11/02 – Retreat Currency Exchange Café, Chicago (7pm)
11/02 – Elastic Arts, Chicago (9pm)
11/03 – Audio for the Arts, Madison (8pm)
11/04 – Spurlock Museum, Urbana (3pm)
11/05 – Woodland Pattern, Milwaukee (7pm)
11/06 – Comfort Station (7:30pm)
11/07 – The Promotory, Chicago (7pm)
11/08 – The Whistler, Chicago (9pm)
11/09 – Fulcrum Point Presents The Bridge, Chicago (8pm)
11/10 – Constellation, Chicago(8:30)
11/11 – ProMusica, Chicago (4pm)
11/11 – Theatre Y, Chicago (8pm)
11/12 – Logan Center for the Arts, Chicago (3pm)
11/12 – Hungry Brain, Chicago (9pm)
Cancel Rescue Mission Tour by The Bridge has been made possible through Jazz & New Music, a program of Villa Albertine and FACE Foundation, in partnership with the French Embassy in the United States with support from the French Ministry of Culture, Institut français, SACEM (Société des auteurs, compositeurs et éditeurs de musique) and the CNM (Centre National de la Musique). 
Sign up to receive exclusive news and updates