Serge Bromberg's cine-concert "Restoring the Wonder" featuring rediscovered movies directed by Georges Méliès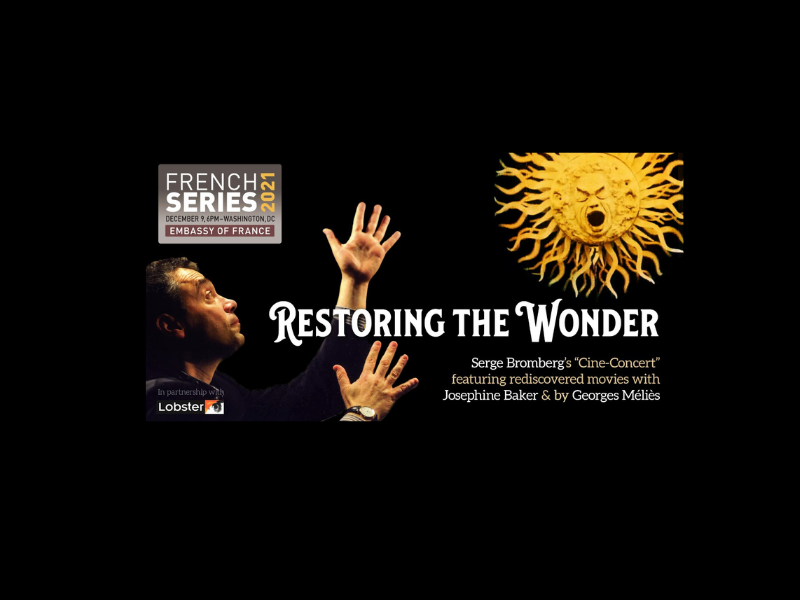 The Embassy of France in the United States, and the Villa Albertine in partnership with the National Gallery of Art is honored to welcome director, producer, and television presenter Serge Bromberg for a free "ciné-concert" celebrating Josephine Baker's entry into the Pantheon in Paris.
Serge Bromberg will present a set of short silent films showcasing the iconic entertainer's brilliant career, as well as several recently restored silent films by cinema pioneer Georges Méliès. They will be accompanied by an original score performed live on the piano by Bromberg himself. Serge Bromberg's "Ciné-Concert" featuring rediscovered movies with Joséphine Baker and by Georges Méliès. Since 1985, Serge Bromberg has made it his mission to preserve and screen all types of vintage films, and for some 30 years he has been hosting and providing the musical accompaniment for shows around the globe. He will elaborate on the story of the evening's films during a French Series discussion after the screening. 
The doors of La Maison Française will open at 5:15 P.M. 
Evening program:
5:15 – 6:00 P.M.: Cash bar
6:00 – 7:00 P.M.: Remarks and screening 
7:00 – 7:30 P.M.: French Series Discussion with Serge Bromberg 
Message to attendees from La Maison Française: 
This event has a limited capacity and masks are required inside the building.To ensure maximum safety for all our guests, proof of vaccination will be required for entry. Please remember to bring ID for the check-in. Should you have any questions please contact victor.dupasquier@ambafrance-us.org.

The National Gallery of Art serves the nation by welcoming all people to explore and experience art, creativity, and our shared humanity.
Founded as a gift to the nation, the National Gallery of Art serves as a center of visual art, education, and culture. Its collection of more than 150,000 paintings, sculpture, decorative arts, photographs, prints, and drawings spans the history of Western art and showcases some of the triumphs of human creativity. Across 363 days a year, the National Gallery offers a full spectrum of special exhibitions and public programs free of charge.
Sign up to receive exclusive news and updates