Philippe Quesne's "Farm Fatale" at PS21, Chatham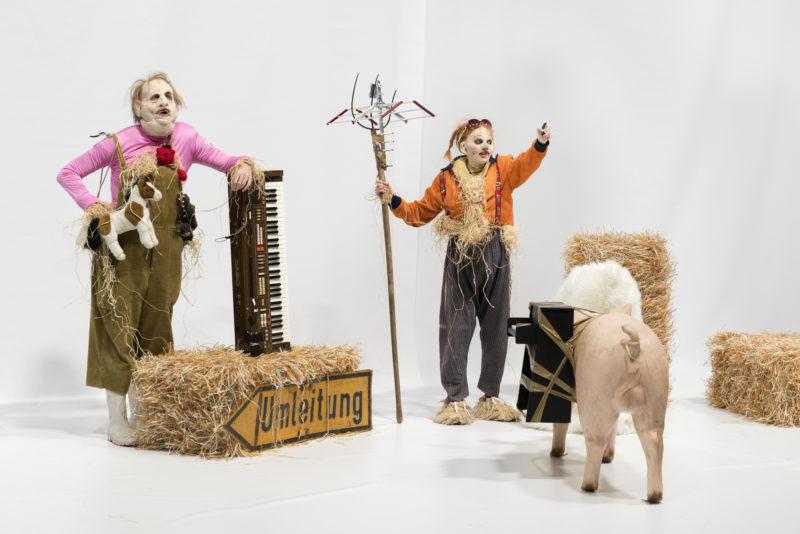 PS21 (Performance Spaces for the 21st Century)
2980 Route 66
Chatham, US 12037
September 2-3, 2022 | 7pm
A comic, dystopian pastoral that explores and comments on the fragility and beauty of the earth's ecosystem, Quesne's "Farm Fatale" is a natural choice for "Pathways 2022: Blazing Trails to a Sustainable Future," PS21's multi-disciplinary public initiative featuring free performances, arts and environmental education workshops, circus and processional arts, participatory events, and installations.
Philippe Quesne describes Farm Fatale as "a theater of post-apocalyptic deceleration." In a world devastated by environmental collapse, human life has ceased. The only survivors are five scarecrows, who take on the role of dreamers, poets and activists in their quest for a kinder, less harmful future for the planet. The centerpiece of PS21 – Pathways 2022 programming, Farm Fatale introduces audiences and participants to new European theater in a pristine, rural setting. The work is a cautionary tale about one of the most pressing issues facing the world today. 
In this ecofuturistic fable, the birds have gone extinct and the five scarecrows find themselves unemployed. Taking up the challenge of restoring life on earth, they archive, investigate, make music and look for ways to save what can be saved. A scarecrow has, by nature, all the time in the world, but what happens when the "future" has been reduced to a chimera, when crops, insects and birds are only vaguely evoked remnants of a vanished past? The scarecrows flap in the wind, waiting for something that will never come back. They are in an immaculate space, clinical and plastic, where even the straw bales have something false and purely artificial. 
Supported by FACE Contemporary Theater, a program from Villa Albertine and FACE Foundation.
September 2-3, 2022 at 7pm | PS21, Chatham, NY
On September 4 at 7 pm, Philippe Quesne's Moles, a companion piece of "Farm Fatale" will perform a rock concert as part of PS21 Season Closing Celebration 
This presentation marks director Philippe Quesne's first time at PS21; his previous works includes La Mélancolie des dragons, L'effet de Serge, and Les taupes, which have each been presented throughout the United States. Learn more Philippe Quesne and Vivarium Studio here.
Sign up to receive exclusive news and updates