In Orbit Around Arts & Physics

Nancy Littlejohn Fine Art
3465 B West Alabama Street
Houston, TX, US 77027
December 14, 2021 | 6:30pm
Discover and explore the way space illuminates the mind of artists and astrophysicists.
Before understanding what stars are and why they're arranged the way they are in the cosmos, we are amazed by their remarkable beauty. In astronomy and astrophysics, it's clear that art is a part of science.
Throughout history, the night sky has inspired multiple works of visual, auditory, and sculpted arts. They became one way of enjoying the beauty of the visible universe, not only through a telescope, but through an artistic eye.
Similarly, the night sky and the movement of stars have historically intrigued astronomers who established laws and theories to understand the universe. From Thales (Greek antiquity) to Copernicus (the Italian Renaissance) to Hubble (20th century), some mysteries have been unveiled, though our current understanding remains a drop in the ocean.
Nevertheless, in its attempt to use space and Earth's orbit as an experimental laboratory, humankind has a considerable impact on its environment beyond the earth surface. As remnants of human activity, spatial debris are a major space pollutant and are becoming a real threat to the operational space engines.
Natural celestial bodies and artificial space components are highlighted throughout both the artistic and scientific eyes of two guests of honor from the US and France: Kysa Johnson and Fatoumata Kebe. An immersive experience with the "Ghosts in Common" painting exhibition from artist Johnson, depicting how we relate to the universe we inhabit on a macro- and microscopic scale, will be coupled with the spatial debris scientific work and journey that Kebe experienced with a Villa Albertine residency in Marfa, Texas.
For this second edition of Arts & Physics, we will focus on our vision and understanding of the universe and our direct influence on it at a close range with an in-person event (in English) on Tuesday, December 14th from 6:30 to 8:30 pm at Nancy Littlejohn Fine Art. Snacks and beverages will be served. For this event, we will follow CDC safety guidance.
Fatoumata Kebe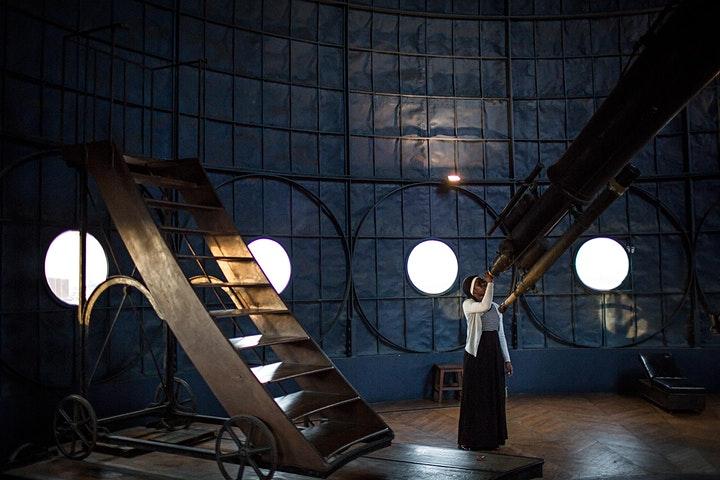 Fatoumata Kebe is a doctor of astronomy at Sorbonne Université. She researches the impact of space activities on astronomical observations and how such activities contribute to pollution around the Earth. She is the founder of the Éphémérides organization, which promotes the practice and teaching of astronomy among the public. She is also working on "Connected Eco," an entrepreneurial project for water preservation in the farming sector. She designed solar powered sensors that monitor the drought level of soil and send information by SMS to farmers. The project won an International Telecommunication Union Young Innovators Challenge. She was awarded a United Nations Alliance of Civilizations fellowship. She earned her doctorate, "Etude de l'influence des incréments de vitesse impulsionnels sur les trajectoires de débris spatiaux," in 2016. She was an intern at NASA, Centre national de la recherche scientifique and International Space University.
Kysa Johnson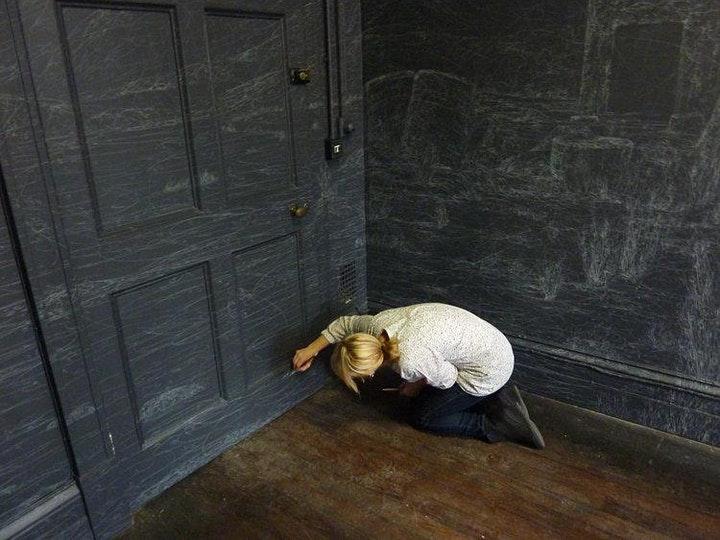 Kysa Johnson's drawings, paintings, and installations explore patterns in nature that exist at the extremes of scale. Using the shapes of subatomic decay patterns, maps of the universe, and the molecular structure of pollutants or of diseases and cures – in short, microscopic or macroscopic "landscapes" – it depicts a physical reality that is invisible to the naked eye. Often these micro patterns are built up to form compositions that relate to them conceptually. She looks to scientific imagery to help us understand our place in the complex and beautiful physical universe. Recent work uses subatomic decay patterns as a lexicon to build up compositions based on Hubble Space Telescope photographs of the lifecycle of stars, combining cycles of generation and transformation at the very smallest and largest boundaries of our physical reality.
Johnson graduated from the Glasgow School of Art in Glasgow, Scotland. She has exhibited at, among other venues, The Aldrich Museum of Contemporary Art, The Tang Museum, The DeCordova Museum, Dublin Contemporary, The Nicolaysen Museum, The Katonah Museum of Art, The Hudson River Museum, The 2nd Biennial of the Canary Islands, The National Academy of Science, Nancy Littlejohn Gallery, Morgan Lehman, Von Lintel, and Halsey McKay. Her work has been written about extensively including in Art Forum, The New York Times, Hyperallergic, Interview Magazine, and The San Francisco Chronicle. Her work is included in many public collections including MIT, Microsoft, Google, The Progressive Collection, Deutsche Bank, and Credit Suisse. She is a NYFA fellow (2003) and Pollock Krasner Grant recipient (2010).
Nancy Littlejohn, moderator and gallery owner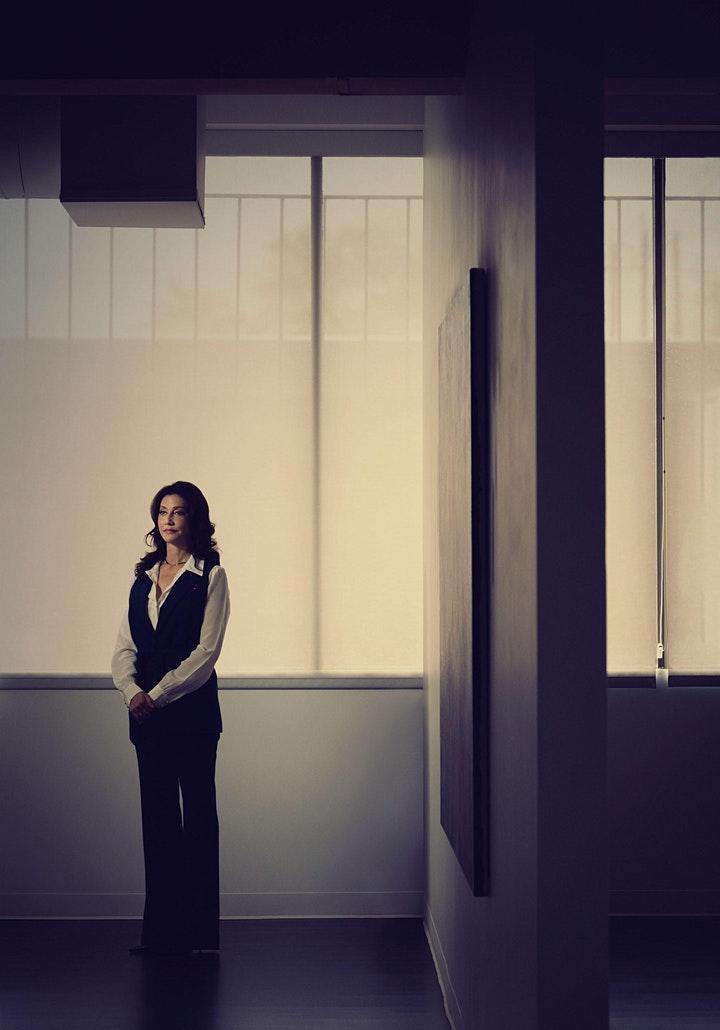 Nancy Littlejohn Fine Art gives the Houston arts community well-deserved recognition in the national and international art world. Bringing 30 years of experience as a patron, collector, art advisor, and gallerist, Littlejohn delivers an experience unlike anything you've seen. In 1998, she opened what has been noted as the most avant-garde gallery in Texas, bravely showcasing emerging talent through exhibitions, performances, and thoughtfully curated multi-disciplinary events. Today, NLFA represents the very best nationally and internationally recognized established and emerging contemporary artists.
Nestled in the exclusive River Oaks neighborhood in Houston, Texas, the 5,000 square foot modernist masterpiece was originally designed and occupied by world renowned architect S.I. Morris in the early 1970s. "Seth Irvin Morris and his architectural firm left a timeless imprint on the Houston skyline, from the first-of-its-kind Astrodome to downtown's trapezoidal Pennzoil Place skyscraper to the Williams Tower that looms high over the Galleria." NLFA is a destination surrounded by the city's best boutique design firms, antique emporiums, flower shops, and restaurants.
About the exhibition – Kysa Johnson
The exhibition Ghosts In Common, Johnson's second with the gallery, continues her decades-long use of macro- and microscopic scientific imagery to explore how we relate to the universe we inhabit. Using an alphabet of particle decay patterns (the infinitesimal pathways that subatomic particles travel along as unstable particles decay into more stable ones) to build up the larger compositions, she explores a recurring theme in her work, the steady cycles of transformation and collapse at all scales and similarities that connect them. Ghosts In Common engages with these ideas through the lens of commonalities between the 14th century and today.
Recent series have used particle decay patterns as a visual alphabet to explore the life and death of stars (The Long Goodbye), the origins and cultural valence of gold (As Above, So Below), and the creation of the hydrocarbon in nebula (CRUDE). All using the microscopic, telescopic, and historic to illuminate our present. Whereas series like The Long Goodbye uses these marks of dissolution and transformation to mine those processes at the cosmic scale, Ghosts In Common uses imagery firmly planted on earth from two time periods interchangeably to explore echoes of shared human experience across the ages. This work focuses on the small similar things that we see every day to meditate on connections through time and history.
By focusing her eye to different moments in time whether they are centuries or millions of lightyears away, Johnson is always trying to understand what is it to be human in the universe, what is it to be human in history, what are the unifiers, what is shared by the bowl that holds our broth and the nebula that spawns the elements that make it and us, and finally, what are our ghosts in common?
About Villa Albertine and Fatoumata Kebe's residency in Texas
Fatoumata Kebe is part of the 80 residents of the inaugural season of Villa Albertine. She is currently doing her residency in Houston and Marfa, Texas (November-December 2021). She became fascinated with celestial bodies after reading the science of astronomy in an encyclopedia, with beautiful images taken by space probes and astronomical observatories. There and then, she decided that her work would one day involve these phenomena.
It has been proven that humans were born from stars: some elements of which we are composed come from stars and other components of Space . But although studying Space can help us trace our origins, it doesn't explain our impact on the environment, which is the other passion of Kebe. This is why she has chosen space debris as her main field of research in order to study these remnants of human activity orbiting our planet that some regard as waste.
In the United States, Texas was the site of many defining events in this race to Space, particularly at the Lyndon B. Johnson Space Center, where astronauts are trained and materials from space are stored. It occupies an even more vital role today through its involvement in the Artemis Program, which will return American astronauts to the Moon and be the first mission to land a woman on it. As the Moon has no atmosphere, it is constantly bombarded by objects such as meteorites. Studying its specimens means tracing part of our solar system's history.
With its 1,700 inhabitants and a relative absence of infrastructure and pollution, the starry sky of Marfa (Texas) will facilitate Fatoumata's transcription work. In cities like Paris and Houston, far fewer than a hundred stars are visible to the naked eye. In Marfa, it is possible to observe more than a thousand.
The aim of Fatoumata's residency in two different types of environments: Houston and Marfa, is to produce an audio series that tells the story of the moon rocks that were brought back by the Apollo space missions in 1969–72. A total of 842 pounds of rocks were brought back from the Moon, some still under seal by NASA, to enable future generations of researchers to study them with more advanced technological tools.
Acknowledgements
Thanks to Nancy Littlejohn Fine Art, the Awty International School, Reliable Belgium Supply and Marcel Arnaud (SC Sales Inc) for the support.
Organizers
Office for Science and Technology or the Embassy of France in Houston / Cultural Service of the French Embassy in Houston – Villa Albertine in Texas / Nancy Littlejohn Fine Art, Houston

Sign up to receive exclusive news and updates