La Nuit des Choeurs Francophones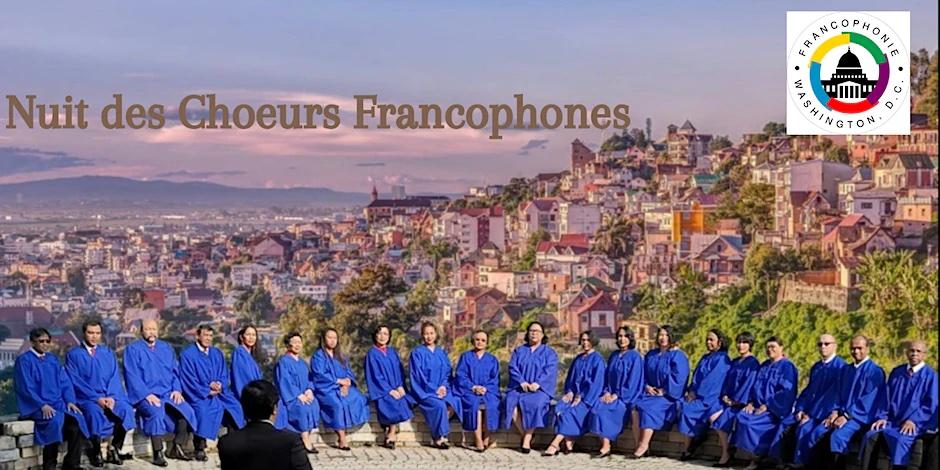 La Maison Française
4101 Reservoir Rd. NW
Washington, US 20007
March 17, 2023 | 7pm
As part of the Francophonie Cultural Festival's program, we invite you to "La Nuit des Choeurs Francophones", a unique choral concert.
The Embassy of France in the United States, in partnership with the Embassy of Belgium and the Embassy of Madagascar, presents four local vocal groups:
The AMBOARAMPEO Choir 
Directed by Josoa Razakalalao and Israely Andrianjafiarisaona, was founded in 1995. It is the choir of the FMK-DC, the Malagasy ecumenical church in Washington.
The Choir of the French Embassy
Born in 2016, the choir of the French Embassy is composed of passionate members of the Embassy staff who love to sing and share beautiful moments in music. Under the direction of their choir director Simon Charette, they master a diverse repertoire, in French and English, ranging from great classics of French and American songs to gospel, Irish or German songs, as well as unforgettable titles of international pop variety.
The French Choir of Washington
Directed by Simon Charette and a newcomer to the Washington music scene, this choir is dedicated to the performance of primarily French-language choral pieces from various eras and genres. Its forty or so amateur members are united by the pleasure of singing various types of compositions in a friendly and sociable atmosphere. 
The John Eaton Elementary School Choir
The fifth grade class at John Eaton Elementary School in Washington, DC offers a diverse music program and led by teacher Mrs. Hannah Whitman. to participate in this event. The diverse music program allows students to explore vocal music from around the world, percussion and wind instruments throughout the year.
Take advantage of this concert to travel through the cultural diversity of the Francophonie by celebrating the richness of languages through songs and melodies.
Sign up to receive exclusive news and updates