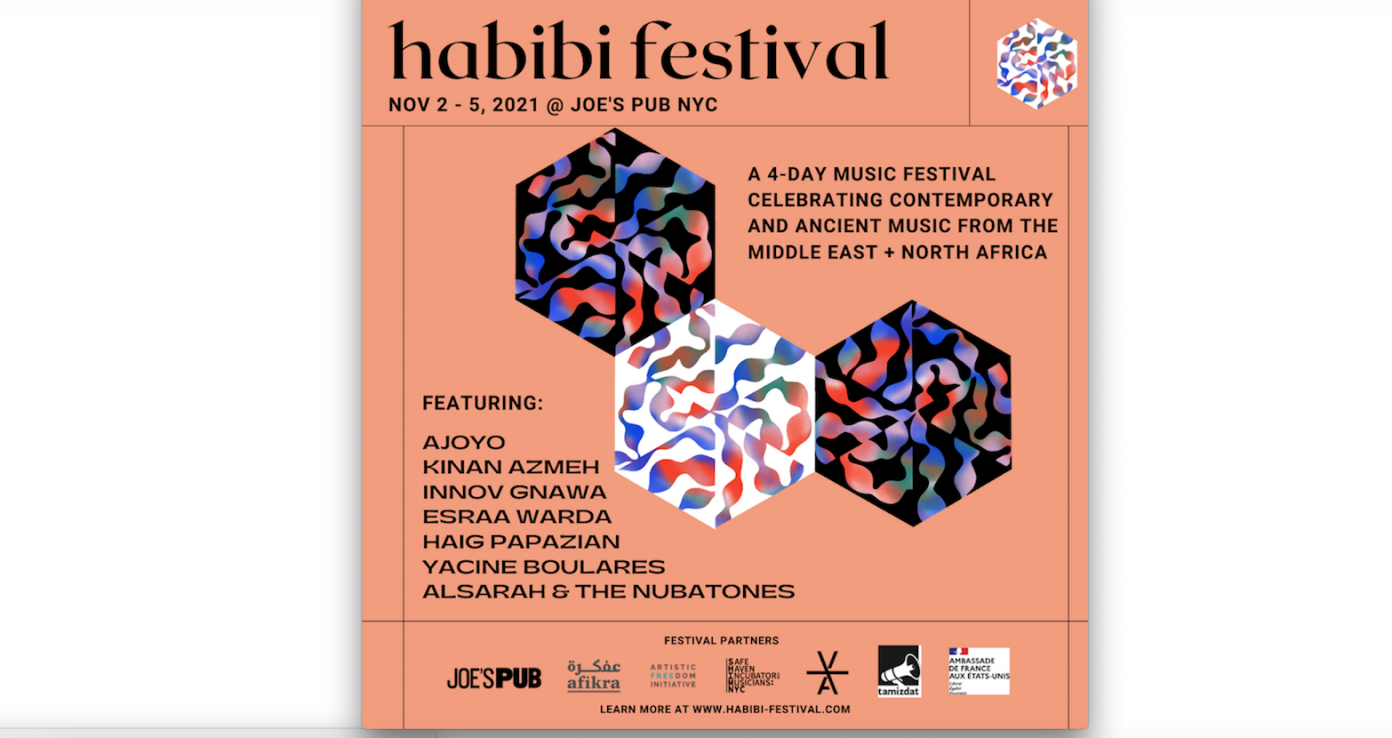 Explore the sounds of Tunisia, Algeria, Syria, and more during Habibi Festival, a four-night festival immersing New Yorkers in the music of the living rooms, radios, and dance clubs of the Middle East. This year's inaugural festival features award-winning French Tunisian saxophonist, composer, and festival co-founder Yacine Boulares and nightly special guests.
About the festival
Begin the evening with a solo performance by Lebanese-Armenian violinist, founding member of the influential band Mashrou' Leila, architect, and multi-disciplinary artist Haig Papazian followed by the Yacine Boulares' band and special guests including contemporary Syrian clarinetist and composer Kinan Azmeh, Sudanese-American singer Alsarah & the Nubatones, mesmerizing Moroccan group Innov Gnawa and Moroccan and Algerian traditional dancer Esraa Warda.
Tue, Nov 2 – AJOYO featuring Kinan Azmeh with opener Haig Papazian
Wed, Nov 3 – Alsarah & The Nubatones with opener Haig Papazian
Thu, Nov 4 – Innov Gnawa with Zafer Tawil, Kyle Miles, Philippe Lemm & Yacine Boulares with opener Haig Papazian
Fri, Nov 5 – Esraa Warda with Zafer Tawil, Michael Valeanu, Kyle Miles, Philippe Lemm & Yacine Boulares with opener Haig Papazian
Click here to learn more about the festival
About The Public Theater
Conceived over 60 years ago as one of the nation's first nonprofit theaters, The Public has long operated on the principles that theater is an essential cultural force and that art and culture belong to everyone. Under the leadership of Artistic Director Oskar Eustis and Executive Director Patrick Willingham, The Public's wide breadth of programming includes an annual season of new work at its landmark home at Astor Place, Free Shakespeare in the Park at The Delacorte Theater in Central Park, the Mobile Unit touring throughout New York City's five boroughs, Public Forum, Under the Radar, Public Studio, Public Works, Public Shakespeare Initiative, and Joe's Pub.
Habibi Festival is organized with the support of Villa Albertine, in partnership with the French Embassy in the United States.
Sign up to receive exclusive news and updates