"Wakatt" by Faso Danse Théâtre / Serge Aimé Coulibaly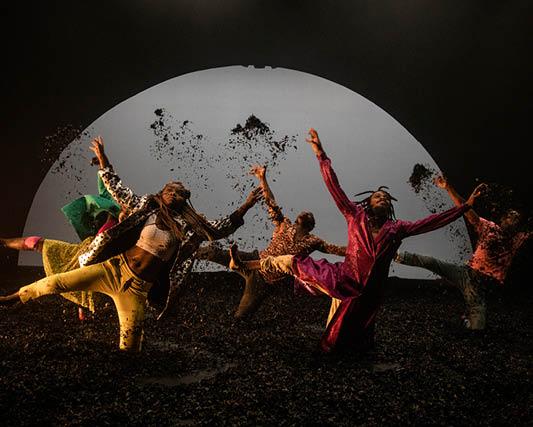 NYU Skirball
566 LaGuardia Place
New York, US 10012
November 11-12, 2022 | 7:30 pm
Wakatt, the new creation by Serge Aimé Coulibaly, with live music by the Magic Malik Orchestra, examines daily reality and social changes through a dance language that starts from internal violence, human instinct, urgency and the need to express oneself.
Wakatt, meaning "our times" in the Mossi language of Burkina Faso, is a reflection on the fear-filled contemporary era we live in. At a time when nationalism is on the rise in most parts of the world, the starting point of this new creation is "the fear of the other." The one who is arriving, the one who is here, the one that they tell us will take our place, our job, our house. Featuring 10 dancers and three musicians, music and choreography take center stage in a constant exchange, with non-stop music written and performed by the musician Malik Mezzadri (Magik Malik), an Ivory-Coast-born French flutist and jazz musician. 
Serge Aimé Coulibaly is a dancer and choreographer from Burkina Faso. His inspiration is rooted in African culture and his art is committed to the necessity of powerful contemporary dance. Since founding the Faso Danse Théâtre company in 2002, Coulibaly's productions have been presented in many theatres all over Europe and Africa. This is his American Premiere. 
SUPPORT
This project is supported by FUSED (French U.S. Exchange in Dance), a program of Villa Albertine and FACE Foundation, in partnership with the French Embassy in the United States, with support from The Ford Foundation, The Florence Gould Foundation, Institut français, the French Ministry of Culture, and private donors. 
Made possible in part with support from the General Delegation of the Government of Flanders to the USA. #MadeinFlanders
NYU Skirball's programs are made possible with support from the New York State Council on the Arts with the support of the Office of the Governor and the New York State Legislature, and by Howard Gilman Foundation, FACE Foundation, General Delegation of the Government of Flanders to the USA, Collins Building Services, Consolidated Edison, Mertz Gilmore Foundation, and Marta Heflin Foundation, as well as our valued donors through memberships and commissioning fund support.
Sign up to receive exclusive news and updates