Etel Adnan: Light's New Measure at the Guggenheim Museum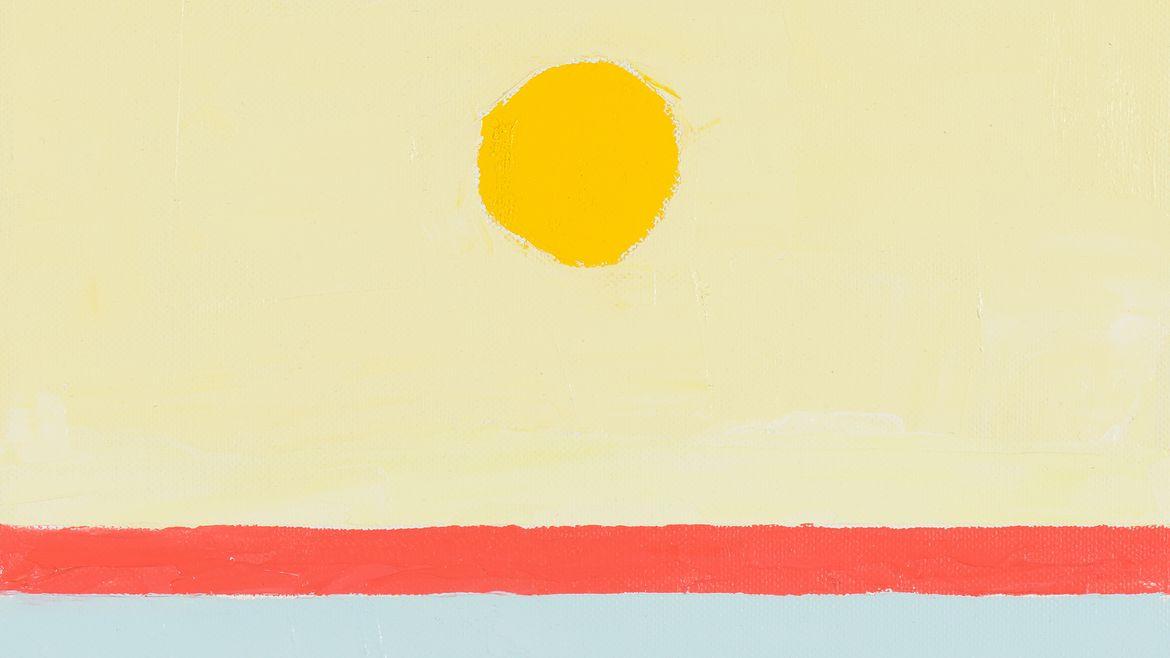 Guggenheim Museum
1071 5th Avenue
New York City, US 10128
October 8, 2021
Opening October 8, 2021 and running through January 10, 2022, the Solomon R. Guggenheim Museum will present a solo show Etel Adnan: Light's New Measure dedicated to the works of Lebanese-American painter, Etel Adnan, living and working in Paris.
Installed on the first two levels of Frank Lloyd Wright's spiraling rotunda, this exhibition surveys Adnan's work since the midcentury, encompassing paintings, tapestries, and drawings. It also presents the Super 8 film Motion (1980–89/2012) and a selection of the artist's leporellos: accordion-fold paper books that comprise her linguistic and pictorial registers.
This exhibition is the first part of a trilogy presented in parallel with Vasily Kandinsky: Around the Circle. The work of contemporary artists Jennie C. Jones and Cecilia Vicuña will be presented next. Etel Adnan recognizes a spirit akin to her own in Kandinsky, describing his abstract painting as "folklore reexperienced on a cosmic plane. It's about unity sought everywhere, at the cellular level, in history, in astronomy." She has studied his work throughout her life. 
Learn more about the exhibition
About Etel Adnan:
Over the course of a lifetime that spans almost a century, Etel Adnan's creative and intellectual vision has taken many forms. In addition to being a visual artist, she is a renowned poet, a prominent journalist, and the author of one of the defining novels of the modern Arab world. Adnan's biography is notable for its rich convergence of cultural influences. She was born in Beirut in 1925 to a Greek mother and Syrian father, grew up speaking French, Arabic, and Greek and was educated in French schools. She lived for extended periods in Lebanon, the United States and France where she studied philosophy in La Sorbonne and published later on many books. She began to paint in the late 1950s while working as a professor of philosophy in northern California. It was a period when, in protest of France's colonial rule in Algeria, she renounced writing in French and declared that she would begin "painting in Arabic."
While Adnan's writings have been unflinching in their critique of war and social injustice, her visual art is an intensely personal distillation of her faith in the human spirit and the beauty of the natural world. She has stated, "it seems to me I write what I see, paint what I am." Adnan creates her paintings decisively and intuitively. Adnan's partner, the artist Simone Fattal, has described her works as playing "the role the old icons used to play for people who believed. They exude energy and give energy. They shield you like talismans. They help you live your everyday life."
About the Solomon R. Guggenheim Foundation:
The Solomon R. Guggenheim Foundation was founded in 1937, and its first New York–based venue for the display of art, the Museum of Non-Objective Painting, opened in 1939. With its exhibitions of Solomon Guggenheim's rather eccentric art collection, the unusual gallery provided many visitors with their first encounter with great works by Vasily Kandinsky, as well as those of by Rudolf Bauer, Alice Mason, Otto Nebel, and Rolph Scarlett. The need for a permanent building to house the Guggenheim's art collection became evident in the early 1940s, and in 1943, renowned architect Frank Lloyd Wright was commissioned to design a museum in New York City. The Solomon R. Guggenheim Museum opened on October 21, 1959.
Etel Adnan: Light's New Measure is organized by Katherine Brinson, Daskalopoulos Curator, Contemporary Art, and Lauren Hinkson, Associate Curator, Collections. 
Support for Etel Adnan: Light's New Measure is provided by Galerie Lelong & Co., White Cube, the French-American Cultural Foundation, the Kaleta A. Doolin Foundation, Ellen and Alan Meckler, the Barjeel Art Foundation, GALLERIA CONTINUA, William and Agnes Peelle Jr., Nicoletta Fiorucci Russo, London; Mr. and Mrs. John L. Townsend III, Karen E. Wagner and David L. Caplan and those who wish to remain anonymous.
Additional support is provided by Etant donnés Contemporary Art, a program of Villa Albertine and FACE Foundation, in partnership with the French Embassy in the United States, with support from the French Ministry of Culture, Institut français, Ford Foundation, Helen Frankenthaler Foundation, CHANEL, and ADAGP. 
Additional funding is provided by the Solomon R. Guggenheim Museum's International Director's Council and Middle Eastern Circle
Sign up to receive exclusive news and updates