Akal by Radouan Mriziga with Dorothée Munyaneza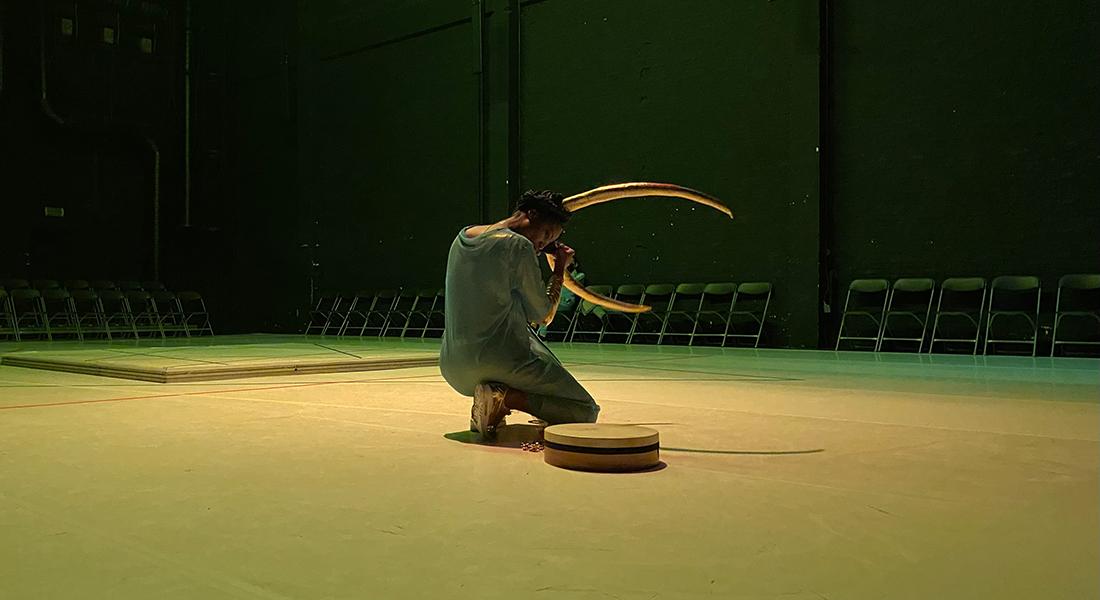 March 30 - April 16, 2022
Can choreography reconcile us with repressed histories? Titled as the Tamazight word for Earth, Akal— choreographed by Radouan Mriziga and performed by Dorothée Munyaneza—offers a fresh look at a suppressed past that makes us dream of a more inclusive future by combining ancient mythologies and contemporary performance.
Akal is the final piece of Mriziga's trilogy inspired by the Amazigh people of North Africa, whose long-ignored oral culture, he believes, contains the seed of a new future. Each piece of his trilogy focuses on mythological female figures who embody and protect Amazigh culture. The muse in Akal (meaning "earth" in the Amazigh language) is the ancient Egyptian goddess Neith, who guides the souls of the dead through the underworld.
Mriziga celebrates Neith's strength in Akal through rituals, traditional dances, architecture, storytelling, song, poetry, and rap performed by the Rwandan choreographer, dancer, and singer Dorothée Munyaneza. In this vital new work, the pair create an intimate choreographic space to dream of a more inclusive future through a new look at the repressed
TOUR DATES
March 30 – April 2, 2022 – Walker Art Center – Minneapolis (MN)
April 8-10, 2022 – Contemporary Arts Center – Cincinnati (OH)
April 14-16, 2022 – Wexner Center for the Arts – Columbus (OH)
ABOUT THE ARTISTS
Radouan Mriziga is an artist from Marrakech based in Brussels. Fairly quickly, he began to focus on his work as a maker, creating his first solo 55 (2014), followed by 3600 (2016), 7 (2017), and 0 (2019)—performances in which he addresses dance through the prism of architecture. In his works, he explores the relation between space, architecture, the body, and its connection to mind and intellect, and, more recently, the use of performance as a tool to produce and share knowledge about forgotten and repressed narratives. Mriziga's works have been touring across the world. Since 2019, Radouan has been developing a new trilogy of works inspired by the culture and history of the Amazigh, the original inhabitants of North Africa.
Dorothée Munyaneza is a singer, author, and choreographer. Originally from Rwanda, she now lives in Marseille, France. After studying music at the Jonas Foundation UK in London and Canterbury University, she sang, among other things, parts of the original soundtrack to the film Hotel Rwanda. In 2010 she released her first solo album. Since 2013, Dorothée Munyaneza has been developing work of her own in the contemporary performance scene. Together with her company, Kadidi, she created Samedi Détente in 2014 at the Théâtre de Nîmes, which has been shown almost 100 times in France, Europe, the USA and Rwanda.
Akal is co-produced by Kaaitheater (BE), DeSingel (BE), Tanzquartier Wien (AT), PACT Zollverein (DE), Festival de Marseille (FR), C-Mine (BE), Contemporary Arts Center (Cincinnati), Walker Art Center (Minneapolis), and Wexner Center for the Arts (Columbus), with the support of the Institut français de Paris.
Sign up to receive exclusive news and updates