Screening of Michaël Dudok de Wit's The Red Turtle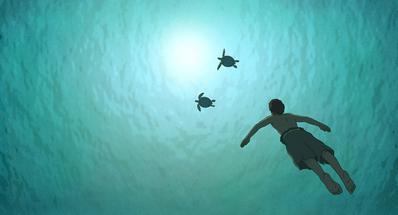 Academy Museum of Motion Pictures
6067 Wilshire Blvd.
Los Angeles, US 90036
July 30, 2022 | 11am
Part of the Family Matinees series, the screening will take place in the Ted Mann Theater on July 30, 2022, at 11am PT, following the Academy Museum's educational program Calm Morning: Fantastical Worlds.
Oscar®-winner Michaël Dudok de Wit (Father and Daughter) teamed up with Studio Ghibli for this visually striking, dialogue-free adventure that received an Academy Award nomination for Best Animated Feature Film in 2017. When a man is shipwrecked on a remote island, he is forced to make peace with the natural world and finds an unexpected new life.
From 9am-11am, visitors can explore the Inventing Worlds and Characters: Encounters gallery in the Stories of Cinema exhibition and participate in drop-in storyboarding and concept design activities inspired by Black Panther, E.T., and The Dark Crystal. 
This Calm Morning program and accommodative screening create an environment for all visitors to enjoy less-sensory-stimulating spaces with moderated sound and lighting displays.   
DCP, color, 80 min.
Director: Michaël Dudok de Wit
Screenwriters: Michaël Dudok de Wit, Pascale Ferran
With: Emmanuel Garijo, Tom Hudson, Baptiste Goy
France/Belgium/Japan, 2016.
Recommended for ages 10+
For more information, click here.
Sign up to receive exclusive news and updates