Young French Cinema 2022 Selection Spotlights Diverse Emerging Filmmakers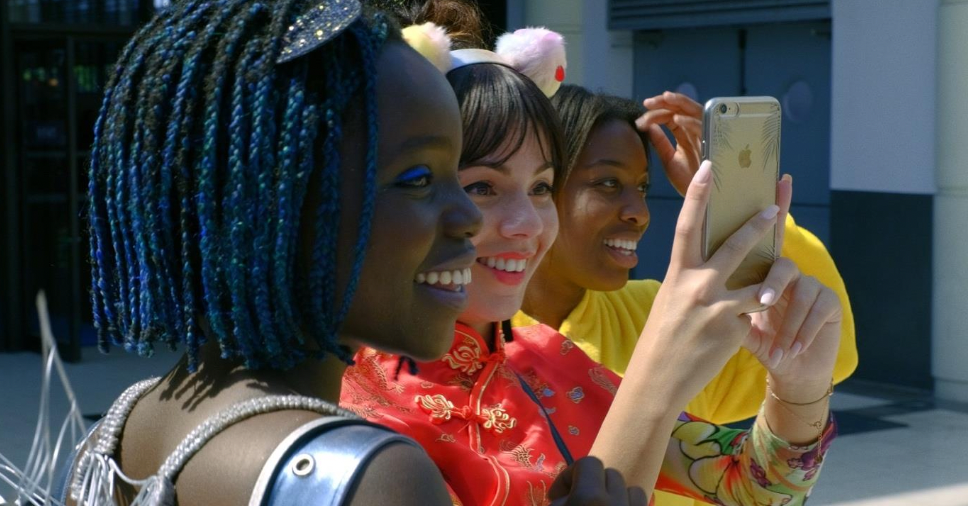 Ten feature films and 6 shorts are now available for in-person and virtual screenings throughout the United States
Villa Albertine and Unifrance today announced the official selection for the seventh edition of the Young French Cinema program. Designed to support films without existing US distribution, Young French Cinema brings the work of emerging French filmmakers to audiences across the Unites States. The 2022 program is now available for booking by art house cinemas, film societies, the Alliance Française network, and American universities.
In collaboration with Unifrance, Young French Cinema is one of 15 professional programs from Villa Albertine, a new kind of cultural institution working across disciplines and continents to build a vibrant community of arts and ideas. In this spirit, Young French Cinema offers a valuable entry point for diverse rising talents, from high-profile independent works to quirky comedies, animated features, powerful documentaries, and exciting shorts. The 2022 selection highlights two major themes of contemporary French cinema: gender diversity, with women filmmakers comprising the vast majority of the selection, and a curiosity about the world outside of France, from Niger to Kosovo to Germany.
The selection demonstrates that this young generation—more than ever before—shares a global artistic vision and a singular talent for combining cultural influences and tackling a wide range of subject matters. The selection simultaneously represents the highest caliber of French filmmaking. Most of the films have premiered in top international festivals: 7 were selected at the 2021 Cannes Film Festival while others premiered in the 2021 editions of Locarno, TIFF, and more.
FULL-LENGTH FEATURES:
Above Water (Marcher sur l'eau) by Aïssa Maïga – With this intimate portrait of a village in the semi-arid plains of northern Niger, internationally acclaimed Senegalese- French actress and activist Aïssa Maïga reveals the devastating effects of global warming on remote populations. A crucially important film about the injustices of climate change, it also raises essential questions about education and the rights of women. Premiered at Cannes Film Festival 2021.
The Braves (Entre les vagues) by Anaïs Volpé – Aided by the intimate camera work of cult American cinematographer Sean Price Williams (Good Time) and ebullient performances by two of French cinema's most engaging young actresses, Souheila Yacoub (Climax) and Déborah Lukumuena (Divines), Volpé gives us a story of death that is bursting with life, a fresh take on the restless nights of Paris, and an ode to the power of female friendship. Premiered at Cannes Film Festival 2021
Good Mother (Bonne mère) by Hafsia Herzi – Shot in Herzi's childhood neighborhood, Bonne mère takes a documentary approach to the struggles of a woman supporting her children and grandchildren, capturing the tedium of the pre-dawn commute to work, the sadness of visits to a son in jail, and the nagging anger of being relegated to a neglected corner of society, yet capturing the resilience and humor that drives the people Herzi films, most of whom are local non-professionals. Premiered at Cannes Film Festival 2021
Hard Shell, Soft Shell (Fragile) by Emma Benestan – Adding to her distinguished track record as an editor for Palme d'Or winner Abdellatif Kechiche, writer-director Emma Benestan makes an exhilarating feature debut with this wryly feminist update on the romantic comedy. Benestan upends gender and class stereotypes to take the pulse of romance in an era of role reversals.
The Heroics (Les Héroïques) by Maxime Roy – The beauty of filmmaker Maxime Roy's stirring debut resides in the way it dispels this notion of losers and winners without pulling any punches about the difficulties of life on the fringes. The extraordinary performance by lead actor and co-screenwriter François Créton, whose own struggleswith addiction inspired the character of Michel, doesn't leave us any choice but to love him. Premiered at Cannes Film Festival 2021
The Hill Where Lionesses Roar (La colline où rugissent les lionnes) by Luàna Bajrami – Though only twenty years old, Bajrami displays a distinctly personal approach to filmmaking, perceptible both in the film's autobiographical aspects and in her impressionistic manner of accumulating apparently banal moments to catch the fleeting sensations of adolescent rage and hope. Selection of Cannes Film Festival 2021 and TIFF 2021.
The Horizon (L'Horizon) by Emilie Carpentier – While writer-director Emilie Carpentier captures our attention—and emotions—with a charming tale of first love between two young people from different backgrounds, her real subject here is the dawning of political and social awareness at the cusp of maturity. In capturing Adja's gradualdecision to step up and fight for her future, she pays tribute to the courage of a generation for whom the fight for environmental justice is an urgent matter of survival.
Magnetic Beats (Les Magnétiques) by Vincent Maël Cardona – Deploying a stellar soundtrack of European post-punk classics, Cardona juxtaposes the eternal thrills of first love and the frustrations of provincial life with a lovingly specific depiction of a bygone period, lending tremendous emotional immediacy to the lives of those who came of age at the dawn of the 1980s. Premiered at Cannes Film Festival 2021.
Robust (Robuste) by Constance Meyer – With this closely observed double portrait of an aging French film star and the young Black woman he hires as his new bodyguard, first-time feature writer-director Constance Meyer breathes new life into the odd couple theme, bearing witness to a passing of the torch from the legendary Gérard Depardieu to the formidable young actress Déborah Lukumuena. Premiered at Cannes Film Festival 2021.
Secret Name (La place d'une autre) by Aurélia Georges – Aurélia Georges's adaptation of Wilkie Collins' novel, The New Magdalen, focuses on the impact of rigid class hierarchy on the lives of three women, offering a nuanced feminist reading that resonates with the iniquities of our era. Premiered at Locarno IFF 2021.
SHORTS:
The World Within (Le Monde en Soi) by Jean-Charles Finck, Sandrine Stoïanov – While preparing her first exhibition, a young painter commits so passionately to her creations that she loses touch with reality and descends into hallucinatory chaos. Confined in a clinic, she progressively rebuilds herself through painting and the daily observation of a squirrel under her window.
The Departure (Le Départ) by Saïd Hamich Benlarbi – Adil, aged 11, spends the summer playing with his friends and waiting for his idol, Olympic runner Hicham El Guerrouj, to compete in his last Games. The arrival of his father and older brother from France for a few days will mark him forever.
Sër Bi (Les Tissus Blancs) by Moly Kane – Tomorrow, Zuzana is getting married. From now on, every minute counts to erase her past and for her to become the woman she is expected to be.
Locked Out (Confinés dehors) by Julien Goudichaud – March 2020, a global pandemic hits humanity. In an empty and silent Paris, there remain urban ghosts, Sarah, Nelson and Katia, who have no other choice but to be locked out. These people forgotten by the health crisis ask us: how to continue to survive in a world at a standstill?
The Right Words (Haut les coeurs) by Adrian Moyse Dullin – Fifteen-year-old Kenza and her thirteen-year-old brother Mahdi regularly act out an escalation of petty cruelties and humiliations inspired by social networks. Today, during a bus ride, Kenza puts her naive and romantic little brother to the test: he must make a declaration of love now to Jada; a girl Mahdi loves but who doesn't know him.
The Bath (Le Bain) by Anissa Daoud – Due to his wife's business trip, Imed, a young father, finds himself alone for a few days for the first time with his five-year-old son and must confront his deepest fears.
To accommodate public health guidelines and bring the best emerging French cinema to the widest US audiences, the 2022 Young French Cinema selection is available both in-person and virtually, through Eventive and other platforms. Unifrance has also put in place a limited number of grants to help independent cinemas cover screening fees for the 2022 features selection.
Discover more about Young French Cinema here 

Founded in 1949 and strengthened thanks to its merger with TV France International in 2021, UniFrance is the organisation responsible for promoting French cinema and TV content worldwide.
Located in Paris, UniFrance employs around 50 staff members, as well as representatives based in the U.S., in China, and soon in Japan. The organisation currently brings together more than 1,000 French cinema and TV content professionals (producers, filmmaking talents, agents, sales companies, etc.) working together to promote French films and TV programmes among foreign audiences, industry executives and media.
 
Sign up to receive exclusive news and updates