Une somme humaine by Makenzy Orcel wins US Goncourt Prize Selection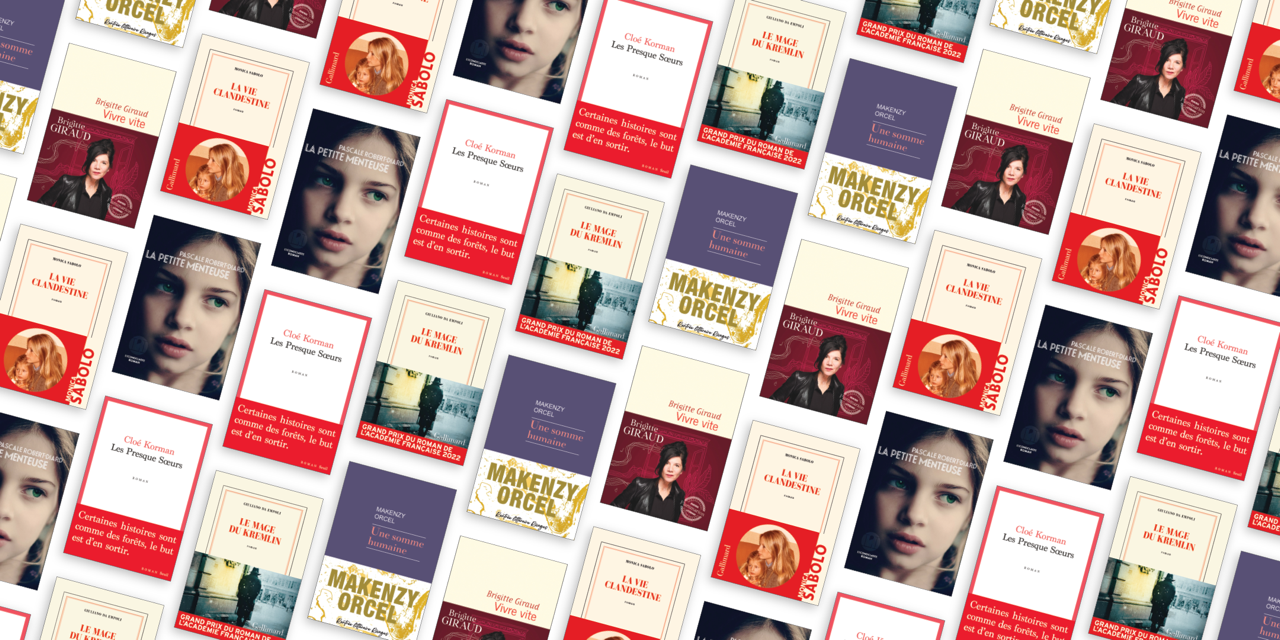 The complex story of female alienation was selected by a jury of university students after months of study and debate
New York, May 1, 2023 – Makenzy Orcel's Une somme humaine has been awarded the 2022 US Goncourt Prize Selection ("Choix Goncourt"). The announcement was made Saturday evening at Villa Albertine, during a ceremony chaired by last year's winner Anne Berest (La Carte Postale / The Postcard (Europa Editions)).
The Prix Goncourt is France's most prestigious literary prize. International Goncourt Selections—made by university students in 35 countries—are a global literary barometer, gauging how the Goncourt Prize shortlist resonates with different younger audiences around the world. The US prize, now in its second year, is organized and supported by Villa Albertine.  
Une somme humaine explores the complexity of couples and families as well as the female experience as the central character escapes her difficult past in the south of France to make a place for herself in Paris.
Born in Haiti, Makenzy Orcel is a sensorial writer whose body of work features both poetry and highly acclaimed novels. After publishing Les Immortelles, his second novel L'Ombre animale received the Prix Louis Guilloux and the Prix Littérature-Monde in 2016. Une somme humaine marks Makenzy Orcel's seventh novel. 
After months of studying each book, a jury of students from eight US universities in the French Embassy's Centers of Excellence network—Duke, Harvard, NYU, Princeton, Yale, MIT, Columbia, and the University of Virginia—came together Saturday for final deliberations.  In speaking of their selection, the jury especially appreciated the stylistically inventive approach and relatability of Une somme humaine, which mirrors the complexity of life through its prose and structure.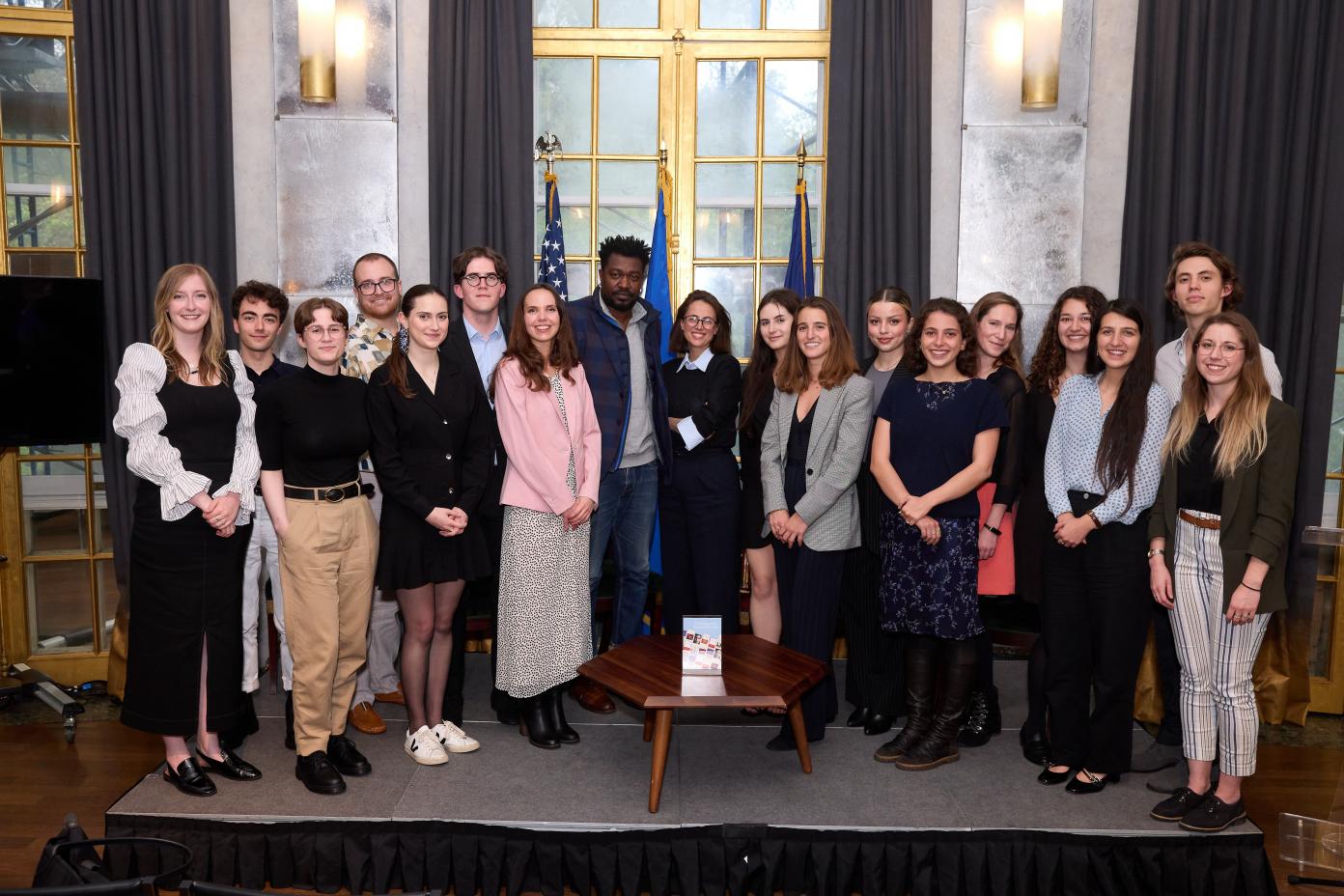 Left to right: Madelyn Neal (NYU), Pierre Forfert (Yale), Ella Daily (UVA), David Gill (Duke), Macha Martin-Camus (Columbia), Eloi Delort (Princeton), Sophie Chopin (Princeton), Makenzy Orcel, Anne Berest, Arielle Stern (Duke), Maria Ascanio Alino (MIT), Marija Sunjka (UVA), Annarosa Zampaglione (Columbia), Amanda Gann (Harvard), Kathryn Parker (NYU), Brooke Habit (Columbia), Artem Lukoianov (MIT), Tiffany Premand (Yale). 
Addressing the student jury during her introductory remarks, chair Anne Berest noted, "I am incredibly grateful to have spent this week by your side, and to be a part of the American Goncourt Prize. I know what this award will mean for its recipient, what a gift and honor it represents."  
Makenzy Orcel was selected from a shortlist of six nominees: 
Le Mage du Kremlin, Giuliano da Empoli (Gallimard) 
Vivre vite, Brigitte Giraud (Flammarion) 
Les Presque Sœurs, Cloé Korman (Seuil) 
Une somme humaine, Makenzy Orcel (Rivages) 
La petite menteuse, Pascale Robert-Diard (L'Iconoclaste) 
La vie clandestine, Monica Sabolo (Gallimard) 
"A huge congratulations to Makenzy Orcel for this prize honoring such a dense and captivating novel ," said Judith Roze, Deputy Director of Villa Albertine. "We're honored to organize the U.S. Choix Goncourt, which is a great way to introduce new voices in contemporary French and Francophone literature to students in the French departments of American universities." 
The U.S. translation rights of Une somme humaine are still available. In France, the book is published by Rivages.
The Académie Goncourt was founded by French writer Edmond de Goncourt. At his death in 1896 he willed that his assets be used to support this literary society, helping to ensure that each year ten writers would award an annual prize to a "work of great imagination in prose". The Goncourt Prize (Prix Goncourt), first awarded in 1903, quickly grew into a mark of great prestige, launching winning authors into major domestic and international success. On November 3, 2022, the "Academy of Ten" will announce the 120th Goncourt Prize.
Sign up to receive exclusive news and updates