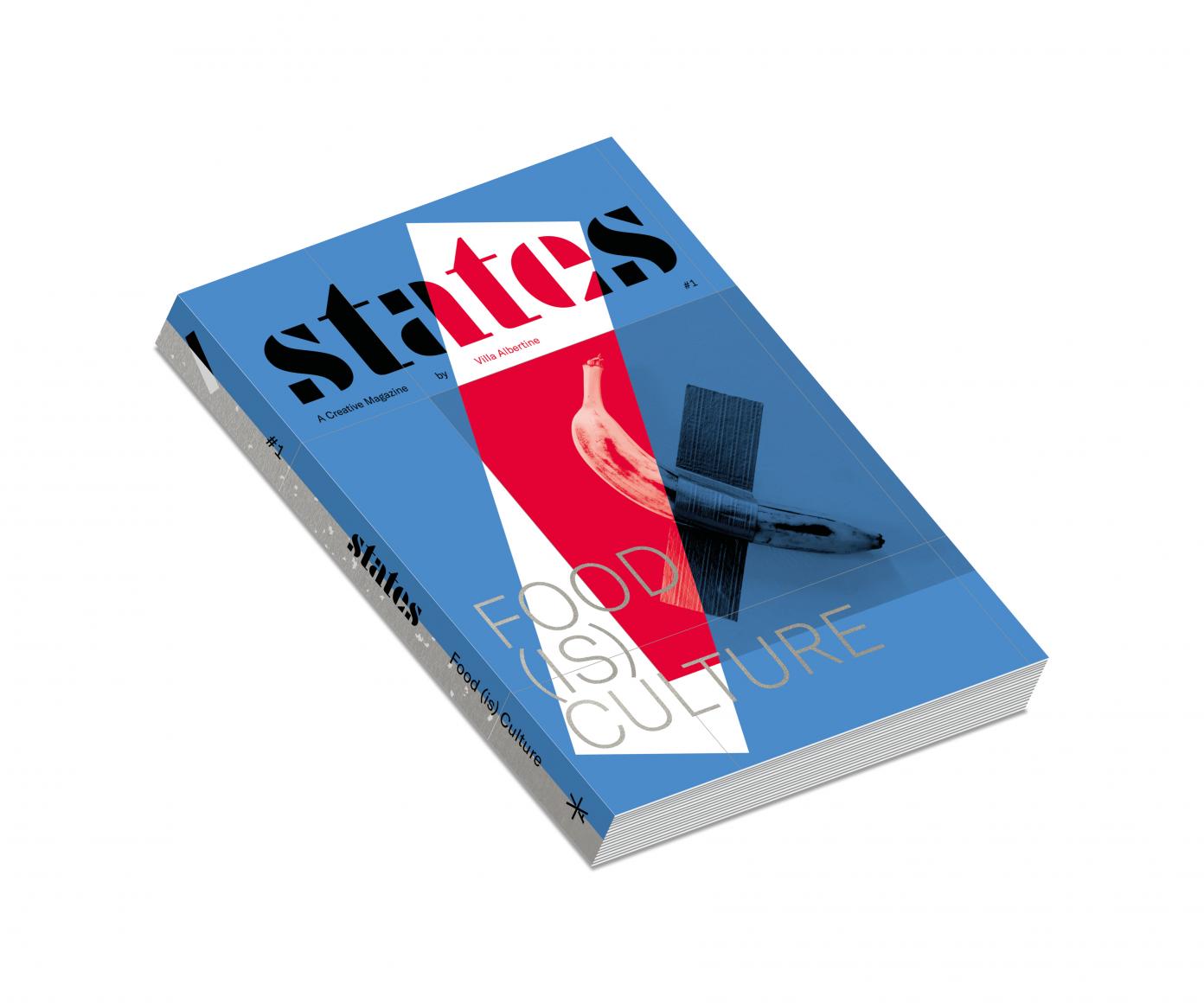 A print magazine and podcast for international exchange in arts and ideas
The annual 250-page luxury "bookazine" features exclusive interviews, field reports, criticism, short stories, and original artwork from 20+ illustrators. Published by Villa Albertine, this year's theme: "Food (is) Culture." 
New York, January 19, 2023 — The inaugural issue of States, Villa Albertine's creative magazine dedicated to exchange in arts and ideas rooted in the US context, is now available for purchase nationwide. Episode 1 of the monthly podcast by the same name will be available to stream later this year.
States is a key initiative of Villa Albertine, a cultural institution launched in 2021 with hubs in 10 US cities that is working to build a network of exploration in art and ideas between the US and the French-speaking world. 
The Magazine 
The 250-page annual publication, States, is a platform for global creators to engage with key contemporary questions. Interviews, analysis, opinions, reviews, short stories, recipes, comics, photographs, and illustrations come together in a luxury art object to advance and bring diverse perspectives to cultural debate.  
The production and publication of States, in both its magazine and podcast iterations, is one of the four major content and programming pillars of Villa Albertine, alongside (1) a groundbreaking residency program (2) a portfolio of 15 cross-disciplinary grants and programs and (3) a calendar of public programs throughout the country. States mirrors the institution's ambitious scope to tackle issues and projects across the entire varied US landscape, and   provides Villa Albertine's residents and other leading multidisciplinary creatives another medium through which to incubate and share their ideas for a better global future. 
The magazine's name is a double reference to both the American cultural landscape (the magazine's primary analytic subject), and to the "states" and manifestations of contemporary thought and creation.  
The magazine is presented in three sections:  
Food (is) Culture is a multidisciplinary dossier dedicated to food as an object of artistic representation and cultural meaning. Each year States will explore a different central theme that is important to contemporary creative debates.  
Coast to Coast is a panorama of content by international artists, researchers, and curators in residence with Villa Albertine. The section distills field reports and creative analysis of the US, seen from the "outside." 
Ailleurs curates work penned by a variety of international contributors, de-centering the US to explore the Middle East through graphic novels, the Ethiopian desert with poet Arthur Rimbaud, and more. 
Please find a more detailed selection of content highlights from the magazine below. 
States is spearheaded by Villa Albertine's Editorial Director Raphaël Bourgois, a French public radio veteran and founder of the online daily AOC, which has established itself as an indispensable interface between the worlds of culture, academia, and journalism. 
Retailing at $20, States is available for purchase at Albertine Books in New York City and at shop.albertine.com. 
The Podcast 
States also encompasses a podcast, launching in 2023, with the same mission of international cultural exchange, rooted in the American landscape. Hosted by writer and journalist Rachel Donadio, the States podcast will go behind the scenes of some of Villa Albertine's most fascinating residency projects through in-depth conversations with artists, writers, researchers, and curators in residence. 
Upcoming episodes:  
Episode 1: Photographer and visual artist Nicolas Floc'h discusses his project documenting the changing colors of the Mississippi River, exploring its anthropological, climatic, physical, geomorphological, geopolitical, historical, and cultural character. 
Episode 2: Art historian, professor, and research director Anne Lafont discusses her study of the figural space of the Black Atlantic in New York City and New Orleans.
Episode 3: Choreography and videography collective (LA) HORDE discuss their residency in Los Angeles, where they embedded in the jumpstyle dance community and developed new physical stories.  
The podcast will also release a limited three-part 'documentary-style' series on the main feed, developed by Villa Albertine resident, journalist, and radio documentary producer Aude-Emilie Judaïque, focused on the relationship between space and art at the American-Mexican border. Each 45-minute episode was produced by Judaïque as part of the work she undertook during her residency based out of San Francisco in 2022.  
The States podcast will be available wherever you get podcasts.  
For more information on all Villa Albertine's initiatives and programming, please visit villa-albertine.org. 
Highlights from The Magazine 
Editorial: Reimagining the American Dream (pg. 3): The ideals of the American dream have inspired generations of artists and thinkers around the world. But with rising inequality, declining social mobility, and challenges to American influence, what remains of this dream, and what meaning does it hold for contemporary creators? Gaëtan Bruel, Director of Villa Albertine, presents States as a laboratory for the reinvention of the American dream. 
The Future of Museums: A Conversation Between the Presidents of the Louvre and the Centre Pompidou (pg. 17): These two major institutions are very different, both in terms of their collections and their identities (the Louvre inherited from the universal museum of the 18th century, the Centre Pompidou a new type of museum conceived in the 1970s). But they share a common challenge: how to enter an era where the presence of museums at the heart of cultural practice is no longer a given. 
Seeing the World from the Margins (pg. 31): From art movements to social struggles to urban innovations, the "banlieues" (urban suburbs, margins) Oakland, California and Saint-Denis, Île-de-France are generating solutions for fairer, more creative, more inclusive urban life. In this report, read how a program that links these two cities on the margins helps spur new collaborations and possibilities for the future.  
Puzzling Food (pg. 78): Will there be restaurants in the Metaverse? Will tomorrow's food be 3D printed? Will Instagram replace our cookbooks? Will perfumes be part of our meals? Will we grow vegetables underground? In this opinion section, American journalists, academics, and scientists weigh in on an eclectic mix of future-themed food questions.  
Recipes (pg. 90): Side by side, the recipes for Lucien Zayan's "Franco-Syro-Babylonian" Pasticcio and Mirna Bamieh's Palestinian Ftut bread offer bites of physical culture that can be recreated at home. The stories interwoven through each of them bring questions of home, history, and belonging into sharp relief.  
Short Stories: Two literary greats contribute original work to States: In her fiction story The Formica (p. 96), multi-prize-winning novelist Céline Minard interprets the prompt "Food (is) Culture" through the subjectivity of ants. In his narrative nonfiction Love Me Tenderloin (p. 186), sci-fi pioneer Alain Damasio walks the streets of San Francisco, meditating on the duality of immense technological modernity amid tens of thousands of individuals without shelter.  
Atlanta, Black Identity, and Echoes from the Atlantic (p.168): Maboula Soumahoro is a historian of the United States, and a specialist in Black history and theories of Afrodiasporic descent – but the specificities of the city of Atlanta still surprised her while in residency there. In her report, Dr. Soumahoro weighs theoretical knowledge and physical experience to deepen her work on diasporic history and identity. 
Illustration: States presents original artwork from 21 illustrators, including 10 city-themed pages by the collective "The Parisianer," new comics by Villa Albertine resident Quentin Zuttion, and a selection of comics crafted by five illustrators from the Middle East, presenting the diverse styles of a new generation of artists telling contemporary, personal stories that reflect the intimate ties between their own narratives and the histories of their cities.  
Sign up to receive exclusive news and updates