Visual Artist, Curator
September - October 2023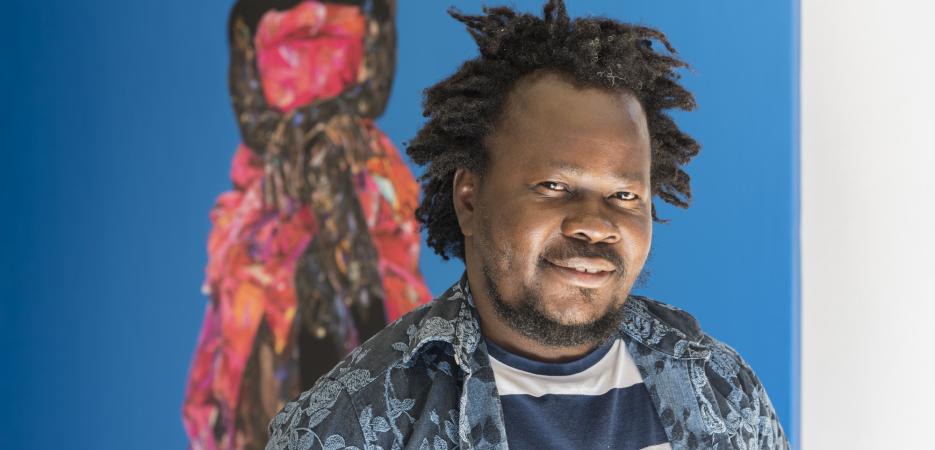 "In order to elaborate on this new narrative, it will be important for me to meet these communities and different Black American institutions to find points of connection and of divergence with Congolese and African communities and collectives."
I am a Congolese artist and curator, as well as the founder and Executive Artistic Director of Congo Biennial and of Kin Studio, a contemporary creative lab based in Kinshasa. I have studied visual arts in Kinshasa, Strasbourg, and Amsterdam.  
For more than 10 years, I have worked in the transmission of artistic knowledge and contemporary aesthetics related to visual arts in the Democratic Republic of the Congo and in Africa. As a curator, I pledge to make known a young generation of Congolese artists in the local and international artistic scene, and to bring renowned artists to work and show their art in Kinshasa via the Congo Biennial, all while confronting them with the Congolese reality.  
My most recent project explores the question of the human being in contemporary societies, particularly the women and men who have left their mark on African and Afro-descendant history and mythology. Through working on the question of the perception of the image of African women and men, and more specifically of Black people, I seek to deconstruct colonial views and representations. My work tries to restore the fight of African people to our collective memory: these historical figures that are so important and emblematic, yet political and intellectual history has forgotten them. 
I am working on the construction of a new identity, which for me is a means of proposing another narrative.  
Vitshois Mwilambwe Bondo is a visual artist, curator, and the founder and Executive Artistic Director of Kin ArtStudio and of Congo Biennial in Kinshasa, the Democratic Republic of the Congo. A former student of the École des Beaux-Arts of Kinshasa, he has studied visual arts at the École Supérieure des Arts Décoratifs in Strasbourg and at the Rijksakademie Van Beeldende Kunsten in Amsterdam. He has been the commissioner of numerous exhibitions in Kinshasa and abroad, and his work has been exhibited internationally in Africa, Europe, and India. 
Vitshois Mwilambwe Bondo is a resident of the Bridge Residency, a project in partnership between the African Diaspora Art Museum of Atlanta (ADAMA) and Villa Albertine. The Bridge Residency creates new points of access and interaction between the various experiences of Africans and African-descendents in Atlanta, a city known worldwide as a Black creative, economic, educational, political, and more and more, technological hub.
My project for Villa Albertine originates from a meeting with Atlanta artist and shcolar Fahamu Pecou during our artistic residency at Jardin Rouge – Montresso Foundation in Marrakech at the start of 2020. For more than six weeks, we exchanged perspectives on contemporary African art and the African diaspora.  
I realized that Fahamu Pecou was the person that I was looking for to act as curator, along with Armelle Dakouo, of the 2022 edition of Congo Biennale. Titled "The Breath of the Ancestors," this edition explored the links between Africa and its diasporas, our common roots, and the diversity of cultural and artistic expression. It was also a remarkable occasion to develop artistic exchanges between the Americas, the Congo, and other African countries.
The Atlanta residency will allow me to prolong these exchanges. It will also bring another view of the links between Africa and America to my work, especially regarding Black American communities.  
Atlanta is often presented in the African American community as the city of Black culture and Black scholars. 
It will be very important for me to meet these communities and different Black American institutions to find points of connection and of divergence with Congolese and African communities and collectives. This residence will allow me to elaborate on this new narrative which occupies me, through working on the question of representation and perception of Black or African people in my work and more generally in contemporary African and Afro-diasporic art.  
My research will also consist of comparisons between identity discourse in Africa and America in Atlanta' s African American communities. It will permit me to analyze the role that collective and social memory plays in individual identity and to better understand African American intellectual discourse.  
Sign up to receive exclusive news and updates