Craftsman, inventor
June–August 2022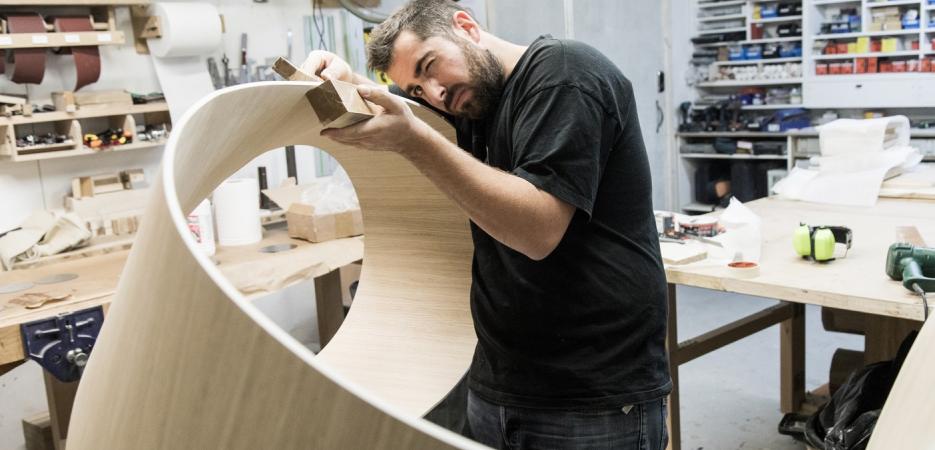 "I was lucky enough to learn the old trade of cabinetmaking at a very young age, based on notions that cast light on the way I work today: a deep respect for tradition, mastery of time-honored techniques combined with an open mind"
My adventure in craftsmanship began in my childhood, within my family. I was lucky enough to learn the old trade of cabinetmaking at a very young age, based on notions that cast light on the way I work today: a deep respect for tradition, mastery of time-honored techniques combined with an open mind, and a probing outlook on all that surrounds us.
After receiving training in construction, then in cabinetmaking and furniture restoration, I discovered drawing, creation, design, and modern art, and I graduated—top of my year group—from the École Boulle art and design school in 2008.
In 2009, I founded ARCA, a workshop in furniture research and creation. I have won many competitions for my innovations, including the Prix pour l'intelligence de la main from Fondation Bettencourt Schueller—a prestigious craftsmanship award. Today, I take great pleasure in communicating my passion to my young team and through teaching, focusing on a wide range of skills, including furniture restoration, lacquering, solid surfaces, recycled materials, metals, plastic or concrete 3D printing, 3D modeling, the development of biodegradable matter, and expertise in automatons.
The Bettencourt Schueller Foundation is supporting Steven Leprizé's residency, as sponsors of 'Design and Craft' Villa Albertine residencies.
My residency at Villa Albertine will give me the time and perspective I need to produce drawings and models, away from my pressing workshop and family issues.
I intend to bring samples and items of furniture, either for an exhibition or to explain my work to experts or the general public in concrete terms at the Massachusetts Institute of Technology, art schools, and vocational colleges.
More broadly, the US is home to many motorcycle customizers. Indeed, it was in the US that this culture of customization was born. In my workshop, we are working on a motorcycle finish using our innovative materials. I will demonstrate our know-how to US-based customizers and showcase our new materials. Our parts and materials have an astonishing effect on clients and experts. The time has come for me to take the motorcycle I am currently working on to the US as a demonstration of my work.
The aim will also be for me to physically introduce myself to future clients. Through these innovations, our potential is huge. I am convinced Americans— with their free spirit —will be receptive to them.
The residency will be based in Brooklyn's Industry City, one of the world's most vibrant hubs of art and design. New York is known as a city that never sleeps, a source of inspiration where trends are born and art is everywhere. Going to the US as an artistic craftsman is an old student dream of mine—one that could now be fulfilled and, I hope, become long-lasting.
By working from Industry City, I will also operate in a very stimulating work environment that includes galleries such as 21th Gallery, Todd Merrill Studio, and Paris Excellence NY, workshops such as Matthias Plessnig's and Jouffre's, where I will be spending a week, and the Material Connexion materials resource center where I have been listed for several years.
Sign up to receive exclusive news and updates