artist, DJ
May - June 2024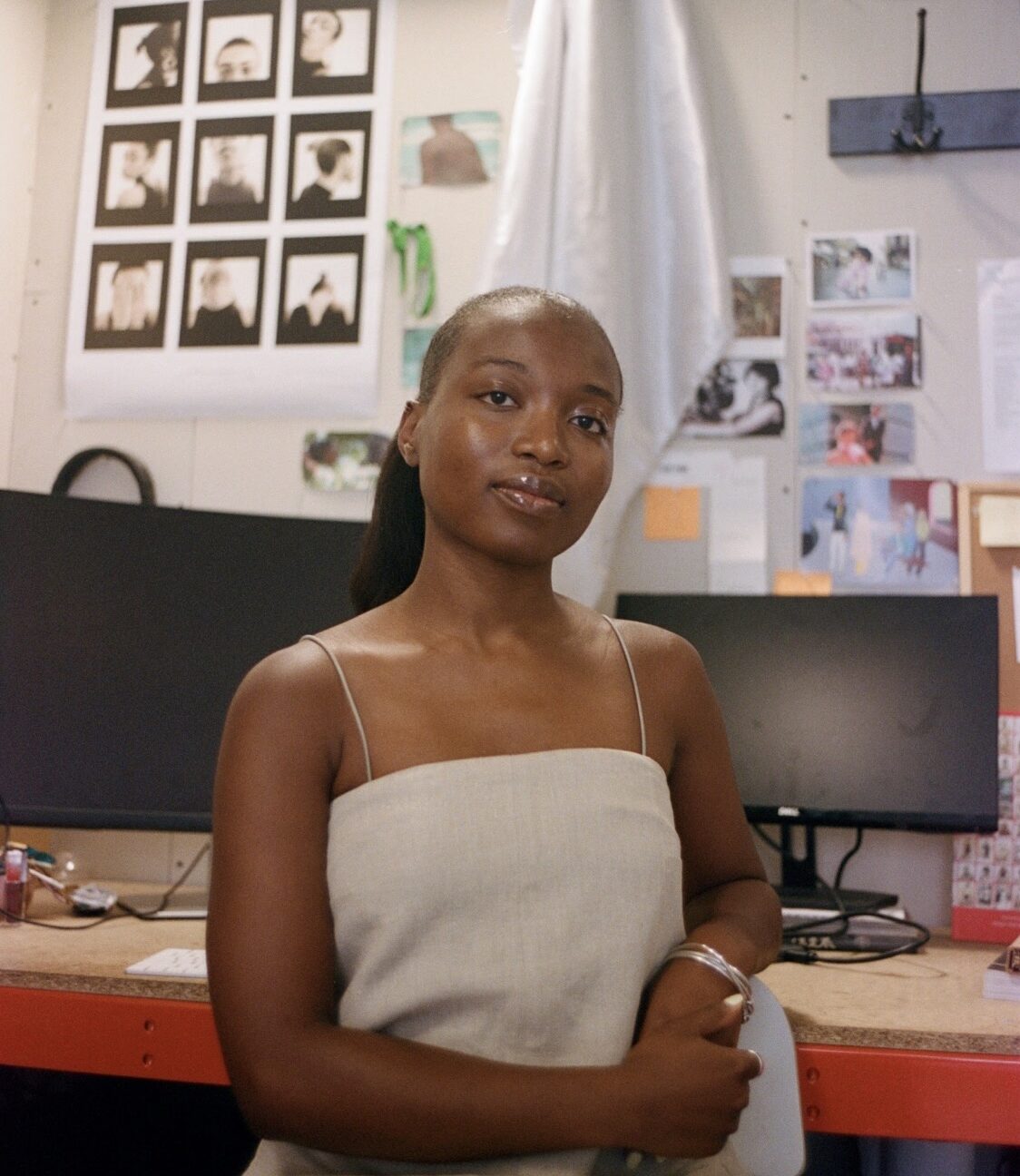 "Was the godfather of Chicago house music looking to Africa? "
I am an artist and DJ who work in the realms of moving image and sound. I use the power of cinema to take listeners on journeys weaving between cultures and time. I am a philosophy graduate of Stanford University where I received my bachelors and masters degrees focusing on the history of philosophy of science and African philosophical systems. My rigorous academic training deeply informs my experimental approach to music and the moving image informed by the Yoruba philosophical principle of complementary dualism – a world sense distinct from the western Aristotelian binary dualism. Through juxtaposing images and sound, I seek to complicate the ways in which we understand modernity and time. I transform the scores of my filmic pieces through performance, DJing and composing in real time the sonic landscapes in which the images exist. 
For me, music and music history are a living archive of communal memory and lost connections – critical given the fractured history of the Black diaspora worldwide. With heritage from Nigeria, the Caribbean and Brazil, the impetus of my artistic practice is both personal and political. I see my function as an artist as one of re-connection and complication, one that seeks to ask questions that may still be unanswered but at the least further understood. As a resident of Villa Albertine I will be tracing the connections between West African music and Chicago house. 
Lijadu's work has been exhibited in several institutions and film festivals. Notably in Blackstar Film Festival, Philadelphia, Frieze Cork Street, V.O Curations London and Mariane Ibrahim Gallery Chicago. Her debut film/installation/performance Guardian Angel (2022) was commissioned by the ICA London as part of their annual convening Image Behaviour 2022. 
As a Villa Albertine 2024 resident, I will explore the creative and subversive ways displaced and repressed cultures reinvent themselves, break through conventional barriers to emerge triumphant in a new form in a new age and with new ways. I will be looking at the ways in which African music patterns show up in musical genres stitched into the fabric of Chicago's rich musical history. 
Through undertaking a field investigation of the musical legacy of African music in contemporary music and genres pioneered in Chicago, I hope to strengthen connections between the African descendants in the diaspora and Africans on the continent. Much was lost, but music is a portal through which cultural history, memory and identity was preserved and shows up through drum patterns, rhythms and intonation. 
As a part of Villa Albertine, I would like to explore and research the ways in which the musical legacy of the African diaspora has been preserved in Chicago. As an artist, my practice traces these links across the Atlantic and is one that seeks to reconcile the misunderstandings and the lapses of memory of my people that transcend borders. 
Chicago, the city where I would spend this residency, has a deep history of Black musical experimentation and the genesis of a distinctive form of blues and house music. I want to explore how the memory of African identity was coded and preserved through these genres. For Villa Albertine I will engage in a dialogue with musicologists, musicians, philosophers and the archives to see the ways in which West African polyrhythms and patterns were preserved and transformed into Black genres that are ever present in the United States. 
Chicago is home to the Frankie Knuckles collection, the late Frankie Knuckles is the godfather of house music and through interrogating his archive I look to uncover the ways in which the genre speaks to an African subconscious memory evident in the music. 

The Ford Foundation is an independent organization working to address inequality and build a future grounded in justice. For more than 85 years, it has supported visionaries on the frontlines of social change worldwide, guided by its mission to strengthen democratic values, reduce poverty and injustice, promote international cooperation, and advance human achievement. Today, with an endowment of $16 billion, the foundation has headquarters in New York and 10 regional offices across Africa, Asia, Latin America, and the Middle East.

Seven years after launching her namesake gallery in Seattle, Mariane Ibrahim moved the space to Chicago in 2019. In September 2021, the gallery opened its inaugural European space in Paris and in 2023 it opened a third space in Mexico city.
The gallery has hosted acclaimed exhibitions, with a founding focus on the African diaspora, from leading and emerging artists including Amoako Boafo, Yukimasa Ida, Peter Uka and Zohra Opoku. The gallery has worked with global renowned institutions and have had an international presence at art fairs with acclaimed and prize-winning presentations.
In 2021 Ibrahim was awarded The Ordre des Arts et des Lettres (Order of the Arts and the Letters) on behalf of the Ministry of culture in France. Notable prizes and appointments include the Prize Winner from Presents Section, The Armory Show 2017, current Selection Committee, The Armory Show, current Visionaries Committee, Performa Arts and member of the Art Dealers Association of America.

Sign up to receive exclusive news and updates