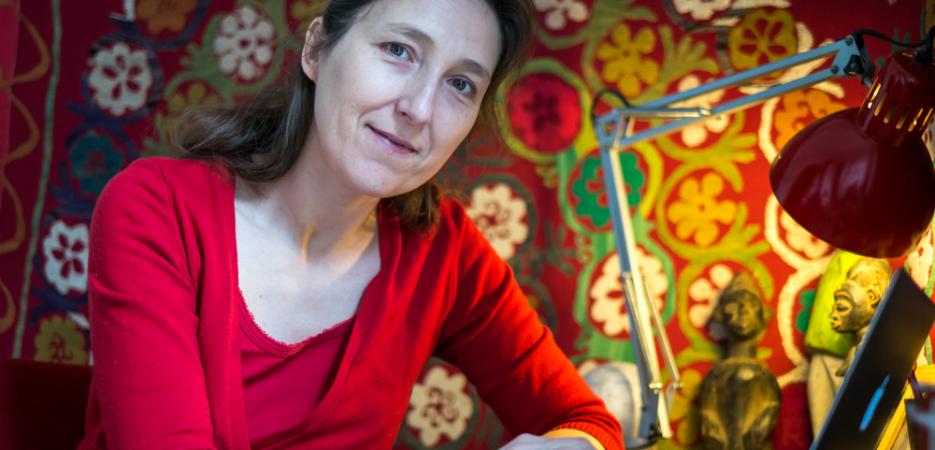 "I would like to ease my relationship with social media and incorporate it into my life in a normal way, without any of the fear, anxiety, repulsion, and fascination it has caused in me."
I was born in 1969. I remember a world before the Internet, before IT technology. When I was 17, I was one of the first to get a personal computer, an IBM with a memory of ten pages of text (my uncle worked at IBM France). It was a kind of enhanced typewriter, an embryonic word processor. Then, as a student, I began using the first Macs—cubes with an external floppy-disk memory. I sent my first e-mail in 1990, via the French "Minitel" (now long gone). We did not know who to e-mail. So we had pen pals worldwide, chosen simply on the basis that they, too, had an e-mail address, usually located, as mine was, within a university, school or college where they were enrolled.
Marie Darrieussecq is a writer, a translator of James Baldwin's essays, and a former psychoanalyst. She explores clichés to study what language says about experience: how words—especially platitudes—express reality and shape it in return. Her minimalist style, full of anecdotes and scientific or geographical metaphors, forms a "physical writing."
I got my first mobile phone at 32. Only recently have I started involving it in my dreams. When I have a nightmare, I keep on struggling, fleeing, and screaming, as I did before I had a phone, but never think of using it to call for help. I think the unconscious only incorporates the speed of our technological prostheses at its own pace.
I heard my 14-year-old son talking in his sleep. He said, "I'll send you the video." My three teenage children are on Snap, Insta, TikTok, but not on Facebook or Twitter. As soon as I created an Instagram account for my books, they blocked me. They tell me about their virtual social life. For them, it is second nature. But it sometimes makes them sick.
I am on Facebook with an undercover name, curious about the lives of others but not interested in sharing mine. I entrusted a professional web designer with the task of creating my Instagram account. She also created my website.
I am a writer. My characters, who live in a world similar to ours, have to use social media. But for now, they do so timidly, or even not at all. Yet I recognize that normal life now means using social media. And my characters are inevitably going to have accounts on Insta, Facebook, Snap, etc., depending on their age and situation so I can reflect today's world and incorporate it into my narration. So it is time that I—or they—started using social media. That is why I am coming to Los Angeles: the city of angels is one of the world's big hubs of virtual life—and of the imaginary life too.

Théâtre National de Bretagne (TNB)
The Théâtre National de Bretagne (TNB) traces its roots back to the very creation of the Centre Dramatique de l'Ouest in 1949 and of the Maison de la Culture in 1968 (a merger took place in 1990). As a European center for theatrical and choreographic production, emphasizes not only theater, but dance, music, cinema and education. The TNB organizes an annual international Festival and supports the School of the Dramatic Arts. The TNB welcomes about 200,000 spectators every season. Since 2017 the actor and stage director Arthur Nauzyciel has led the TNB and has introduced an artistic project grounded in 3 fundamental values: Share, Transmit, Connect. In addition, he appointed 18 associate artists, joined by another 10 other artists in 2021. 
Sign up to receive exclusive news and updates