Graphic Novelist / Actor, Writer, Filmmaker
2023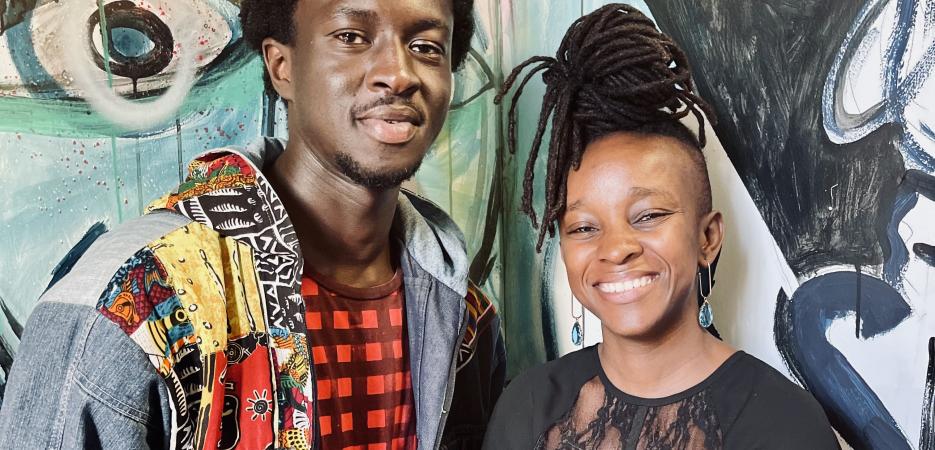 Atlanta
Miami
New Orleans
Washington, DC
"Do you know where your name comes from? Are you willing to give it up in order to be accepted? Marame is a poster girl for successful French-style integration, whereas Bamar remains defiantly non-Gallic."
My name is Marame. I'm 35, I live in Paris, and I'm a Scorpio. I have had a rather eclectic career. I worked for ten years in insurance but my heart has always belonged to the world of drawing. Over the last five years, I have worked as a self-taught collaborator for several feminist and LGBTQIA+ periodicals (La Revue LGBT, Le Castor Magazine, AssiégéEs). I am deeply committed to the struggle for equal rights for sexual and gender minorities, in France and in Europe. I want to use my drawings and graphic novels to get my voice heard and highlight the plurality of identities in our societies. 
My name is Bamar. I'm a Paris-based "boy Dakar". I was an engineer once, but my passion for cinema took me on a different path. I started out as a stage and a TV actor, but the narratives of exclusion and the characters I identified with made me want to write the stories myself and adapt them for the screen. Identity and representation issues are omnipresent, both in everyday life and in theater, cinema, and fiction, so let's hear new voices and make way for new imaginings! 
Marame, a former president of the Paris–Ile-de-France LGBTQIA+ Center and a former secretary of ILGA Europe, is a political coordinator at Inter-LGBT and a member of the board of EL*C (EuroCentralAsian Lesbian* Community). She trained in drawing and children's/young adult publishing at CESAN Paris, and is currently in residency at 59 Rivoli in Paris. 
Bamar is a self-taught writer and director of such short films and mini-series as My Little Black Girl and Mirror, Mirror, many of which have been selected for several European and US festivals. He trained in cinema and screenplay writing at the "1000 Visages" organization, and was among the first to graduate in series writing from the Nouvelles Écritures school (in 2022), where he began to develop his future project. 
We grew up with two languages: Wolof, our mother tongue, and French, the official language. The first is still our comfort language, the one we use to express joy or weariness, the one in which we annoy each other, insult each other and, since we've been living in France, the one we use when we don't want other people to understand us. 
We are the Kanes. It's pronounced "Kane" in our language. We'd be tempted to say it's spelled the way it sounds, but unfortunately, we soon realized not everyone hears the same thing. In France, the name is too exotic; people forget that there's a silent "e", so we become the "Kané". 
No doubt we'll be the "Kayns" in the United States. It seems to have a better ring to it, and it will remind people of the eponymous Citizen. But it still isn't us.  
What about you? At what point do you get tired of having to spell out your name? 
Marame has thought a lot, especially in the last ten years, about her identity as a black woman living in France, and about the roles of her mother tongue and her imposed language in the course of her life. So it naturally occurred to her to turn it into a graphic novel. She began working on a semi-autobiographical project incorporating interviews with African and Afro-Caribbean women living in French-speaking regions (West Africa, Metropolitan France, Overseas France). 
The stories Bamar writes feature a lot of characters who wonder about their identity. With this project, he furthers his exploration as a black man, born in French-speaking Africa, who arrived in France as a young adult.  
The aim of our residency is to create a dialogue with the same communities in the United States, only from a different linguistic perspective. 
What has the so-called "powerful" language given you? What has it deprived you of? 
We have nonetheless adopted the French language, which we respect and love to use. When we are with non-French speakers, it is almost a cause for pride, or a means of seduction. But we keep hinting that we have another, less well known but equally rich and beautiful language.  
Do you know where your name comes from? Are you willing to give it up in order to be accepted? 
The subject of our residency is ASSIMILATION: LANGUAGES & FAMILY NAMES. 
In the short term, Bamar will make a documentary on people we will interview in their environments (social venues, home, places of worship…). 
In the medium term, Marame will publish a graphic novel featuring comic strips, texts, and collages, grouping together the interviews from all the different regions. 
We will rely on community venues and stakeholders to find our target population (cultural centers, universities, art collectives, places of worship, etc.).
The United States is one of the five countries with the highest immigration rates. Immigration goes hand in hand with issues of identity, whether it's our own, or that of the "host" country. 
For this project, we will need to travel around the American Southeast – New Orleans, Atlanta, Miami, and Washington, DC – as those regions are crossroads for black communities from various cultures. 
We will focus on the African (Senegal, Nigeria, Ghana, etc.), Afro-Caribbean (Haiti, Jamaica, etc.), Afro-Latin American, and Black American communities, prioritizing the narratives of women and other gender minorities. 
Committed to equal opportunity for all, the Nouvelles Écritures School does not require any fees nor any diplomas and is open to all. It aims at training the script writers of tomorrow and at accompanying young talents towards their professional success
Sign up to receive exclusive news and updates