Koyo Kouoh & Siddhartha Mitter
Curator, Museum Director / Arts Journalist
2023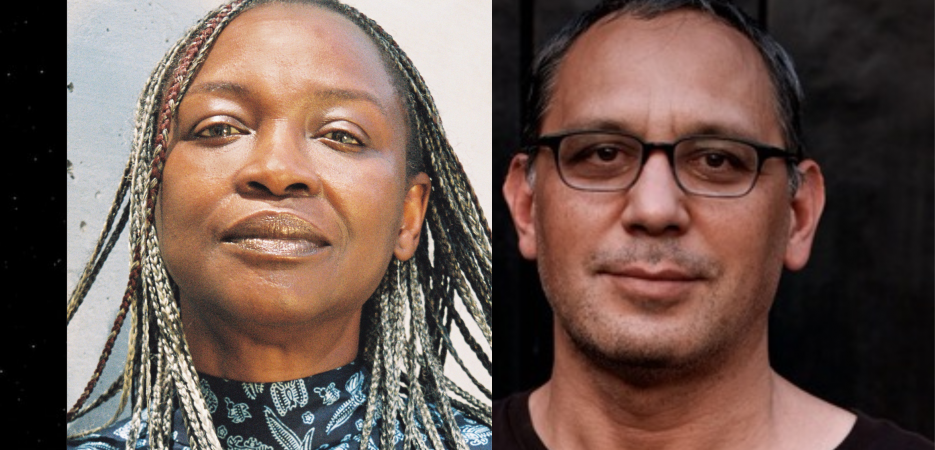 Museums
Social Sciences and Humanities
"We intend to explore a different connectivity, anchored in local stakes and concerned with liberation, in a spirit of mutual learning attentive to fresh South-South collaborative and conceptual possibilities."
Koyo Kouoh: I am an exhibition maker, cultural producer, educator and author. I work within the realms of knowledge production in curatorial practice, art institution building and education of future generations of African art professionals. The driving force of my work may be described as redefining the contemporary African personality through the debates and ideas that contemporary art provides. I work to create spaces of creative freedom for critical minds with the joys and complexities of Global Blackness as a permanent motive.  
In this context, I try to contribute to a new understanding of the potential of art organizations in shaping their environments. As such, I was the founding artistic director of RAW Material Company, a center for art, knowledge and society and RAW Académie in Dakar (2009-2019) as well as being the mastermind behind PARTCOURS, a city-wide yearly art festival federating over thirty art organizations in Dakar. I was the curator of the Education Programme at 1-54, Contemporary African Art Fair for eight consecutive editions in London and New-York (2013-2017). I currently serve as the Executive Director and Chief Curator of Zeitz Museum of Contemporary Art Africa in Cape Town. In 2020, I received the Meret Oppenheim Grand Prix Art Award for my contributions to the international discussions of art from an African perspective. I live and work alternatively in Cape Town, Dakar, and Basel.
Siddhartha Mitter: If contemporary art has become my core focus as a writer and critic, my technical background is in the social sciences, with advanced study in the political economy of development, including research in West Africa in the 1990s. The journey since then has included strategy and analysis work in the energy industry, an eclectic range of freelance activities, then a turn to culture, as a writer on music for the Boston Globe, then a news and culture reporter for WNYC radio in New York City, then a writer on contemporary art for the Village Voice and finally the New York Times. 
Each phase on the journey has helped to build my concern with social and civic imagination — at all scales from local to global — and my belief in the power of art and culture work to help imagine new possibility. As a writer I consider myself a culture worker, a colleague and partner to those I write on, and a connector between artists, civic and community thinkers, and a broad and expanding public. 
Koyo Kouoh is Executive Director and Chief Curator of Zeitz Museum of Contemporary Art Africa, in Cape Town (South Africa). She was the founding director of RAW Material Company, a center for art, knowledge and society in Dakar (Senegal). She has published widely in the field of contemporary art, notably African contemporary art, and has curated many major exhibitions and biennials.  
Siddhartha Mitter is a journalist based in New York City. He is a frequent contributor to the New York Times, with reported features, profiles, and criticism in contemporary art and its social context. His work has appeared in numerous major publications in the arts and culture fields and beyond.   
The project takes the form of encounters and exchanges with artists and culture workers who are cultivating locally-rooted resistance and liberation practices in the American South. From its major cities to rural areas the South is fertile with arts work that expresses and proposes civic possibility far beyond an economic and political discourse that is narrow and calcified. We understand "arts work" to include not only artists, curators and museums, but artisanship, memory transmission, activism, hospitality and foodways. These practices overlap and grow together under an overarching (and multi-vocal) politics of liberation. They are also fundamentally local in their stakes and urgency. 
But if these practices are local, they are also universal, with echoes and parallels in other settings, notably ones marked by colonization and racial capitalism — particularly in Africa, and perhaps most of all in South Africa. The global emergence of African contemporary art as a discipline and market segment, however, has mostly inscribed and connected African art into the "art world" through its major hubs of New York, London, Paris, etc. With this residency we intend to explore a different connectivity, anchored in local stakes and concerned with liberation, in a spirit of mutual learning attentive to fresh South-South collaborative and conceptual possibilities. 
While Koyo Kouoh will be based in Atlanta, and will exchange with faculty and students of Spelman College, this residency will unfold largely on the road, in local encounters and exchanges. At present we envision two road trips, of roughly 15 days each. One will focus on the Atlantic coast, the other on the Deep South and Gulf Coast.  
Based on his prior experience and networks in the region, Siddhartha Mitter is developing initial itineraries for both trips. In each location we expect our exchanges to be shaped by local contacts but also open-ended, as guided by the people we interact with. We will visit museums, historical sites, artists and artist-led spaces, civic leaders, sites of artistic and spiritual work, activists and movement workers, cooperative and radical farmers, community oriented gathering and hospitality sites.  
Locations on the coastal itinerary will be selected on a route between Richmond, Va. and Brunswick, Ga., including the coastal Carolinas, Lowcountry, and Sea Islands. The second route will take shape between Atlanta and New Orleans, emphasizing locations in Alabama and Mississippi, particularly the Black Belt and the Delta.
A detailed list of locations and contacts is in development. At the same time the spirit of the process means that we will leave space in the itinerary for local serendipity and improvisation.  
Sign up to receive exclusive news and updates