Director, screenwriter, podcaster, lecturer
January - February 2024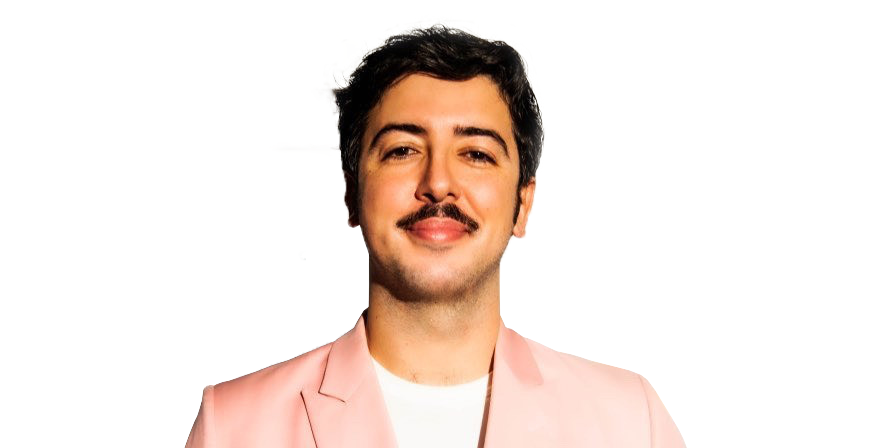 "Representation matters. This residency will result in an anthology of Arab and/or Muslim love, sexualities and gender in Hollywood productions, with an intersectional and decolonial lens, written in the shape of a third season of JINS podcast."
After spending 10 years in major international advertising agencies (Paris, Dubai, Shanghai, New York), I went on advising big corporations as a freelance strategy consultant. But it was after reading a library of 500+ books on gender studies, sexualities, race, religions and feminism that I left ad agencies to become a screenwriter and filmmaker. I have also created a podcast that brings together unifying and inclusive discourses. JINS (@jins_podcast on Instagram) is the very first podcast that addresses love, sexualities and gender for BIPoC and/or Muslims. It's been gaining momentum, totaling 350K+ streams and about 16K+ loyal listeners, making it a reference in the field, especially within communities of North America, Europe & the MENA region. I have been interviewing top-notch sociologists, sexologists, authors and artists, in both French & English. The focus of my residency is the third season of my podcast. It could also result in a documentary, collecting the stories, images and insights of inspirational Arab and/or Muslim personalities in the US who dared to talk about sexuality, gender identity, spirituality and love. This is of the utmost importance all the more so as sex within our communities is not discussed much… The cornerstone of my project is the question of the intersectionality between Islam, Arab identity and sexuality in American cinema. This is the ambition and commitment of a lifetime: to participate in a huge social shift, through podcasting, writing and directing movies. 
100% French, 100% Moroccan, and gentle when challenging the status quo, Jamal Ouazzani connects all his intersections to reframe what inclusion means and to show how difference adds value. With a Master's degree from ESSEC Business School in Management and another one from La Sorbonne in Cinema Studies, he wants his projects to debunk myths and to change representations. As a human rights activist, he raises his voice against inequalities. This is why he is also a public speaker in conferences, corporations, schools, and festivals, on topics of Diversity & Inclusion.
My project is to adopt an intersectional prism to study the implications of the representation of Arab and/or Muslim multidimensional identities in movies and series. It raises the question of the "white gaze", the aesthetics of Arab-American filmmaking, the awareness raised amongst casting directors and agents, the intimacy coordination during sex scenes, the representation of multifaceted Arabs on screen, etc… I'd also draw a comparison between screen representation in Hollywood, Cannes & Marrakech since 2001. It's the right period of analysis knowing that Arab-Americans have been very visible after 9/11; yet have been rendered professionally invisible outside of the "terrorist" narrative. I'm obsessed by the reestablishment of a truth about love and sexuality that sticks more to the reality of millions of Arab- Americans (and Arabs of the diaspora), that is taking into account ALL of their complex identities, with a feminist, intersectional, decolonial, antiracist, inclusive view. 
What I want is debunking love and sex-related stereotypes and archetypes of Arabs and Muslims in American cinema. This is why I would love to interview Riz Ahmed, Rami Malek, Haaz Sleiman, Golshifteh Farahani, Salma Hayek, Ramy Youssef and Mo Amer but also Arab-Muslim producer Sam Esmail, Palestinian-French actress Hiam Abbass and superstar Bella Hadid. I'd also talk to Omar Sy or Tahar Rahim, French actors of Muslim heritage, who transitioned from independent French movies to being lead actors in Hollywood super-productions. All these interviews would make up a 3rd season of JINS Podcast, mostly in English. Out of the 20 episodes I'd record within my 2–month residency, I also want to organize a couple of live sessions with a public in Villa Albertine or in other venues. With the full support from the Insitut du Monde Arabe in Paris, I might also explore the idea of an audio exhibition there, after the residency. 
As a filmmaker and cinema enthusiast, with my Master's degree in Cinema Studies, the obvious choice for me is to locate my research in L.A., California. For that matter, I have written my thesis at La Sorbonne on "Representations of body and sex in contemporary Maghrebi cinema". I want to dive into the current context of Los Angeles, reinvented by new actors and actresses of societal change. Plus, L.A. is home for more than half a million Muslims (second biggest Muslim population in the US). It crystallizes identity clusters that I am particularly interested in staging: sublimating strong female and queer figures in romantic relationships, exploring a new gaze on Arab bodies, changing the current discourse about Islam and proposing a vision that reconciles identities, whatever they might be. It goes without saying that a new representation of Arabs in the West would not go amiss. Let alone of Arab Muslim queer people. I see myself sitting with the Muslim Public Affairs Council's Hollywood Bureau in Los Angeles to reframe together the narrative of Islam and Muslims in the entertainment industry. I intend to ask gender studies chair Professor Sherene Razack at UCLA about how global anti-Muslim racism is a gendered phenomenon. Oddly enough, the head office of Muslims for Progressive Values is close to Hollywood's Walk of Fame. Writing, interviewing and collecting images will be directly part of an introspective movement of reflection on the world around me. To create a world that is peaceful, inclusive, creative, interactive. 
Sign up to receive exclusive news and updates