Novelist
September 23 through November 10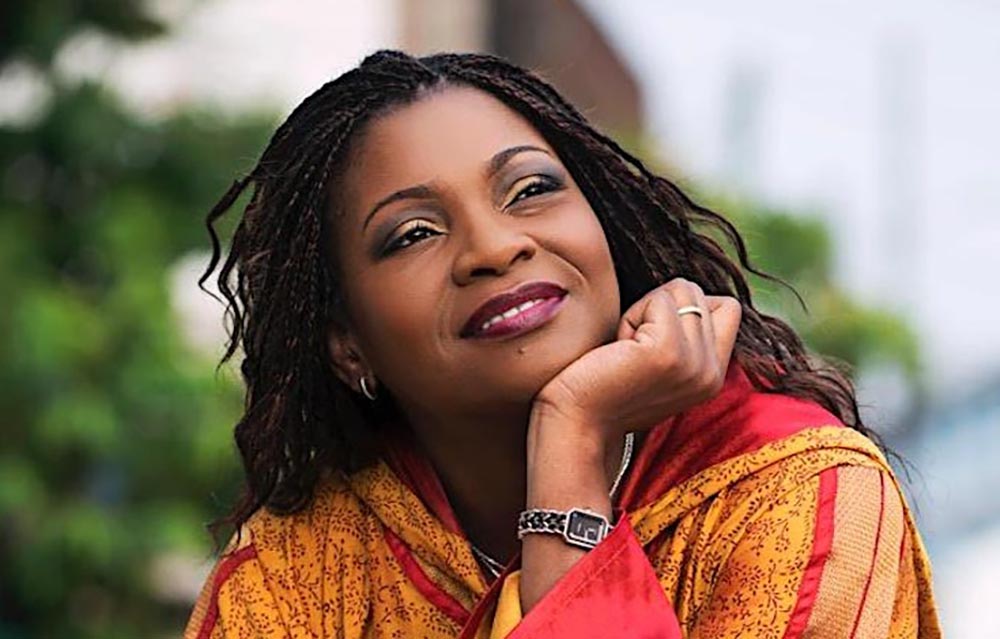 "I will continue to explore the margins, deserted spaces, and places held within each of us; the hardships encountered in host countries; and the crazed hope and rawness of personal trajectories, whether real or metaphorical, whether intellectual or cultural."
My name is Hemley Boum. I am a novelist and a poet. 
My work focuses on the way exile deconstructs the passing on of ideas, from village to city, continent to continent, culture to culture. I look at what happens when we leave the place where our connections and memory are established; settle down in a new elsewhere and new context; and reinvent ways of communicating, passing on, and adapting. In doing so, I seek to find out how, by appropriating bordered spaces, we inhabit several geographies that exist both physically and internally. 
Up until now, my work has been centered primarily on Africa and Europe, where I have organized writing workshops, talks, and training courses on these themes. For several years now in Cameroon, I have led creative-writing workshops aimed at young writers, and I have been working with migrant populations in France and troubled young people. I have also been holding workshops and talks with a group of forty African feminists for the past two years, teaching them how to articulate their commitments through the practice of writing.
The aim to expand my quest into migration writing within this territory of migration, intermingling, and struggle is part of a desire to enrich my individual practice, and to open up to other artistic means of expressing and inhabiting borders. 
I will continue to explore the margins, deserted spaces, and places held within each of us; the hardships encountered in host countries; and the crazed hope and rawness of personal trajectories, whether real or metaphorical, whether intellectual or cultural.  
Hemley Boum was born in Cameroon, where she studied anthropology before moving to Lille and completing further study in international business. This move saw her swap out the monsoons of Douala for the chilly climes of northern France. Then, after an initial post in Paris, she returned to Cameroon as the key account manager for the Cameroonian branch of a French company. 
As an explorer in her own country, she discovered the agri-food, cotton, and timber firms there, gaining a uniquely broad vision of Cameroonian society and international exploitation of local resources. She later went on to live in several other African countries before settling in Paris and finding her preferred form to enter the world of writing. 
Hemley has since published four novels that have been translated into six languages. She was awarded the Prix Ahmadou-Kourouma in 2020 for her book Days Come and Go; the Grand Prize for Black African Literature and CENE Littéraire Engaged Book Prize in 2016 for Maquisards; and the Ivorian Prize for Francophone Literature in 2013 for Si d'aimer.
Her next novel, Le Rêve du pêcheur, will be published in January.
I came to know San Francisco in October 2023 when my publisher, Two Lines, along with Villa Albertine and the Litquake Festival, invited me there to present my work, following the release of my book, Days Come and Go. The encounters and discussions that I enjoyed at the Litquake Festival, but also in Berkeley and Portland, opened avenues between my current work and these exciting places. 
In the fall of 2023, I will hold writing workshops in the United States with people whose mother tongue is French, which includes African and Caribbean diasporas, but also anyone for whom French is a heartfelt, poetic, vivid, vibrant language that they wish to use to express who they are, their unique journey, their dreams, and all that offers them a sense of belonging. The workshop will give pride of place to the uniquely intimate, artistic act that is writing. 
My role is to liberate the participants to write about the self and personal interpretations of reality, whereby I will set them specific time constraints and writing instructions. With exercises based on texts from different authors, we will work on producing a written expression that is as close as possible to what we wish to say, thus enabling ideas, emotions, and intimately personal convictions to become conceptualized, constructed, and transcribed. 
Our theme of migration writing will not be restrictive in terms of style, esthetic, or narrative. We will work on the form, the poetry of words, and the different readings of texts, sharing these firstly among the small number of people involved the workshop in the hope of creating a larger, on-stage presentation designed to shine a light on the narratives explored. 
The residency may lead to the publication of the texts conceived and shared in the workshop, and offered to the public, which would serve as a wonderful conclusion to the project and help leave a trace of these encounters. 
The writing workshops will be held in several locations in Oakland, Berkeley, and San Francisco, allowing me to gain a better understanding of the region's Francophone heritage. 
The possibility to work with artists, people less familiar with literature, and high school students provides a chance to write an altogether nuanced, rich, and open account of what it means today to be someone from elsewhere. The narratives will be written out of plural-minded angles, approaches, and dynamics. Belonging is found in these spaces – these sites of the present, where reality assumes form. Through discussing their experiences in a creative-writing context, the participants will also speak of the spaces that they now call their own and the ways in which they negotiate their place within them. 
Once they hand back their writings to each of these places, they will expose the public to their vision and find a way to own it, construct it, and make it their own by revisiting the question of belonging. 

The Ford Foundation is an independent organization working to address inequality and build a future grounded in justice. For more than 85 years, it has supported visionaries on the frontlines of social change worldwide, guided by its mission to strengthen democratic values, reduce poverty and injustice, promote international cooperation, and advance human achievement. Today, with an endowment of $16 billion, the foundation has headquarters in New York and 10 regional offices across Africa, Asia, Latin America, and the Middle East.
Sign up to receive exclusive news and updates