Hamid Ben Mahi & Christophe Hutin
Choreographer & Architect
May-June 2023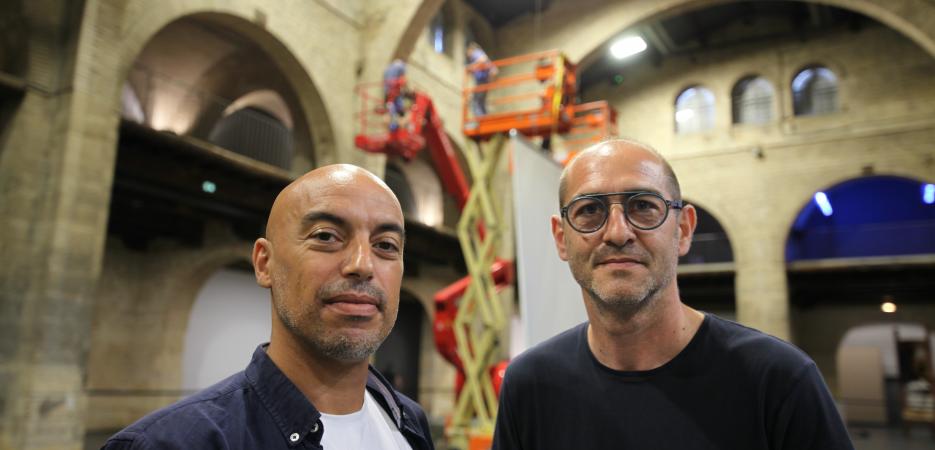 Architecture
Performing Arts
"This piece integrating dance, performance, video images and architecture, will shed necessary light on the expression of individuals in a common place."
Hamid Ben Mahi :
After his choreographic studies at the National Conservatory of Bordeaux, Hamid Ben Mahi developed his work alongside artists such as Philippe Découflé, Michel Schweizer, or Kader Attou and, in 2000, established his own company Hors Série. After creating with Michel Schweizer, the solo Chronic(s), he began a research process on the identity of the dancer, often based on his own history and taking hip hop dance to new paths.
His work highlights the urgency to explore the depths of the identity of the individual which result in pieces that are sensitive, serious, poetic, and moving, full of humility and voluntarily accessible to everyone.  
Christophe Hutin : 
Christophe Hutin is an architect, teacher-researcher, and lecturer at the École Nationale Supérieure d'Architecture de Bordeaux. Specialized in sustainable architecture based on the economics of construction, he has carried out numerous projects and studies in the field of housing, public cultural facilities, and business premises. He regularly collaborates with the choreographer Hamid Ben Mahi and with the musician and urban theorist Christopher Dell, around the notion of improvisation. Christophe Hutin is also a film and documentary director, set designer and exhibition curator. His project Communities at Work was selected to represent France at the 2021 Venice International Architecture Biennale. He was a contributor to the 2021 Chicago Architecture Biennale on the theme of The Available City. After having worked in Detroit in 2013, he continues to question public space and communities in the United States.  
In 2021, the 17th edition of the Venice International Architecture Biennale was titled How will we live together? Architect Christophe Hutin, curator of the French Pavilion, invited choreographer Hamid Ben Mahi to collaborate around the topic of "communities at work" for Hutin's exhibition. This collaboration consisted of a piece for three dancers, made of movements, rebounds, and responses to the images presented in the French Pavilion. The piece created in Venice became the starting point of a more ambitious project called I-3, exploring architecture and the communities under the prism of the movement.
To develop I-3, Hutin and Ben Mahi have developed a project mixing dance and video capture. Through different habitats or environments, or locations in Bordeaux, Tremblay-en-France, Hanoi, Soweto, the film tells how the inhabitants transform and improve the architecture. Its scenography based on the moving image shows the movement in architecture, proposing a response to Bruno Latour's article "Can buildings fly?"  Architecture is a social fact. More than ever, it must allow us, as individuals, to project ourselves in places of the common so that we can live together again. This piece integrating dance, performance, video images and architecture, will shed necessary light on the expression of individuals in a common place. 
After a first exploration in Chicago in 2021 where Hutin was selected as a contributor to the Chicago Architecture Biennial, Hutin and Ben Mahi want to go further and explore what contemporary architecture could transform the West and South Side of Chicago. The city of Chicago played an essential role in 20th century architecture through two figures: Frank Lloyd Wright and Mies van der Rohe. To develop a critical point of view, Hutin and Ben Mahi want to perform in locations such as Fransworth House, Chicago Post Office, Johnson Wax Factor, and meet with jazz musicians and artistic communities.   
Other places in mutation will be identified and will feed the video capture protocol of dance performances in Detroit. The Michigan Theatre, which was one of the most beautiful theaters in the city. When it closed, it was transformed into a parking lot. This extraordinary situation constitutes a place of experimentation of the movement in architecture. 
With a precise protocol to produce films of dance performances in meaningful locations, points of view on architecture and its movement will be developed and enriched.  

The Théâtre Louis Aragon, an accreditated dance center, is a multidisciplinary venue that places creation and residencies at the heart of its project. Its "Territoire(s) de la Danse" program focuses on exchanges and encounters between communities, artists and their creations. At the same time, the Théâtre Louis Aragon co-directs "La belle scène saint-denis" every summer in Avignon, with a program of its artists in residence.
Sign up to receive exclusive news and updates