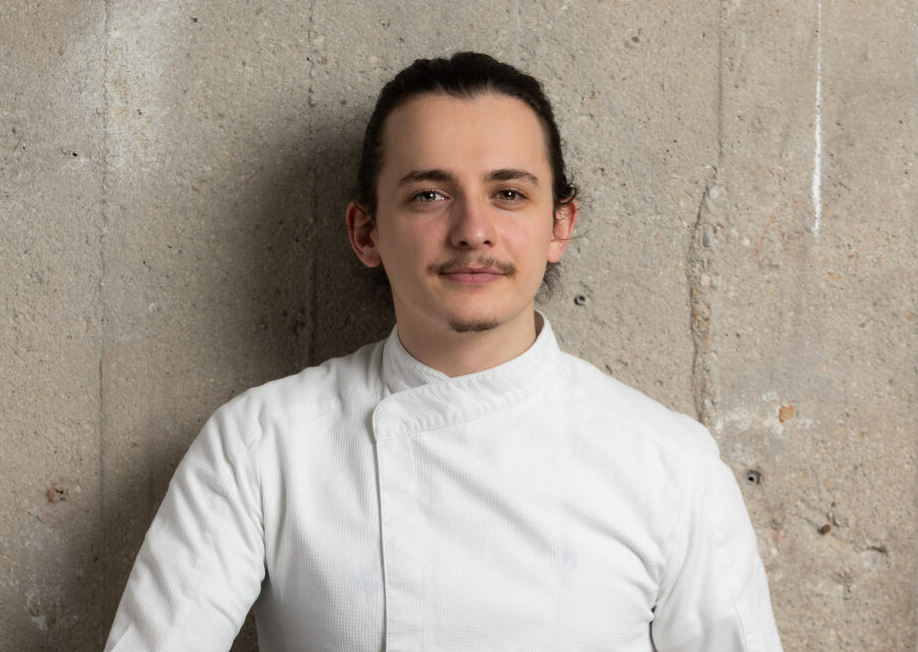 " Through my residency at Villa Albertine, I will embark on quest to find traditional flavors in the heart of the Western United States. My hope is that these flavors will reflect all the richness of this land and the efforts of those who work in it. The pastries that will create will retain all of their French identity, but follow an ecologically responsible approach combined with American influences. "
I have always considered pastry-making to be an art, which has led my career to take the form of a quest for taste and beauty. Like artists, pastry chefs can go beyond the impact on the palate and the eye to transmit a message through their creations. This brings with it a duty to work in a way that reflects the spirit of the times.
For some years now, it has become essential for me to follow an environmentally-conscious approach in preparing my desserts. By taking steps such as working with regional products, meeting farmers, and placing emphasis on the land, I can look outward, leave the kitchen, and take an interest in anything that enables me to create. Gradually, I have come to gain a better grasp of our human impact on the Earth; the importance of protecting the environment; and our crucial fight to preserve the natural diversity of plants, seeds, fruits, and vegetables, and the richness of every terroir or soil.
In 2022, I created the taste of Amatxi, which honors the Espelette chili pepper and traditional Amatxi corn, both products from the French Basque Country. This creation is a tribute to the work of Jon Harlouchet, who decided to reintroduce the cultivation of this corn after unearthing long-forgotten seed varieties. To me, every kernel holds in it the taste of a thousand pollinated flowers.
By meeting individuals involved in local agriculture as part of my residency at Villa Albertine, I intend to reflect more deeply on these issues in an aim to understand the terroirs of the Western United States. Through my research, I hope to discover new foods and taste combinations that will help me create original desserts rooted in ecology and respect for nature.
While attending Ferrandi Paris, the best-reputed culinary school in the French capital, from 2012 onwards Corentin Poirier completed his apprenticeship under Laurent Duchène, winner of a Meilleur Ouvrier de France (Best Artisan in France) award. Thrust into this world of highly exacting standards, he sought to set himself apart and earn his stripes by broadening his network and training his palate. Corentin then graduated with the highest honors in his vocational diploma as a baker and pastry chef.
He continued his journey of learning at the prestigious École de Boulangerie et de Pâtisserie (Paris Bakery and Pastry School), during which time he took first place in the Pastry Chef category of the Meilleur Apprenti de France (Best Apprentice in France) competition, in 2016. He also received his master's-level advanced vocational training certificate in pastry-making. Corentin went on to complete several work-study programs with renowned pastry chefs, including Cédric Grolet and Guillaume Gil, and was then invited to New York for a job as a creation, research, and development officer. After two years in the American metropolis, the lockdown drove him to return to Europe, whereupon he seized an opportunity to work as a chef at a castle in the Basque Country. There, he discovered the notion of the terroir and how to manage a kitchen on a daily basis.
My project at Villa Albertine is to explore the essence of terroirs in the Western United States. San Francisco is reputed for its innovative, socially committed cuisine owing to the diversity of locally grown ingredients. It is the epicenter of the farm-to-table movement, spearheading a message of healthy, sustainable, environmentally-friendly food. I want to meet farmers and chefs there who are known for their social commitments and eco-friendly techniques, finding out what ingredients they prefer to use, and which age-old or avant-garde cooking and preservation methods they employ. My goal is to spark a dialog on the future of farming practices and its impact on the culinary scene.
I hope to immerse myself in different Californian terroirs in an effort to create desserts that highlight the specific identity of each one. To this end, I will meet with producers who respect the soil to discuss their growing methods and discover their products, tasting each one and attempting to pinpoint its essence. I intend to turn these products into original recipes that celebrate their work and their terroirs.
I would also like to collaborate with other chefs in a spirit of exchange. As we co-create dishes, I hope to draw from their expertise and ingenuity.
Lastly, I intend to document my residency through writing and photography to build a sense of excitement around the commitments of each person I meet.
The West Coast and San Francisco, in particular, are the ideal places for me to deepen my research, and to meet the people who share my convictions and evolve alongside them. The rich culinary scene includes world-famous restaurants, as well as locally based eateries operating across shorter supply chains and as part of the farm-to-table movement. The region is known for favoring sustainable farming and using local, seasonal produce, which resonates with my own creations and commitments. I will have the chance to visit farms, meet the many individuals involved there—farmers, wine growers, nursery owners, etc.—and explore the major farming belts in Santa Clara Valley, Napa Valley, and Sonoma County.
California is also a land of technological innovation, home to leading universities and research centers. Their studies on relationships between diet and health, environmental impacts of agriculture and food production, and methods to promote healthy consumer habits will help me better understand current ecological and health challenges, and guide my research and creations.
La Fondation Louis Roederer a été créée en 2011 pour renforcer sa politique de mécénat menée par la Maison Louis Roederer depuis sa découverte de la collection de photographies de la Bibliothèque nationale de France en 2003.  
Devenue «Grand Mécène de la Culture», la Fondation accompagne des actions culturelles ambitieuses initiées par des institutions prescriptrices en France comme à l'étranger. Elle est un solide et constant soutien à la Bibliothèque nationale, à la Réunion des musées nationaux – Grand Palais et au Jeu de Paume, à Paris. Elle a aussi choisi d'apporter son soutien aux pensionnaires de l'Académie de France à Rome – Villa Médicis, et s'est engagée récemment auprès de la Villa Albertine aux Etats-Unis. 
À travers la Bourse de la recherche photographique à la Bibliothèque nationale de France, les Prix de la Révélation de la Semaine de la Critique à Cannes et du Festival du Cinéma Américain de Deauville, ainsi que le Prix Découverte aux Rencontres d'Arles, la Fondation Louis Roederer participe activement à l'éclosion de talentueux artistes. 
Sign up to receive exclusive news and updates