Textile Artist
Novembre, 3rd 2023 - Novembre, 18th 2023 & February, 2nd 2024 - May 15th 2024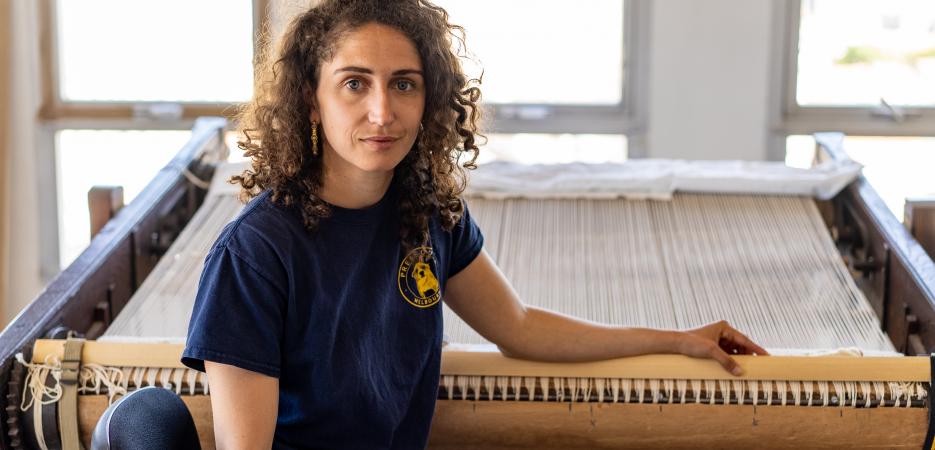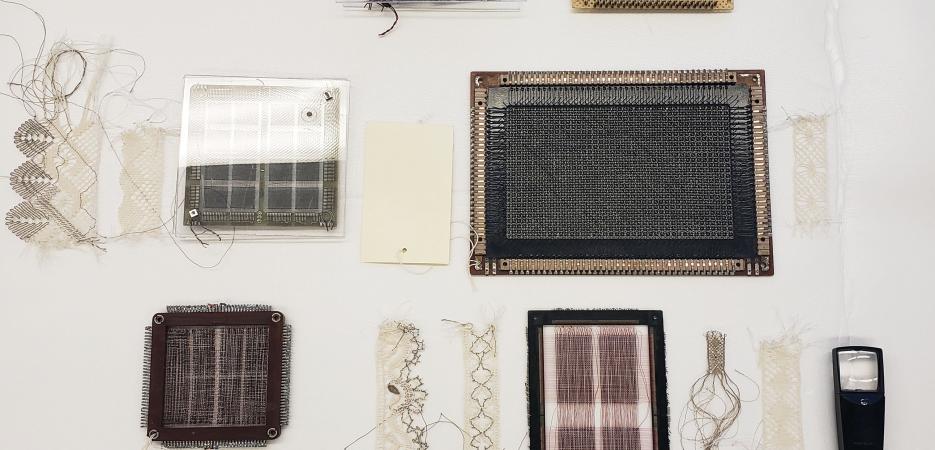 "The goal of this research is to investigate a material that performs the multicultural and historical function of textiles as memory storage systems."
In 2013, I graduated in textiles from Parsons School in New York. Following this, I trained alongside a number of specialists, firstly in Kyoto at the workshop of Jun Tomita, then in Australia at the Australian Tapestry Workshop. I have come to discover a world in which textiles can convey both the earth from which they rise and the history of their people, as recorded through age-old techniques of material and motion. 
As an artist and weaver, I explore both ancient and modern facets of materials "codified" with histories, as written by the actions involved in their creation. I unearth tales covertly inscribed into materials by way of stitches, buttons, embroideries, and intentions. Similarly, I weave materials replete with history, from text-laden paper to strangers' shirts. In 2019, I brought my work to the tapestry manufactories of the Mobilier national (an agency under the supervision of the French Ministry of Culture), aiming to combine my overarching thread with an innovation known as Google Jacquard. When activated by motion, this new woven material triggers sounds, lights, and a wide variety of connected devices. In this way, it can recount stories through a gentle caress or a spirited dance, for instance.
Chloe Bensahel (b. 1991) is a French American artist who blends performance, textiles and multimedia to highlight the relationship between language and identity. Inspired by her own inter-generational migration history, her work investigates narration partnered with craft traditions to give way to embodied or coded language. She was recently awarded a Smithsonian Artist Research Fellowship (2021) and has exhibited internationally, at Le Mobilier National in Paris, the Australian Tapestry Workshop in Melbourne, and the French Embassy in Washington, DC.  
The relationship between textile and memory runs long and deep. As powerful and efficient programming languages, textile techniques helped send man to space with the invention of magnetic core memory, a technology based on textile structures and binary code. These technologies, produced primarily by women of color first in Boston and eventually abroad, set the stage for a system in which craft labor remains largely invisible.
A Villa Albertine residency in Boston means returning to the place where Core Memory was originally woven (MIT) to research a new memory technology in collaboration with the MIT Media Lab. This research will focus on how properties of core memory (ferroelectricity, conductive thread) can be harnessed to create a contemporary memory technology based on traditional textile techniques (lacemaking, weaving, knitting.) The goal of this research is to investigate a material that performs the multicultural and historical function of textiles as memory storage systems.
Experiments will be conducted at MIT, with a team of researchers from the MIT Media Lab (Cédric Honnet, Ozgun Kilic Afsar, Jean-Baptiste Labrune and Rébecca Kleinberger). Samples will be hand-woven and knotted on-site on a mini loom in order to continuously test different prototypes. Emphasis will be placed on embedded textile systems that transcribe sensory experiences connected to memory. This is made possible using human computer interaction, ferroelectricity, soft robotics, and wearable computing. Handmade textile surfaces will therefore be able to communicate via touch, sight, sound, or smell, all the elements that make up a memory. Such cross-disciplinary research will be documented and published online as a framework in which craftwork and engineering work are indistinguishable from one another.  
Boston's history is both rooted in textile production and technological innovation. Its textile factories made it possible for a skilled workforce to begin producing handwoven memory technologies for the space missions in the 1950s and 60s. The craft expertise necessary to produce these electronics was then outsourced overseas in the 1960s and set up a system in which electronic objects are not seen as handmade objects, even though they are often assembled or invented by hand.
My residency draws on this rich history to imagine new technologies. By re-visiting early space technologies and ancient textile practices, this residency frames hand-made textile techniques as innovation work (and vice-versa) in dialogue with MIT media lab researchers. I will research how programming or engineering came to be perceived as the labor of the future, with craft as the labor of the past, and whether these categories relate to gender and racial hierarchies. In recent years, the relationship between textiles and technology has been rekindled in Boston with the emergence of smart textiles. This poses a unique opportunity to consider new research methodologies in which craft and engineering are equally involved in determining the form and function of a material. I look forward to engaging in discussions with Boston's innovation ecosystem, hosting discussions or lectures to frame textile techniques as sophisticated programming languages that can give rise to future inventions.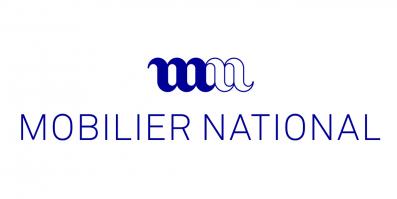 Mobilier National's mission is to ensure the conservation and restoration of its collections resulting of purchases and orders. Back in the time they used to be designed for royal and imperial residences, and today for the official palaces of the French Republic. These collections are made up of more than 130,000 furniture and textile objects. 
The Mobilier national has seven restoration workshops – tapestry, carpets, upholstery and decorative tapestry, seat carpentry, cabinetmaking and bronzeware.
The national factories of Gobelins, Beauvais and La Savonnerie, as well as the lace workshops of Alençon and Le Puy-en-Velay are attached to the administration of the Mobilier national.
The institution has also a research and creation workshop – the ARC – to promote creation and contemporary design in official buildings. 600 prototypes from a hundred designers have been produced in over 50 years. 
The services of the Mobilier national and the national manufactures embody the prestige of French tradition, the excellence of exceptional know-how and the vitality of artistic creation and contemporary design.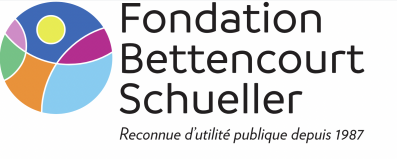 Bettencourt Schueller Foundation
Bettencourt Schueller Foundation strives to embody the will of a family, driven by the spirit of enterprise and awareness of its social role, to reveal talents and help them thrive, in three fields that contribute concretely to the common good: life sciences, the arts and solidarity. Both a family foundation and recognized as a public utility since its creation in 1987, the Bettencourt Schueller Foundation intends to give wings to talent to contribute to the success and influence of France.
Sign up to receive exclusive news and updates