Çağla Zencirci & Guillaume Giovanetti
Film directors
January–February 2024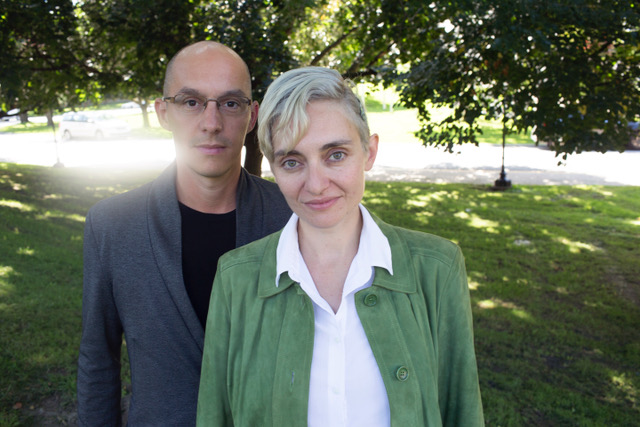 "Investing the cinematographic territory of the US, for the first time, to make a ground research and conceive a film dealing with moral choices, triggered by the notion of moral debt, involving two geopolitical enemies."
Co-directing life since 2002, we've traveled in many countries where we made short films from 2004 to 2010 (from Turkey to Tibet going through Iran, Pakistan and India, and then Italy, Germany, France and Japan). Progressively switching from documentary to fiction, we slowly established our own modus operandi: we invest a territory, and make a unique encounter with a person whose real life experience outperforms the best of fictions. We spend time with them, listen to their story, sculpt the raw material into a fictional character and eventually convince the storyteller to embody their own role in a film written for them. With time, we also began to look for a redefinition of the roles of men and women, anchored in various political backgrounds. 
Experience showed us that each film lead to another. Our first short film took us to Pakistan, where we directed our feature "Noor", about a transgender looking for love. Our short film "Ata", about the unexpected meeting of a Uyghur Refugee and a Turkish woman in France, took us to Japan, where we directed "Ningen", the story of a burned-out CEO, lost in Japanese tales and found in his wife's love. And our last film, "Sibel", telling the emancipation of a mute girl communicating with the whistling language of her Turkish Black Sea mountain village, lead us to make a key encounter with another Uyghur Refugee in Washington. It is now time for us to invest a new territory: the United States of America… 
A Turkish-French couple, Çağla Zencirci & Guillaume Giovanetti have been co-directing films and life since 2004. Their feature films include "Noor" (Pakistan, 2012 / Cannes Acid), "Ningen" (Japan, 2013 / Toronto), and "Sibel" (Turkey, 2018, Locarno). 
In 2018 and 2019, "Sibel" was invited to more than 100 festivals, awarded 40 times, and successfully released in many countries (including France, Turkey, Germany, the US) with more than 200,000 admissions. A finalist of the Golden Globes and the European Film Awards, the film was purchased by HBO Europe, and by Canal +, Arte, and OCS channels in France. 
In 2019, while presenting "Sibel" in Houston, we met an Uyghur from Washington who had seen our short film "Ata", about the encounter, in 2008, of an Uyghur political refugee and a Turkish young woman in France. That chance meeting triggered our will to develop a feature film inspired by "Ata" and we came up with the following story:  
Because of his political involvement, Alimjan, 60, had to flee China 10 years ago, with the help of his friend and business partner Bao, from Hong-Kong. Alimjan settled in Washington DC, and did his best to bring along Melikem, his cherished daughter, but he lost track of her in working camps in Xinjiang. He resigned himself to never seeing her again, and started to do what he was doing back home: amber stone carving. But one day, Bao's daughter Feng, 18, shows up: her father has been arrested and sentenced to death for helping Alimjan escape China. Her only way to save her father is to obtain a video of Alimjan, claiming that back then, he forced Bao, with a weapon, to help him escape… 
Therefore, the intrigue of this new film revolves around moral choices, triggered by the notion of moral debt, involving geopolitical enemies. Alimjan will be much confused by this dilemma, but neither him nor Feng would foresee that they would experience a perfect Father/Daughter relationship, epitomized in the practice of amber carving… 
Now we need to do the necessary groundwork in Washington. During our residency, our main goal will be to meet as many people as possible from the exiled Uyghur community, and get inspired by their stories. We'll also make some research about how the Uyghur cause is defended in the US, and eventually explore stone carving workshops in the area. 
One of the main reasons why we'd like to work in the US for this project is because we'll have access to the widest source of inspiration: the biggest Uyghur community in the world outside China and central Asia. For the last 20 years, we have perfected our approach to non-professional actors in order to reveal their potential, by involving them in the conception of our films. We are convinced that the Uyghurs in DC, and, more generally, local Americans there, will be open enough to let us hear their stories. 
We'll visit some Washington-based associations involved in the cause of Uyghur people (Uyghur American Association, Radio Free Asia, Uyghur Human Rights Project), and more informal places where Uyghur people are likely to meet, like Uyghur Restaurants of the region. Then, encounters will lead to other encounters and we cannot wait to find out where this will lead us. 
At the same time, in order to learn about the refugee status in the US, we plan to visit big administrations, and meet representatives of the US Citizenship and immigration services. We'll also visit and document several Amber carving workshops of the area. 
We admit we feel the strong and intimate urge of investing the cinematographic territory of the United States. We must confront our idealized version of that land to its reality, and take the best of it. And, if fortune smiles upon us, we'll seize any opportunity, beyond our research, to shoot a short film during our residency. 
Sign up to receive exclusive news and updates