Author and Exhibition Curator
October 2022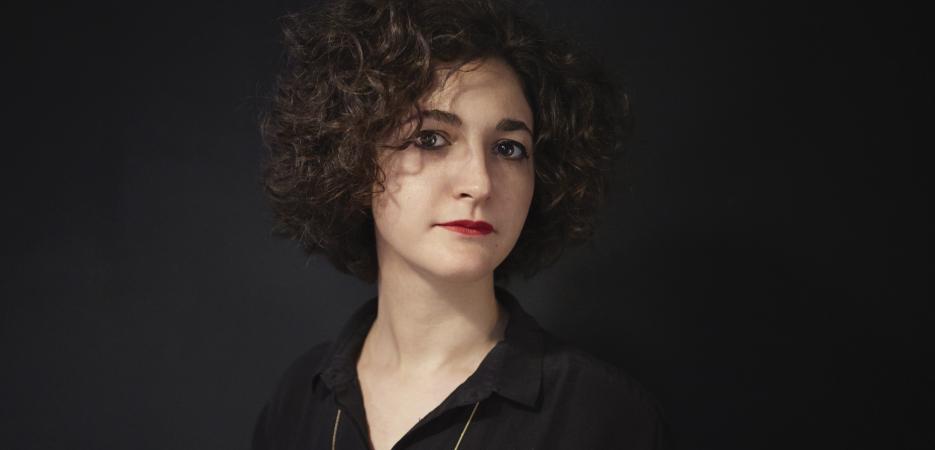 " Perhaps the act of looking up can help us envisage a different relationship with our now-ravaged planet. In this vein, my residency will serve as the basis of a cosmopoetic literature project and a contemporary art exhibition. "
As an art critic, researcher and curator, I explore potential areas of action at the crossroads of literature and contemporary art through writings on current artists and authors. Working from a perspective of co-creation, I consider writing to be an active gesture in seeking out elucidation. In all my curation projects, I endeavor to reawaken notions borrowed from the history of philosophy. Drawing from these notions, I create what the language of cinema and theater terms as "loose adaptations". What matters to me is finding that spark between the original source and what can be done with it. This pursuit led me to present the philosophy of Georges Bataille in my curation of the exhibition cycle, La Traversée des Inquiétudes ("The Crossing of Unease", which ran from 2016 to 2019 at the Labanque art center in Béthune, and featured some thirty artists who exhibited brand-new works for the occasion). Alongside this, I devised and directed the writing of a collective book entitled La Besogne des images ("The Toil of Images", published by Éditions Filigranes in 2019), bringing in contributions from artists, philosophers and authors. In a more solitary capacity, I divide my research between literature, philosophy and social science, three areas that form the topic of my current PhD thesis. Due for submission in December 2022 at the EHESS (School for Advanced Studies in the Social Sciences), I have completed this thesis under the direction of Marielle Macé and entitled it Écrire : un passage à l'acte ("Writing: From Word to Deed"). These various undertakings have also served to feed the poetry pieces, narratives and tentative fictions that run through all my work. 
Léa Bismuth produces exhibitions based on a collective writing method. She has curated for a large number of art centers, museums, festivals, galleries and art schools, including Labanque (Béthune), Les Tanneries (Amilly), Musée Delacroix (Paris), image/imatge (Orthez), CAC La Traverse (Alfortville), Rencontres d'Arles (Arles), Drawing Lab (Paris), BAL (Paris) and Nouvelles Vagues at Palais de Tokyo (Paris). Between 2006 and 2018, she featured regularly in artpress. Her most recent writings have been published by the likes of Actes Sud, Hatje Cantz, Loco, and the online newspaper, AOC. Bismuth also lectures at a number of art schools (including the École des Arts de la Sorbonne). 
My project for Marfa is inspired by the philosophical writings of Auguste Blanqui [1805-1881]. I have named it Eternity by the Stars after the title of his remarkable cosmogony written in 1871. Despite being one of the most active theorists in the Commune de Paris, Blanqui was actually unable to take part in the protests. This was due to his incarceration at Fort du Taureau, a prison located in the middle of the Bay of Morlaix, Brittany. During his time there, he began to gaze towards the heavens whereupon he formulated his fanciful astronomical hypothesis inspired by the ever-moving universe. His philosophy would later go on to fuel past and current speculations based on the close ties between political resistance, poetry and environment. Eternity by the Stars inspired, for instance, Nietzsche's concept of eternal return and Walter Benjamin's melancholic reflections on revolution, but the book still holds great relevance in the modern day. Can the starry sky be a means of emancipation? Can dead stars be reborn if we manage to create new sparks? Indeed, the question of astral eternity is, first and foremost, a question of revolution. Perhaps the act of looking up can help us envisage a different relationship with our now-ravaged planet, affording us an escape from all the paradigms of authoritarian domination. In this vein, my residency will serve as the basis of a cosmopoetic literature project and a contemporary art exhibition. 
Located in the middle of the Texan desert, the city of Marfa is a breeding ground of dreams, imagination and utopia. A vibrant artistic hub, it became home in 1971 to the eminent Minimalist artist, Donald Judd, whose outdoor installations can still be found here along with his Chinati Foundation. As well as this, just a stone's throw away is the McDonald Observatory, where advanced telescopes closely study the stellar environment. In this respect, Marfa has become a strategic landmark for the exploration or, indeed, colonization of space (particularly Mars). These aspects are certain to provide much food for thought in terms of the current US political and social context, especially with regard to the protection of the planet we call home. Marfa is also an excellent site for stargazing, free of light pollution and offering a uniquely clear view of the Milky Way. This threefold position—artistic, scientific and, ultimately, politico-environmental—will be the driving dynamic of the "situated" research work that I intend to carry out during my stay. In parallel, my work will be further enriched by constant exchanges with the team of artists and researchers that will be formed during the residency program.

Since 1977, the Centre Pompidou has presented a rich programme at the crossroads between different art forms and audiences. Its iconic building is home to one of the world's largest modern and contemporary art collections, in addition to exhibitions, symposiums, festivals, shows, projections, and workshops for young audiences, making it an unparalleled cultural institution, deeply rooted in the cultural fabric of Paris and open to the world and to new innovation. 
Sign up to receive exclusive news and updates