Museum Director and Curator
November 8-20, 2021 and Spring 2022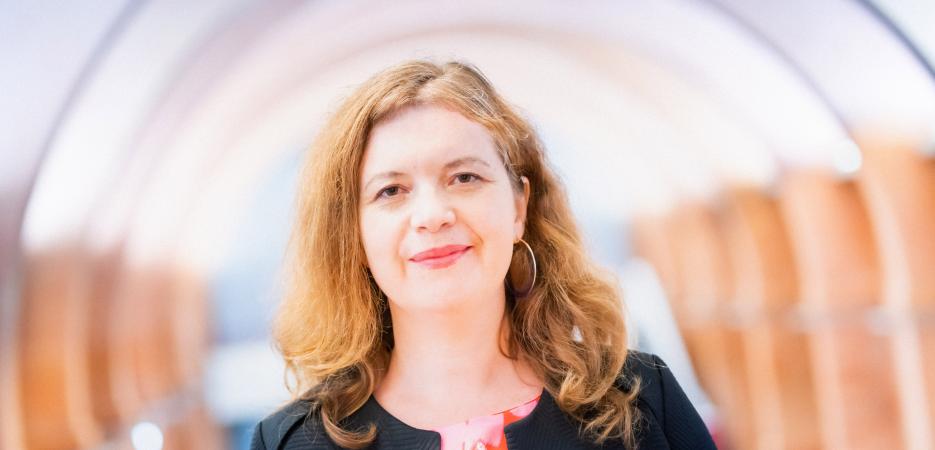 "Making the museum a sounding board for key contemporary issues, a place for calm discussion, reinventing the modalities of access to art, and meeting needs in terms of art, knowledge, sharing, and emotions."
As an art historian who decided to work in cultural institutions, and more specifically in museums, I have worked in very different contexts: first as curator at the Picasso Museum in Paris, from 2006 to 2012, then as director of the Museum of Contemporary Art of Rochechouart, from 2012 to 2016, before taking over as head of Les Abattoirs, Musée – Frac Occitanie Toulouse.
A permanent aspect of my career is the fact of working in places with a strong territorial presence and clear international ambitions. With its dual identity (as a museum and a regional collection of contemporary art – a French specificity), Les Abattoirs welcomes visitors to its site, a 19th century heritage building, which houses a collection and historical exhibitions of modern art or contemporary works. Another part of our mission is to take our collections and artworks out to meet the public in as many venues as possible: libraries, historic sites, retirement homes, prisons, boats, airports, etc. We share our thoughts on equal access to art, and develop social programs. The health situation in recent months, with its negative impact on cultural accessibility, confirmed the importance of this issue of access to art and education. With the help of schools, social centers and associations, we usually work in the community. But when this human chain is broken, how can it be reconstructed? We are looking into new ways of dialoguing with people unfamiliar with the museum world or with limited access to new technologies for financial reasons.
How can we ensure that our institutions provide a sounding board for the key issues of our age? How can we create and share a community of values within them (respect for women, gender equality, inclusivity, the conservation of nature, the duty of remembrance, social and collective identity in the digital age, etc.)? I have been committed for many years to the equal representation of women artists and professionals. My work involves various aspects of museum life, from acquisitions to exhibitions, to cultural programming to outreach, i.e. all the different ways of sharing art. I do my best to propose exhibitions that shed light on certain periods of history, helping us to remember where we come from and think about where we are going.
As the Occitanie region was a place of exile whose cultural heritage is still important, I produced an exhibition, "Picasso and the Exodus – A Spanish History of Art in Resistance" with the Picasso Museum in Paris, that brought together on an equal footing, the most famous exiled artist and lesser-known artists who were interned in French prison camps after the Spanish Civil War. In parallel, we developed a program of 25 exhibitions throughout the region on the theme "I was born a foreigner", featuring contemporary artworks by 60 artists from 30 countries. The result was a powerful artistic and human experience that we shared with Amnesty International, which accompanied us for the duration of the exhibition. It was also important to be accompanied by artists and researchers (young ones, in particular), but also by associations for shows inspired by works of art, which can shed a different light on our artistic proposals.
During this residency, I'd like to collect as many accounts as possible from the people who make museums living places open to reflection and respectful debate, meeting needs in terms of art, representation, history, beauty, knowledge, emotions, and sharing, by reinventing the museum model.
I've visited the United States several times already and worked with several American museums, observing how they tackle and get to grips with contemporary issues, reflect on history, past and future, and think about their mission with regard to people's expectations. There are so many possible places and experiences! It was difficult to choose a city, so my stay will be spent in two different areas: on the East coast around Washington, DC, then in Midwestern cities such as Cleveland, Chicago and Detroit, with very different histories, institutions, and realities.
By meeting professionals from museums, cultural institutions and associations, I hope to learn about their access and support strategy and find out what they do collectively to make art and cultural education accessible to first-time visitors. I would like to talk with these amazingly creative people about their experiences, motivations, and successes, but also about the limits they encounter, to learn from them how to develop access to art for all and take our rich museum heritage into the future.

les Abattoirs, Musée – Frac Occitanie Toulouse
les Abattoirs, Musée – Frac Occitanie Toulouse opened in 2000 in a nineteenth-century heritage building renovated to house modern art exhibitions and presents the work of contemporary artists. Les Abattoirs is home to permanent art collections, a media library, a visitor's hall, studios, an auditorium, a bookshop, and a restaurant. Its art collections, as well as works by other various artists, are circulated within the Occitanie region, in direct association with the local inhabitants and stakeholders. 
Sign up to receive exclusive news and updates