Co-director of the Centre Pompidou × Jersey City Museum
March-April 2023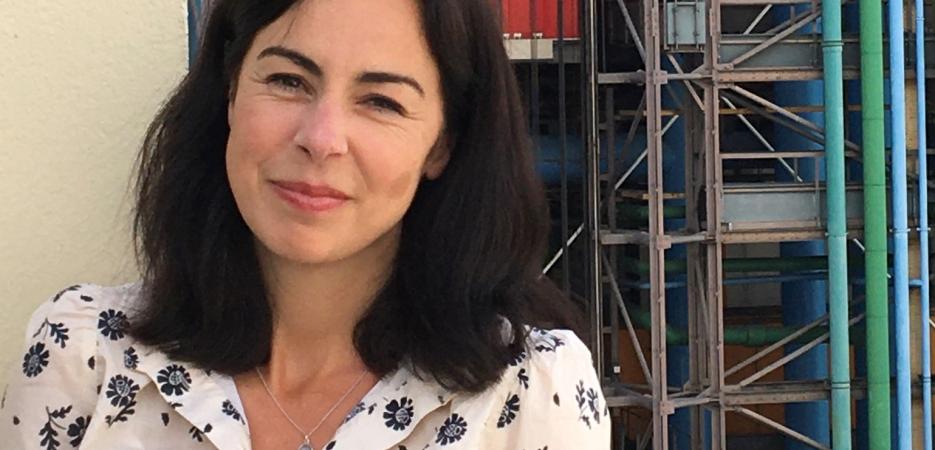 Houston
Miami
Washington, DC
"Museums cannot shy away from emotion in the face of intellect, seek debate without respect. Knowledge must go hand in hand with accessibility, beauty with diversity, art with society."
With a Master's degree in Art History, I have worked on the curation of modern and contemporary art exhibitions, in both private galleries and public institutions over the past twenty-five years. Currently Associate Curator at the Modern Art Department of the Musée national d'art moderne/Centre Pompidou, I have recently been given the responsibility of the Curatorial Program for the new museum we will be opening in Jersey City.  
What will this museum look like, and how will it differ from the Parisian institution? Our prime concern is for it to be in touch with the people who live there whilst keeping hold of the Centre Pompidou's core identity, as a place of thoughtful, multi-disciplinary exhibition and debate.  
Although I have been continually interested in how to reach new audiences, it is now more than ever an important aspect of my mission. How to develop community engagement? How to draw in people unfamiliar with museums and give them the sense that they belong there? One of the recurring challenges of curating exhibitions is to find a balance between scholarly content and historical research with a more accessible approach for visitors.  
I recently co-curated the Georgia O'Keeffe show which opened at the Centre Pompidou in September 2021, just as the world was opening up after lockdown. People flocked to the show, in part because the pandemic had prevented them from doing so for so long, and in part because the show not only presented O'Keeffe's works, but also talked about her life, her person. We included portraits of her by famous photographers and a comprehensive biography peppered with quotes to allow her voice to resonate. In this way, art history was interwoven with O'Keeffe's own story. The paintings revealed not only the radicality of her artistic innovation, but also her experience of life. The visitors' response to the show demonstrated just how much the pandemic has increased our need to reach out, and how museums need to be places of human experience, where ideas and emotions can be shared. 
Anna Hiddleston-Galloni graduated with a Masters Degree in Art History from the Courtauld Institute, London in 1995. She began working the same year at the Centre Pompidou as Research Assistant, collaborating on exhibitions about Alberto Giacometti, Jean Dubuffet and Nicolas de Staël among others. She also worked in parallel as Arts Consultant at the Caisse des Dépôts Arts Patronage Program for seven years, before joining the Department of Contemporary Art at the Musée national d'Art moderne-Centre Pompidou in 2004 where she worked on exhibitions such as "Danser sa vie" and "Air de Paris". Currently Associate Curator at the Department of Modern Art since 2013, she has co-curated the exhibitions "Matisse in his Time", "Francis Bacon/Bruce Nauman. Face to Face", "Francis Bacon. Books and Paintings" and more recently "Georgia O'Keeffe. A Retrospective." 
During this residency, I aim to gather as many accounts and examples as possible of how American museums reach out to minorities, local communities and children, to appreciate what works and what doesn't work, and to meet the people who make museums open and thought-provoking places. Over the years, mediation has become an increasingly important part of curating. Podcasts, virtual exhibition tours, exhibition guides, working with schools are some of the ways we do this, but it is also necessary to program exhibitions that speak to communities and the young, to place art in a social context and explore themes which reflect current concerns. 
Our practice is shifting away from traditional linear approaches to art history as a development from one movement to another. We are looking for ways of decolonializing our readings of the collection, of breaking with accepted narratives in order to expand cultural boundaries and embrace all forms of art by all kinds of people. 
I would also like to meet the artists that work in these cities, to understand their concerns, their visions and how better to work with them. A museum should not only be a place of display, but also of creation and production for artists, dancers and musicians alike. At the Centre Pompidou, I worked on a series of exhibitions by contemporary artists where we produced an installation for a specific space in the museum, the "Espace 315". However, our support of artists can go beyond production to include residencies, grants, the providing of studios, concert halls, or technical workshops to help with their work. I would like to discover the different means and ways American museums have found to support artists from all disciplines. 
Although I regularly work with American museums whether curating exhibitions from the Centre Pompidou collection, requesting loans from major American collections or contributing to American conferences and publications, I would like to delve deeper into the ways they function. If we look at the museums in Washington, many are devoted to minorities – the National Museum of African American History and Culture, the National Museum of the American Indian, the Museum of Asian Art, of African Art, the National Museum of Women in the Arts – to name but a few. It thus seemed an obvious choice to begin my residency. Miami will give me the chance to explore the Latino-Caribbean art scene thanks to the many artists and communities residing there, and Houston will open the doors to the art institutions of Texas which deal with very different histories and realities from the East Coast. Here I will be able to explore not only the beautiful Menil Collection, but also the Museum of Fine Arts in Houston and the Kimbell museum in Fort Worth which has developed an extensive outreach program.  
Perhaps one of a curator's most important jobs is to share. We cannot shy away from emotion in the face of intellect, seek debate without respect. Knowledge must go hand in hand with accessibility, beauty with diversity, art with society. During this residency, I would like to find new ways of being a curator, focusing on issues such as equal access and approachability, to reinvent the museum model as a place where art connects with life. 

Since 1977, the Centre Pompidou has presented a rich programme at the crossroads between different art forms and audiences. Its iconic building is home to one of the world's largest modern and contemporary art collections, in addition to exhibitions, symposiums, festivals, shows, projections, and workshops for young audiences, making it an unparalleled cultural institution, deeply rooted in the cultural fabric of Paris and open to the world and to new innovation. 
Sign up to receive exclusive news and updates